jamesfranksf's Recent Posts
I can say I have started seeing the same issue. I am frozen at 25% health. It has not updated in several days of play.
I like the idea of adding a unique resource for each type of planet, but what about this as an option.

Each type of planet has 1 resource that is exceptionally abundant, such as rust or iron on a mars type planet. But then also have a building that can convert that unique resource to other types. Maybe giving you the option to choose what you convert to, such as a building that converts iron to steel or to ore. That way if you are mid game and short on a primary resource, you can convert your local abundant resource to something that you lack.
I don't know about others, but once I get into the late game where my colony is self-sufficient, I have a tendency to just leave the game running for several days at a time. I will get on my computer and play for a while every night, but I may not close it out and reopen it. This means I miss updates for a few days sometimes. Would it be possible to add an item in the menu that lets you know there is an update?
I can say that Invincible is probably the best commonwealth leader that I have seen. He is incredibly responsive, and always willing to help. He has given me so many materials that I can't even begin to thank him.
One thing that you may want to look at is the use of civics when doing auto trade. I had 3 things on auto trade, and it was spending 30 to 40k worth of civics for the auto trades. This has lead to me having to have a lot more civic producing buildings than I normally would.
Would it be possible to add a single late game vehicle that is capable of building everything that the lower model builders are capable of producing? This would allow people to cut down on builders and would cut down on processing power required for larger cities.
A bit of extra info I noticed tonight. The builders will hit the buildings on the edge of the path, but only if they have been building nearby and auto navigate to the next building.

I have purchased additional space in my colony, and build an aluminum road around the outer edge of the colony. For some reason, the builders seem to think the outer edge of the colony is not useable. They will build on the edge cells, but will not actually traverse the outer cells. I am using the windows 10 version 0.67.0. This makes it so that if I build something next to the road, the builders will not actually build there, as if they cant get to the new buildings.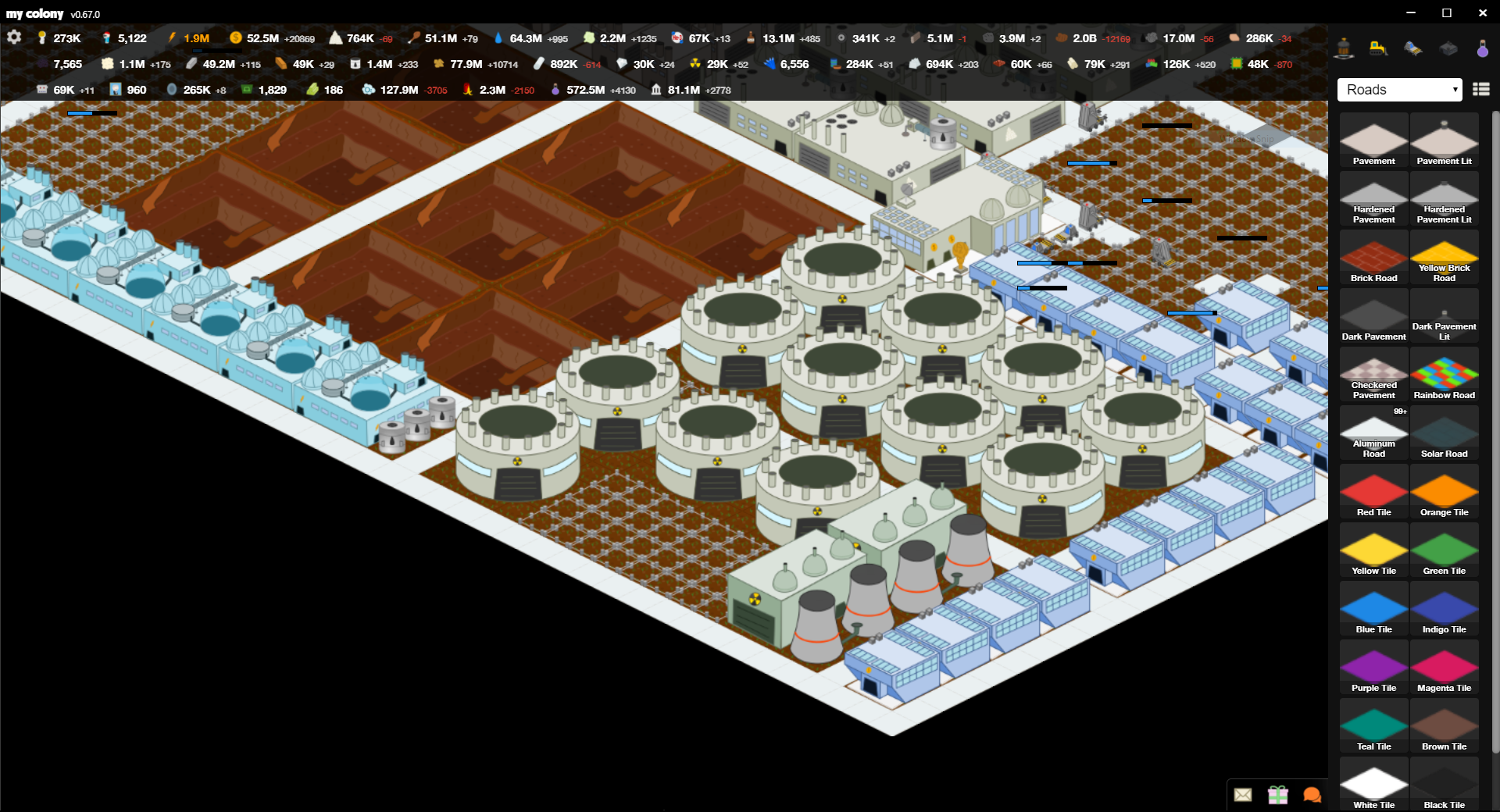 Very nice update. I love the new Solar Tower. Out of curiosity, do you have plans to make a faster solar road? Maybe combine the rainbow road and the solar road?
i have had the same problem for the last 3 updates.
A possibility for improving the build menu would be to give the option to hide certain structures from it. For instance, I have already upgraded all my Grammaticus to Scholae Magister, and I no longer need to build the Grammaticus anymore. It would be nice to be able to right-click on the building and choose hide from the main build menu. Then you could add an option in the drop-down that only shows "hidden" buildings.
I think it might also be a good option to allow you to "upgrade" to any type of road. Instead of having the method now where you just hit upgrade all. Maybe add a drop down to pick the type of road you want to upgrade to. Maybe make it part of the CIVIC options that you get when building the Consulate and upgrading it 2 or 3 times.

I don't know if this would be difficult to do, but now that there are so many path choices, would it be possible to add a way to "upgrade" them to different appearances. Say for instance, you made stone paths, but have since unlocked the pink marble path. Rather than having to delete the paths and then build new ones, being able do it the same way you do upgrades, and choose the type you want to upgrade to.

Maybe you could set it up where you click the option to upgrade all roads, and then have a drop down for the type of road you want. That would let users upgrade 2 or 3 levels at once.
Member
Member Since
November 19th, 2017