Search - dormitory
Today marks the availability of
My Colony 2 v0.10.0
, along with some cool new features and enhancements! Updates for MC2 will be weekly during most of the rest of the summer, so make sure you stay tuned for all of the new features and content. In the meantime, let's take a look at what's new with this release.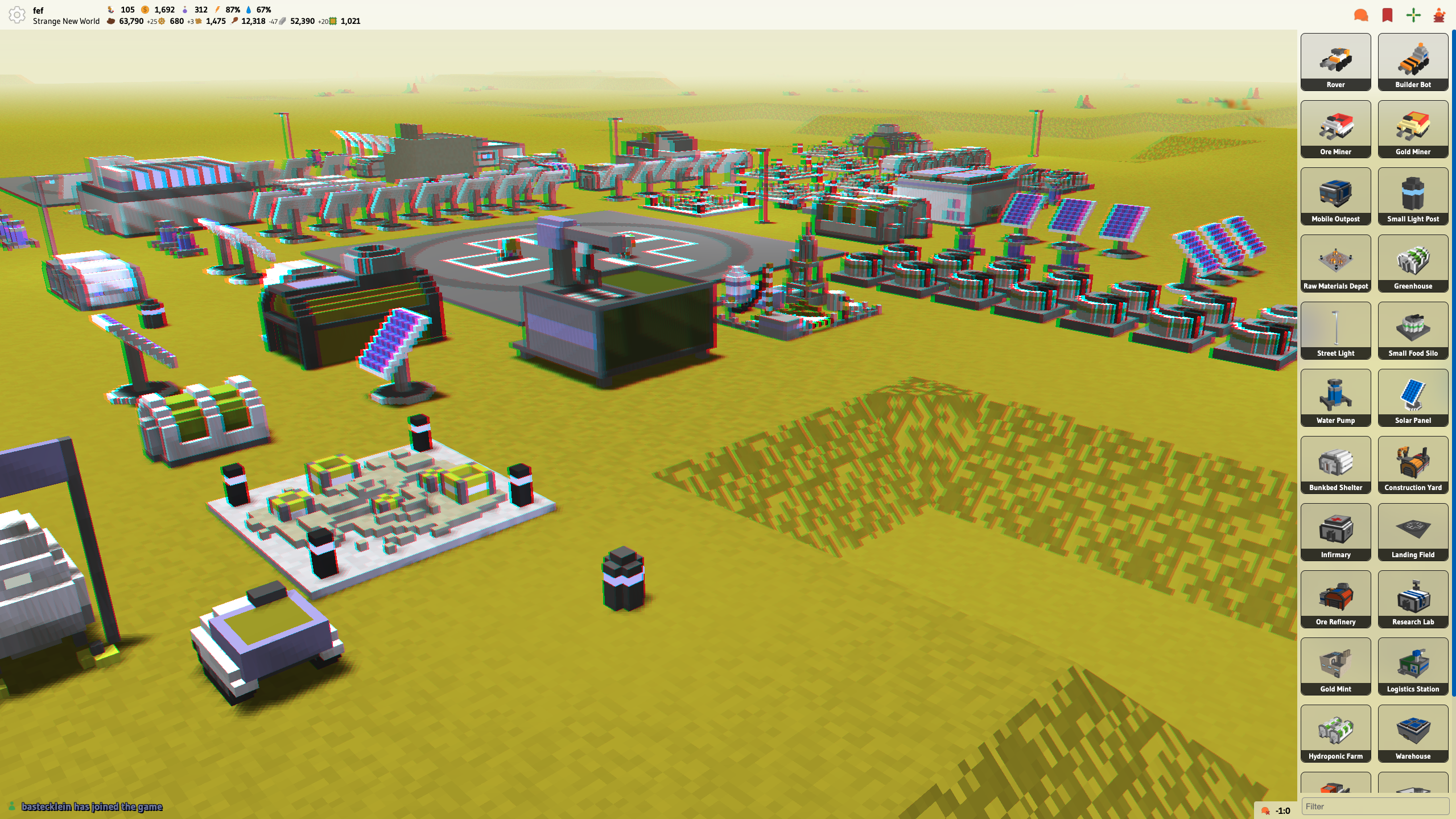 My Colony 3D
- If you thought that
Jaws 3D
was all of the rage back in the day, it's got nothing on My Colony 2. If you have a pair of
red
/
cyan
3d glasses, yes the old movie theater kind, you can now enable
Anaglyphic 3d Mode
in the Engine Settings menu for a neat stereoscopic 3d effect. Observe the above screenshot using 3d glasses for an example.
Back to Work
- The pandemic has ended for the worlds of My Colony 2, and so all productive structures are now requiring their workers to return to the factories. Hovering your mouse above the population readout in the toolbar will now show you the same stats that MC1 would regarding settlement population, housing, and jobs. New for MC2 though, buildings will now show a "workers needed" icon over the top of them if they have no workers available, so that you can see at a glance if you need to construction more housing or landing pads. Since the added work requirement will no doubt require a higher population, the
Dormitory
has been added as a more dense housing option.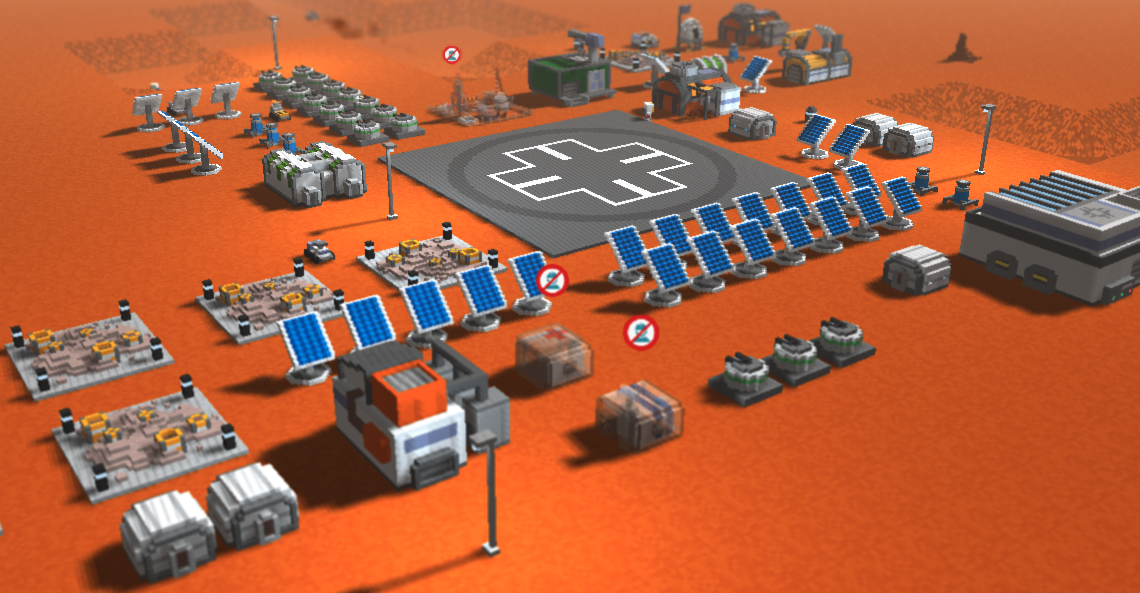 Storage Required
- Before now, it wouldn't really matter if you constructed storage facilities or not, as you could just gather infinite resources anyway. Now storage requirements are enforced. To assist in this new requirement, the W
arehouse
is now available to build in the game.
Money
is now in the game, which can currently be created using the
Gold Mint
facility. Eventually you will have to pay your workers, and Money is the way they are going to be paid. Money will also be the medium of exchange for player-player trades, once I get that implemented.
The
Desert World
is now functional and ready for colonization. To assist in Desert World colonization, I have added the new
Desert Rover
, the
Sand Drill
, and the
Small Condenser
to to the game.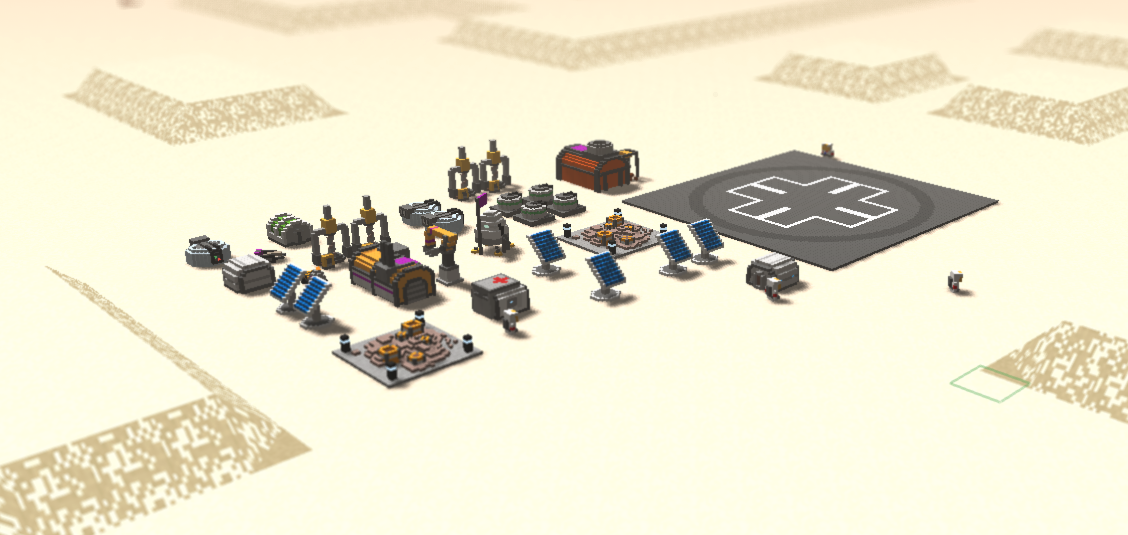 The updates are going to be coming fast to My Colony 2 over the next few weeks, leading up to the late-July Android release of the game. Once the game hits Android, some of its features are going to be moving behind the premium paywall, such as modding, multiplayer, and some of the world maps. Premium content is being added to MC2 because, unlike MC1, I do not plan on using in-app advertising banners in this game.
My short-term (next few months) to-do list for MC2 is as follows (and this is a loose roadmap, not set in stone):
Implement Abandoned World map with lakes of Ether and old ruins to explore
Start implementing Scripting Engine, starting with basic flags and triggers (enough to implement in-game tutorial at first)
Water Based Units and Structures, for both the Water World map and the coming Abandoned World map.
Pavement
Research and Tech Requirements
Building Options, such as Sell, Rotate, Prioritize, etc
And of course, more Structures and Units with each update.
Beyond that, my longer-term roadmap (this fall and beyond) includes a lot of things, some of the major being:
AI controlled Civilizations for trade or combat
Full Statistics screen window, similar to what MC1 has
Entertainment, Medical, Education and Security requirements. The necessary structures will be available to build well before they are required.
Cross-Server trade networks. I still do not want to have a big centralized MC2 server, but I am working out a plan where individual dedicated server owners can set up their own server-server trade networks, whereby multiple decentralized servers can be linked together and interact online.
iOS and Steam releases before the end of the year
So that is what is here now and coming soon for MC2! Thanks to all who have played and contributed content to the game, and stay tuned for more as the weeks progress!
#mycolony2
Today My Colony 2
v0.11.0
is heading to the "stable" channel, and should become available for all users soon. This is the last update before the "beta" heads to Android, and there are a few goodies inside, so let's take a look!
Firstly,
Research
is now being utilized!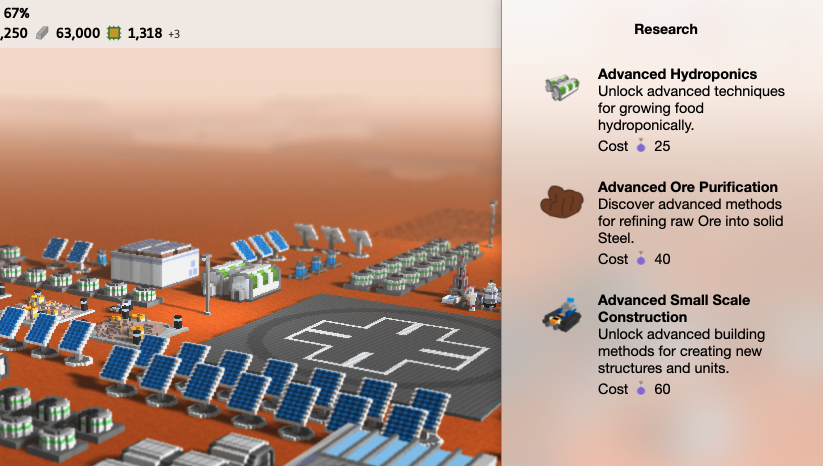 I have added three techs (pictured above) in order to get things started, and as a result, the
Hydroponics Farm
,
Ore Fraking Operation
,
Advanced Ore Refinery
,
Dormitory
, and
Warehouse
all now have tech requirements before they can be built.
Moving along, clicking on a building will now give you some options, you can Rotate, Power On/Off, or Sell a structure now:

Next,
Pavement
has been added to the game, although it may be a bit glitchy still. The glitchyness is related to rendering, so you can build pavement in your maps without worrying about ruining anything.
I have also added the
Advanced Builder Bot
to the game, and several of the existing structures have been moved over from the Builder Bot to the new Advanced.
Finally, I have added the ability for the Engine to utilize Premium content, and added a
Small Warm Light Post
and a
Golden Shelter
as a proof of concept. In addition, modding and multiplayer now require Premium.
So that is this update in a nutshell, although there are a lot of smaller changes that you will notice here and there as well. The upcoming
v0.12.0
is going to be a large content release with a lot of new structures, techs, and units, and it will be the first version published to Android. Publishing to Android will allow me to collect more feedback and bug reports, so it should really help development out a lot. I plan to have iPhone, Windows Store, and Steam releases sometime this fall.
Thanks for playing My Colony 2, and stay tuned for more!
#mycolony2