Find User
here you can look for a user
My Empire v1.2.0 Released
My Empire
has just been updated to
v1.2.0
which should be hitting all platforms within the coming days. This update addresses several bugs, updates it's codebase to the latest Ape Apps shared libraries (scroll3d/vpploader/adl/etc), and adds the following features:
There is now a Camera Mode button where you can switch between pan and rotate, to get a full 360 degree view of your battlefield.
Cities can now choose to produce just Gold or Research instead of a unit of building. This helps in later games when you have built all available buildings and do not wish to keep pumping out unnecessary units.
Native My Empire binary is now available for Apple M1 based Macs.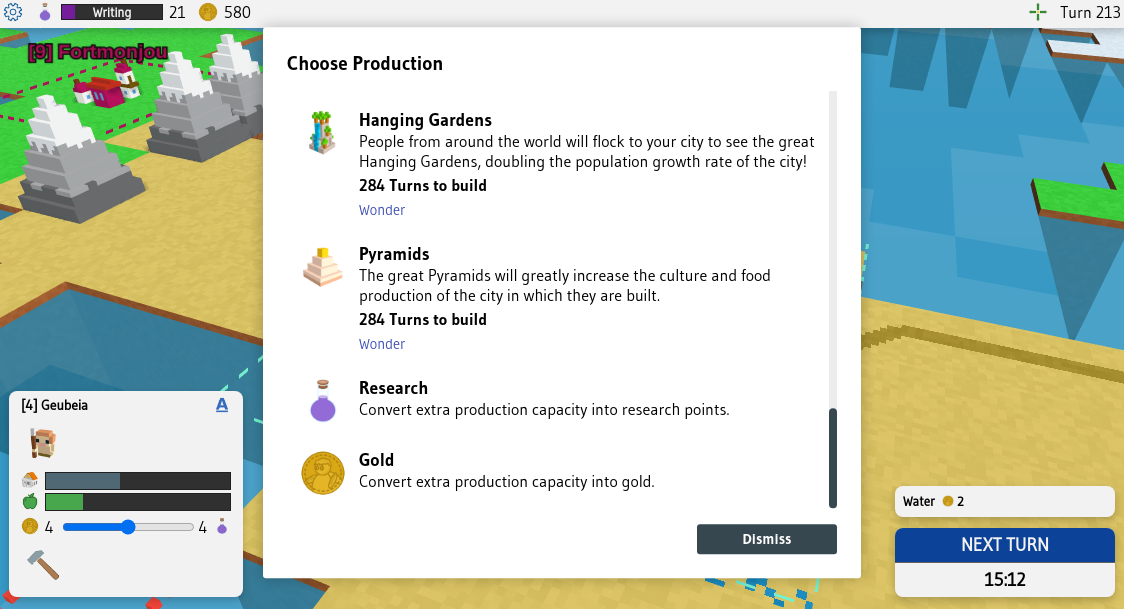 My Empire is available on all platforms, and you can find download links from the Ape Market at the following URL:
https://market.ape-apps.com/my-empire.html
#myempire
Owner of Ape Apps, LLC
If it would take one turn to build a unit such as settler, is it supposed to never build it? Web version is doing this.

Edit: the city size (population?) is at least 50. Game is on easiest setting (because I want to examine gameplay details). I set the city to build a settler, which should take one turn. Regardless of how many turns, it never finishes. It's not just settlers; any unit that a city that size only takes one turn to make, never gets built.
Must be a bug, I will work on it!
Owner of Ape Apps, LLC
You know I was thinking
@tautaula
, it might not be building because there is a 2 unit per-tile limit, and if there are already 2 units on a tile, it wont build until you move one
Owner of Ape Apps, LLC
That could be! I'll check. Thank you.
Yep! Every situation I've checked, that was it!
Linkback References

Try Boom Feed, the free RSS reader from Ape Apps! Boom Feed is a free RSS, Podcast, news reader and aggregation app, available on most platforms including Desktop, Android, and iOS. Try it today!