Find User
here you can look for a user
Updates and Announcements - Page 2
Today I am releasing the
v1.25.0
patch for the original My Colony, which should be hitting all platforms throughout the weekend. This update brings some critical bug fixes, changes to how the app is packaged, as well as a change to the Challenges system, so let's take a look!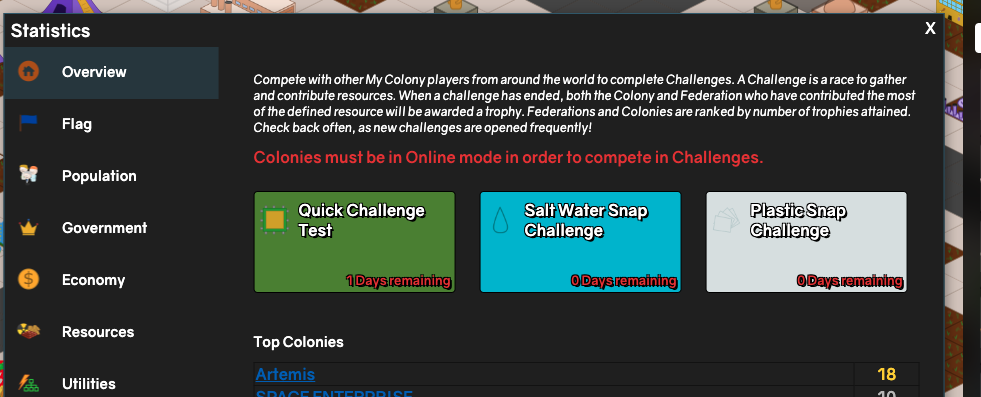 The main change in this update is to the Challenges system, with the addition of the new
Snap Challenges
,
Daily Challenges
, and
Three Day Challenges
, all automatically generated by the My Colony server.
Challenges were well received by many players, but I quickly realized it was sort of a pain for me to keep up with the system, having to create new challenges, stories, and logos every day, so I sort of fell behind on it. Well, now there will always be challenges available, with the addition of the three new challenge types mentioned above, which are all generated by the server.
Every day, a new Daily and Three Day challenge will be added, worth one and two trophies respectively. In addition, there are now one hour Snap Challenges, which will be generated at random times by the server throughout the day, so you never know when a Snap Challenge will occur. These rapid challenges are worth one trophy, and should give more players a chance to compete in the system, since you have an opportunity to sneak in under the radar and complete a challenge before some of the big colonies even notice it's there.
With these three new challenge types, there will now always be plenty of challenges to compete in. Of course, bigger challenges will still be added from time to time worth a lot more trophies.
Moving on, I have fixed the issue with
resource decay
that was making new Alpha Draconian colonies impossible to create. The new rule with decay is that resources will never decay to below the amount you are given at the beginning of the game, even if you have no storage.
Next up, a change is coming to the
Steam
edition of My Colony. There was an issue before where people were abusing the fact that the Steam client added premium to their Ape Apps accounts and were using the Steam version of the game to give free premium upgrades to other players. Because of this, the Steam Premium key is now going to be removed from everyone's Ape Apps account. The next time you log in to Steam after the update, the game will ask if you want to connect your Steam and Ape Apps accounts, and there can now only be one steam account per Ape Apps account. If you log into the Steam client using a different account, the original Ape Apps account will lose it's Steam Premium. Also, the Steam version of the app will now no longer start up unless Steam is running and signed in to a valid Steam account.
It might sound like a mess, but for players who were being honest about it, you should not really notice any difference. I hated having to add some form of minor DRM to the game/accounts, but of course there are always people who need to abuse things, so this should fix the issue.
On the plus side, once you tie your Steam account to your Ape Apps account, your account will gain automatic login for all current and future Ape Apps titles released on Steam (when opened through Steam).
Finally, I am bringing back the packaged desktop
Native Client
versions of My Colony, which I have not released for quite a while now. Several players have said they wanted these packaged versions of the app to return, so they will be. I plan to have them uploaded to the
Ape Market
some time later today.
So anyway, that is all for this update. It should be live on the
Progressive Web App version
right now, and will be hitting all other platforms over the coming days. Enjoy!
#mycolony
I know that many players have been patiently waiting for the next My Colony 2 update, but now the way is finally over as MC2 has just been updated to
v0.31.0
, and along with the usual bug fixes, this update brings with it a massive new content dump! So what all is inside? Let's take a look!
If you look at the screenshot above and think that something seems a bit fishy, then you would be correct. This update adds
fish
as a new resource, and you will now see them swimming around in the oceans on the Water World map! Fish are technically a Terrain type object in the game engine much like Ore and Gold deposits, except this is the first terrain class that can be generated in the water. The object also rotates in a circle, to give the appearance that the fish are swimming. They will spread too, similar to synthetic crystalline (although at a slower rate). The oceans on Water World are so overflowing with fish, that I doubt anybody will ever run out.
To go along with the new fish resource are the also-new
Fish Dropoff
structure and the
Trawler
unit, which are available pretty early on in the game and made with models provided by
@spamdude
. The Fish Dropoff can store 2500 Fish and also converts some of it into food, but once you unlock Salt Water production, you can also build the shore based
Refrigerated Fish Bins
for additional Fish storage. In addition to the new content, the existing
Fish Hatchery
gains fish storage and slight generation.
Moving on, there was a massive dump of community submitted MC2 models on the
Official Discord Server
recently, with contributions coming in from
@spamdude
,
@SPARKY0303
and
@DoYouHaveAnyOats
, so please take a moment to thank these three users for their contributions to the game! In the screenshot below, you can see many of the new structures.
New buildings provided by
@SPARKY0303
are the
Hospital
, the
Virtual Music Experience
and the
Integrated Nuclear Reactor
. The Hospital was a much needed upgrade to the two infirmary structures which were increasingly unable to keep up with the medical demands of larger colonies. The Virtual Music Experience adds a new semi-early game entertainment structure for your colonists (which also generates some money) and the Integrated Nuclear Reactor is another much needed structure, providing a power boosting upgrade to the existing Small Nuclear Reactor.
In addition to the new Fish related content already mentioned, further contributions from
@spamdude
include the new
Medium Software Studio
,
Advanced Drilling Platform
,
Integrated Warehouse
, and
Medium Security Station
. The Medium Software Studio, Integrated Warehouse and Medium Security Station each represent new mid-game upgrades to some of the existing structures that badly needed upgrade options, with the new Integrated Warehouse in particular adding storage for many resources that the regular Warehouse did not cover.
The new Advanced Drilling Platform might just be everyone's new favorite structure. Currently the most expensive building in the game and requiring the new
Ultra Deep Excavation
tech, the Advanced Drilling Platform consumes Helium 3 (as well as a fair amount of Power, Water and Bandwidth) while producing Ore, Regolith, Gold, Aluminum, Oil, Salt Water, the new
Clay
resource, and even a few Alien Artifacts! Clearly you are going to need to get your hands on some Helium 3 in order to operate this thing, but you can either find it in the Galactic Board of Trade, or the new Integrated Nuclear Reactor also produces enough Helium 3 to operate one Advanced Drilling Platform. I have also added a new
Helium 3 Tank
to the game, since it is clear that more He3 storage will be needed going forward.
From
@DoYouHaveAnyOats
we have three new structures, the
Elementary School
,
High School
and the nonsense
Fish 'R Us
building.
The two school models to me looked like they required an Atmospheric environment, so they are only available on worlds which would have an atmosphere. They both sit below the current Vocational Training Center in terms of education output, but are good early game education structures. The Fish R Us is similar in mechanics to the existing Canteen, except it utilizes Fish instead of Rum. I'm not going to post a picture of it here, you just have to see it in-game.
There are a few other new structures to arrive in this update as well. The new
Ancient Alien Quantum Physics
tech unlocks two new Alien structures, the
Alien Solar Tower
and the
Quantum Food Silo
, which both represent much needed Alien upgrades to existing structures.
Climate Science Theory
tech has also been added to the game, and unlocking it will allow you to build the new
Nuclear Water Synthesis Plant
, which I felt was needed particularly on the Lunar and Abandoned Worlds.
On top of all of the new content, some tweaks have been made to some of the existing items in the game. I have increased the charcoal output of the
Charcoal Factory
, slightly reduced the rum consumption of the
Canteen
, increased the spice and ether storage on the
Lander
, added a small amount of Helium 3 and Salt Water storage to the Lander, and added several new upgrade paths for existing structures to take advantage of the new content.
There are also some technical changes and fixes. Firstly, I corrected an issue where players who were not logged in to an Ape Apps Account were unable to play the game. I fixed a bug where MC2 was unable to load using the new
Ape Apps Launcher
. Structures can now be placed directly over Terrain objects, doing so will automatically bulldoze the terrains underneath. I corrected several technical issues with the Galactic Board of Trade. Fixed a bug where you could no longer properly build Palm Trees or Synthetic Crystalline deposits. There were also several minor fixes and UI tweaks made to the game.
All in all, this update includes
1 new Terrain object, 3 new Techs, 2 new Resources, 1 new Unit, and 16 new Structures
. I want to thank everyone who contributed content to this release (as well as bug reports and suggestions), and I hope that you all take a moment to show them some gratitude as well! This update took a bit longer than normal, but I think you will find that it was worth the wait. It should be available to play right now on the Launcher and on the Web, and should be hitting Android and iPhone over the coming days, so let me know what you think, let me know what issues you find, and stay tuned for more!
https://www.apewebapps.com/my-colony-2/
#mycolony2
So about a year and a half ago or so, Microsoft depreciated the original UWP WebView control and move all of their development efforts over to the new Chromium based MS Edge. This was fine, except for that My Colony on Windows ran under the old Edge WebView, which was no longer receiving any updates. In order to allow My Colony to keep running on the latest engine, I took down the original Windows package and replaced it with a PWA pointing to the Web version of the game.
This was good, except for that MS does not allow non-Microsoft Store in-app purchases for games, so I had to make the game paid on the Windows Store, and buying it just added Premium to your account. This of course led to a pretty big drop in Windows users, since a free game obviously does better than a paid one.
Meanwhile though, Microsoft came out with the newer WebView2 control for UWP apps, based on the new Chromium Edge engine. In my spare time I have been updating my Windows Web App Core code to take advantage of this new engine, and now that the work is complete, I am pleased to announce that the free version of My Colony is once again back up and running on the Windows Store!
https://www.microsoft.com/store/apps/9NBLGGH4X533
I have unpublished the paid edition so there is no confusion by having two versions of My Colony available, but if you previously bought the paid edition from the Store, then it will still show up for you like always.
So that is the change for the Windows Store release. I will probably be making the same change to My Colony 2 the next time I update that game, so there will finally be a free MC2 package available to Windows Store users.
Moving on though to the non-Windows Store desktop clients.
I quit updating the Windows/Mac/Linux desktop clients quite a while ago, and converted the Steam client to be basically a wrapper for the Web App that unlocks premium on the users' account. This worked pretty good on Steam, but a lot of people were taking advantage of how it worked in order to give free Premium access by letting their friends log into their Steam using their Ape Apps Accounts. So to combat this, and also just to improve the experience in general, I am bringing back the native clients for Windows, Mac and Linux, and they will all be natively packaged as well, not just hosts for the Web App version of the game.
When this change occurs though, I will be removing the "Steam Premium" flag from every account in the Ape Apps database. Then, the first time you sign in to the game using Steam, it will ask you to link your Steam account to your Ape Apps account, and there can only be one Steam and Ape Apps Account linked, so you can no longer share your Steam purchases with other users. Linking your account will also enable automatic sign in for all Ape Apps games through Steam. For added security, the Steam editions of the game will no longer be able to run unless Steam is also running and signed in.
In addition, the Steam clients will now implement the Steam API, and I am looking into adding Steam cloud saving, workshop, achievements, IAP, etc.
Finally, the Ape Apps Launcher is getting a massive overhaul and update sometime in January, so the experience there will be improving quite dramatically as well, so be on the lookout for that. It is going to run as either a PWA or a native packaged app, and will support interfaces for Desktop, Mobile, TV and VR users. Should be good stuff!
So anyway, those are the changes coming to the Desktop apps.
I know that many are anxiously waiting the next updates to My Colony 1 and 2, so since they are still a little ways off, I thought I would share with everyone what their current status is, and what my plans are going forward!
First, the reason for the lack of updates this month is that I have created a new Google Play account called My Colony Universe to house all of the games in (you guessed it) the My Colony Universe, so that everything is combined together and easy for players to find. Since the titles were spread out across three different accounts, it took me some time to get everything transferred over, as each transfer request takes several days and must (I assume) be done manually by employees at Google.
Going forward though, all My Colony related content on Android is available on the same Google Play account which you can view here:
https://play.google.com/store/apps/dev?id=6753488031908307666
While I was waiting for the transfers though, I started the process of going back and updating my entire catalogue of apps and games so that they all target the latest versions of Android/iOS/Windows and run the latest SDK's and so on. This has been a slow-ish process, and I expect it to take me most of the rest of the month, but it is important work to do, since the My Colony games themselves do not generate all that much revenue, and are largely subsidized by the rest of my catalogue of apps and games. For that reason, it is important to keep the other titles up to date and functioning properly on the latest mobile hardware, and since some of my apps I had not touched in several years, time was well overdue to go through and complete this process.
Next, let's look at the future plans for the original
My Colony
. I do not know if it will be ready for the next update or not (really depends on GirlyGamerGazell's timeline), but the next big content update to the game will be the completion of the Dark Matter update. This will probably be the last really big content update that MC1 receives, other than a regular stream of weekly premium structures. I really want to focus my time for new content and features into My Colony 2 which has really begun to mature over the last few updates, so that is what I will be doing. Rest assured though, MC1 will continue to receive updates on a regular basis to fix things that need fixed and to stay current for the latest devices and whatnot.
I am also going to be making a change to the Challenges system, as it turns out that it is a lot of work for me to keep coming up with new challenges on a daily basis. Instead, every day the MC server is going to automatically generate a new daily challenge using a random resource, this way I do not have to keep coming up with challenges and logos manually. In addition, randomly throughout the day, the server may generate a 1-2 hour long "snap challenge," which I think should give more players a chance to gain trophies.
As the challenge system goes on, it may make sense to implement something like "seasons" where all trophies reset after a time. There can be a record of course of which players/federations won each season. But at some point it might get to where first place is so far ahead on trophies that nobody can even catch up.
Anyway, you guys can let me know what you think of the system. Remember that challenges are completely optional, and while some people have expressed disdain for the system, many others seem to really like it, so it will be staying around for sure, and might even come to MC2 as well.
Now on to
My Colony 2
, which is going to have a big year in 2023. A lot of new features/fixes/and mechanics have come to MC2 over the last few updates, bringing it closer to being on par with the original. That is going to continue, and it will eventually far surpass MC1 in terms of "stuff to do."
First, I have done some work behind the scenes over the last couple of weeks on the server side of things, mostly aimed at improving MC2 dedicated servers. I noticed that when running an MC2 dedicated server for several days, what would happen is that the user's account token would expire, and then all game saves to Cloud Sync would fail due to an expired token. Thus the next time the server was rebooted, several days of game data would be lost. This issue should now be fixed on the web app version of My Colony 2, so it now
should be
safe to run an MC2 dedicated server using the web browser for days on end with Cloud Sync enabled. I currently have three servers running at my house to put this theory to the test.
To further help with dedicated servers, I am going to be adding an automatic daily backup for all public dedicated server games directly to the My Colony 2 server (which is on different hardware than the Cloud Sync server) which server owners will be able to restore from in the event of a catastrophe. Perhaps I will retain the last several days worth of backups that an owner can restore from.
Since I noticed there has been a lot more MC2 dedicated server activity lately, I wanted to make sure that this system is as solid as I can make it, so more improvements will be coming to it as time goes on.
In terms of new content, the next MC2 update will be fairly large, as I am pleased to report there have been quite a few new model submissions on the Discord server and elsewhere, so there is a lot of exciting content coming soon to MC2.
I am also going to be making a way for people to submit the link to their custom News Feed servers, so that the game will come standard with several that players can choose from.
I would like to also finally release MC2 to Steam in 2023, which I know is something some people have been asking/waiting for. Before it gets there, I want the game to have sound effects and a music track. I have already compiled a few original tunes for the game using Garageband, but I am no musical expert, so if anyone out there wants to take a stab at creating some songs for MC2, please feel free to do so!
Big things are going to be coming to the Player mode in My Colony 2 (the mode where you become a little colonist and walk around). I sort of have a vision in my mind where MC2 is kind of two types of games in one, the city builder type game that it already is, and something of an adventure/role playing game using the Player mode, except that the universe you play in consists of the network of online dedicated servers built by other players. I am thinking that the Star Gate from MC1 needs to return, but this time it will act as a means for players to travel from planet to planet in player mode in order to adventure, complete quests/missions, find items, or just explore other worlds from that perspective. I have spent some time just walking around some MC2 worlds in the VR mode, and it is pretty cool, but would be far more so if there was actually something to do besides just look.
Basically, each player/account is going to have one player mode avatar on the entire universe server, instead of a different guy for each world. You will have a "home" planet that you can respawn on if you die or if the server you are currently on goes offline. You will have stats/inventory and be able to party up/communicate with other players. You will be able to visit other worlds via Star Gates, even if you do not have a settlement on that world. When you are in building mode, you will be able to see Player Mode people as they come through your star gate, and so really you can build some kind of special welcoming area/lobby in your world around your Star Gate. Maybe buildings will be added that you can build that have specific functions for player mode. The game will also generate some NPC type characters in each settlement that players can interact with or get quests from. You will be able to do some sort of prospecting/mining, and maybe each world will have unique materials that you can only obtain in player mode. There are a lot of options.
Player Mode characters will also be able to control vehicles, whether driving/air/water vehicles, as well as combat type vehicles. There are a lot of options. Players will also be able to fight each other if they choose to do so.
So that is sort of my idea for the "two games in one" approach to MC2. Although the classic My Colony style of play will always be the primary mode, I think realtime multiplayer and dedicated server model that MC2 has unlocks the ability to add the cool secondary mode that can potentially add replay value to the game for years to come, and also open the world up to players who maybe don't care about the building aspect of the game, but would have fun adventuring through worlds that others have built up.
So those are the 2023 plans for MC2. Content and feature wise, I want it to be close to on par with MC1 United Earth faction, with the added bonus of infinite world sizes, real time online multiplayer, and a network of worlds that are truly connected. On top of that, I want to start adding a secondary adventure game to the mix that players can interact and explore in, whether on a PC, touch screen, TV/gamepad, or in VR. Finally, I want the polish and presentation to get to a point where the game is ready for Steam. I think all of these updates will add up to some exciting times ahead for MC2!
Just as an aside, I also plan to keep updating Colony Wars throughout the year, I have not forgotten about that game. At some point also, Terra Nova 4X will become a thing, I just need to find the time to work on it!
#mycolony
#mycolony2
Since yesterday got a bug fix/maintenance patch for My Colony 2, and since Dark Matter Pt2 update is not yet ready for prime time, I figured My Colony 1 could get the same treatment, so the new
v1.24.0 patch
should be hitting all platforms over the next few days. What's new? Let's find out!
Even with the existing Turbo Drones, some of the newer buildings were taking forever and a day to construct. That is where the brand new
Ultra Drone
comes in! The Ultra Drone requires Dark Matter tech and is basically the build-speed equivalent of 1,500 Turbo Drones, so it's very fast at building. It is also by far the most expensive unit in the game, but just one of these bad boys should take care of all of your mega construction needs (for now at least)!
I made some cosmetic changes to the
Diamond Refinery
and the
Diamond Miner
, because they both had L.I.S. flags painted on them, even though they can also be built by United Earth. The L.I.S. logo has been removed.
Speaking of new paint job, the Challenges window was spruced up just a bit. First, Second and Third place now get Gold, Silver and Bronze colors respectively. You can now also click on every colony and federation name to bring up their respective windows.
But you might be saying, "there is no Federation window" and you would be right, until now. I have started building the federation info window, which now shows up when you click on a federation name. It gives basic info and a Request Membership button, making it easier for users to join a federation they are interested in. It is still bare bones, but will be fleshed out more later.
Also, now if a colony is a member of a federation, you will see a new button that links to their Federation window when you are looking at their colony info screen, making requesting federation membership even easier.
In the last update, there was a bug where participating in a challenge from a Region city would cause the city to keep losing resources when the regional output/input was simulated. This has been fixed. I also fixed a bug that was causing builder units to act strangely.
Now for the stuff people will not be as happy about.
Last time I spoke of removing Import/Export completely from online games. Some people liked this, some hated it. For now, I have kept Import in the game with the 99.99% price penalty, and have kept Export in the game and reduced the penalty from 99.99% to just 90%. I might adjust that further later, or may still remove it completely. TBH the extreme penalties have not really caused much of a problem that people were claiming it would.
And now for the change that I think I will get the most rage from on this update,
resource decay has been increased dramatically
, as in the engine will now try to get your resource level down to your storage capacity
within 10 minutes
or so (that is not a hard number, that is just roughly how long it takes). I consider being able to have more resources than you have storage for to be an exploit anyway, and now it has been patched, but the patch does give the player sufficient time to use export or post stuff onto the marketplace. Basically, the higher above your storage capacity, the faster your resource will decay, and if you are just a little bit over, it will decay basically at the old decay rate. So if you have, for example, 50 million star ships but can only store 10,000, you will be losing millions per second at the beginning. This is another change geared towards bringing galactic resource values into balance.
Finally, over the next month or so, I am doing a "dark structure" series on the collectable structures window (which you can find by clicking on the "New Content Available" button. These will basically be dark theme colored variants of some of the most popular regular structures, so if you have any requests of structures you would like to see get the dark treatment, let me know!
So anyway, that is all for this update. I know that some tweaks are being made to the rest of the Dark Matter update, so stay tuned for that, and as always let me know what bugs or other issues you find in the game. And until next time, enjoy!
#mycolony
Linkback References

Try Boom Feed, the free RSS reader from Ape Apps! Boom Feed is a free RSS, Podcast, news reader and aggregation app, available on most platforms including Desktop, Android, and iOS. Try it today!