Find User
here you can look for a user
My Land v1.29.0 Released
Today I am releasing an update to My Land that is minor from the users' standpoint, but a fairly exciting one from a coding standpoint.
My Land v1.29.0
is now finished and will be hitting all platforms just as soon as it gets approval from the various app stores. Here is what's new.
Firstly, something that has long been requested by users, you can now manually pick what season the game uses for the ground and graphics!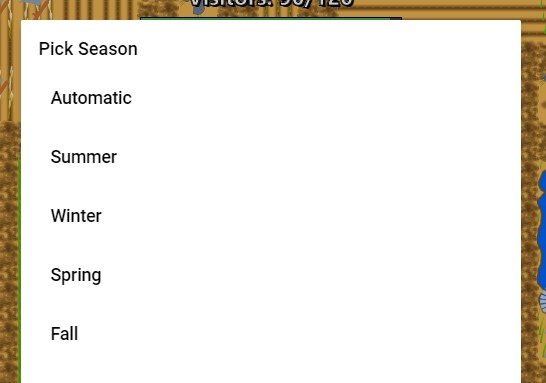 Found in the regular Settings menu, the new Season picker is pretty self explanatory. The game has different graphics for each season, and if you set it to Automatic, the graphics will change based on the time of year (according to northern hemisphere time). If you do not like the look of the season, you can now manually choose whichever one you want. This will come in handy soon for all of the people who complain about the Winter graphics, which I get more than a few e-mails about every year.
Next up, the side-bar build menu now has a text-input filter dialog, similar to the one found in My Colony.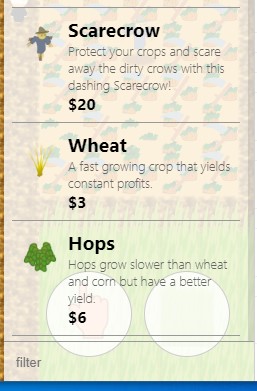 Simply type the name of the tool you are looking for in the list, and it will automatically filter itself based on your input. This will become more and more helpful as I add content in the coming updates. To go along with this new filter bar, I added a new keyboard shortcut to the game, for users who are playing with a keyboard and mouse. Pressing
will now bring up the build menu and auto-focus your cursor on the filter box, so you can just start typing right away. I have updated the online
Keyboard Controls Reference
to reflect this new addition.
The rest of the changes are internal to the engine, but were required to make in order to move the game forward. Firstly, I have finally completed a major change to the engine that I started working on in My Land v1.3 way back in December 2015 - the removal of hard coded content from the game engine! This probably does not seem like a big deal to the users and you shouldn't notice any change to the game, but it was a huge deal for me.
When I first released My Land all the way back in the summer of 2014, I did not separate out the game data code from the engine at all, and so special logic was coded in the engine for every single type of crop/animal/object in the game. This was a stupid design decision and has made updating the game and adding new content a huge pain. As of this update, I believe (99.99% sure) I
finally
have all of this hard coding removed from the engine, and all game content data is now completely separated from the core game engine, putting the core design of the game more on par with My Colony. This was a long/slow/boring/annoying process, and I am extremely glad to finally be done with it. It will also make it
a lot
easier to add new content to the game in the future!
Finally, your game save now internally records a whole bunch of stats and trends related to your game while you are playing. It may not seem very cool now, but it is going to allow me to add fancy graphs and charts and a detailed Statistics window to the game, similar to what currently exists in My Colony!
So that is all for today's update. I am sorry that I didn't add any new content this time, but once I started diving in on the hard coding removal and I could see the light at the end of the tunnel, I decided to just work on that instead and get it over with. Since I did not add anything new this time, the plan for the next update is what I
said
I would be putting in this update in the
last post
, so I will just re-copy/paste it here for your convenience:
Coming up next, the rest of the current animals will need slaughter options, and new shops will have to be added to cater to all of the new animal resources. I also still plan to add an option to expand the size of your property, and to add a way to increase your Visitor cap. And once I feel like the in-game content has been sufficiently expanded, I also plan on porting the game over to Steam, although once it hits steam, the price for Premium will also be going up a bit, so just be aware of that.
With that, enjoy the update and stay tuned for more!
Owner of Ape Apps, LLC
Linkback References

Try Boom Feed, the free RSS reader from Ape Apps! Boom Feed is a free RSS, Podcast, news reader and aggregation app, available on most platforms including Desktop, Android, and iOS. Try it today!