Find User
here you can look for a user
Introducing Private Chat Channels
Ape Chat now supports private, invite-only invite channels. To create a new private channel, you open the Ape Chat desktop interface ( https://chat.ape-apps.com ), and on the "add channel" input box, you type in your new channel name with a
%
sign in front of it, like so: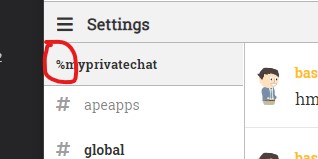 Note that the % sign is only used to tell the server that you are creating a private channel. Afterwards, the sign is not used in the channel name.
If the channel does not already exist, it will be created in private invite-only mode,
with you as the channel moderator
. Note that other than myself and
@cry8wolf9
who are global chat moderators, only private channels can have an individual moderator.
Once you have created a channel, you can invite users with the command:
/invite [username] to [channelname]
In addition, if the user you want to invite is in the username listing in another channel, you can right-click on their name and select "Invite to Channel' to invite them they easy way.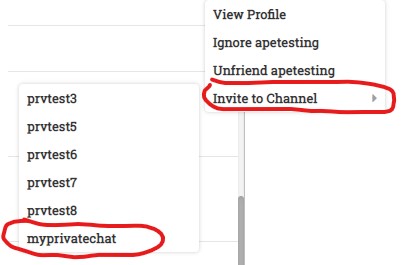 Once somebody is added to your private channel, they will gain the ability to invite other users as well.
The moderator of the private channel will soon (but not quite yet) be able to add additional moderators, set the display name and description for the channel, add an icon to the channel, set channel member ranks, kick/ban people from their channel, etc.
Keep in mind that the global moderators can access any private channel without invitation
.
This is one of the new features I am getting ready for the upcoming Ape Chat stand alone mobile app, which I plan to release to at least Android, and hopefully iOS, within the week here.
Enjoy, and let me know what other chat suggestions you have!
Owner of Ape Apps, LLC
Linkback References

Try Boom Feed, the free RSS reader from Ape Apps! Boom Feed is a free RSS, Podcast, news reader and aggregation app, available on most platforms including Desktop, Android, and iOS. Try it today!