Find User
here you can look for a user
Network Browser v2.2.0 Release Notes
Network Browser has just been updated to v2.2.0 and packs an exciting new much-requested feature - in-app picture viewing!
Traditionally Network Browser has relied on the standard device picture gallery app to display pictures. This was normally fine, but often left TV users high and dry. It also did not allow for swiping through a folder full of pictured. This has changed, with the new in-app picture viewer. You can swipe through images, save them to your local device, and even set them into slideshow mode.
In slideshow mode, your device will work like one of those digital picture frames, except using pictures from your network. It works on all devices, but should be particularly useful on TV and tablet devices.
Also, when Network Browser detects that you have entered a folder with a bunch of pictures, you will now see this notice:

This allows you to switch directly into digital picture frame mode, without first having to open the photo viewer. So turn your rarely-used tablet into an awesome digital picture frame, or use your TV to show off your picture album from your last vacation!
Network now detects and has new file-icon associations for .nes files, which are Nintendo ROM's (original Nintendo). When you open a folder full of NES Roms, it now looks like this: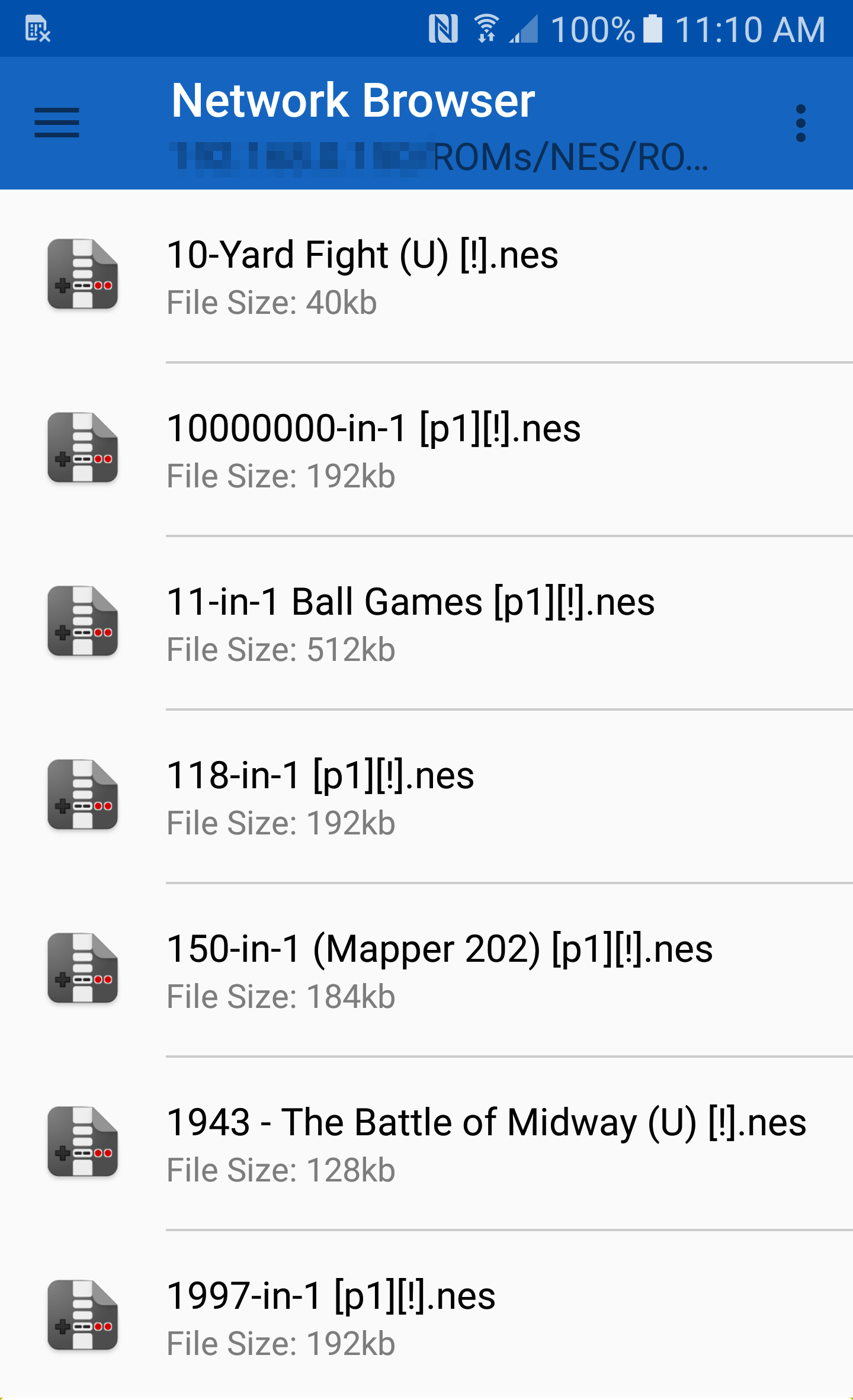 The really awesome part is coming soon though, because I am soon adding a built-in NES emulator to Network Browser! Emulation will work with both touch-screen devices and with a gamepad on Android TV. Now if you have a on of NES Roms on the network, you can turn your TV or phone into an NES! If the feature proves popular, I will look into adding more emulation support. NES support should be in the next update.
Further down the line, I am planning on adding bulk-folder uploading from phone to network, which is a frequently requested feature. Also, I am planning on tying Network Browser to online TV and Movie meta-data databases, so that when you browse to a folder full of TV shows or movies, the app will automatically fetch and display the meta data for you, along with movie posters. I might do something similar for music as well.
Anyway, that's all for this update. Enjoy Network Browser, leave your comments/issues/concerns here, and stay tuned for more!
Owner of Ape Apps, LLC
The update broke my setup. I'm using OpenVPN (android client) to connect the home network and use(d) your app. It worked very well, because yours didn't nag that I'm not connected to wifi. Other apps though no wifi == no samba.

Anyway, with the latest update the connection just hangs and when I try to re-enter the credentials, I get very broad "Connection Failure" error

I will remove advertising twice if I can get my setup working again :)) I believe it's fairly popular way to use your app.
Linkback References

Try Boom Feed, the free RSS reader from Ape Apps! Boom Feed is a free RSS, Podcast, news reader and aggregation app, available on most platforms including Desktop, Android, and iOS. Try it today!