Find User
here you can look for a user
Major Update to Ape Chat
Ape Chat has just been updated to
v2.3.0
, and this update brings a ton of improvements, including bug fixes and exciting/long overdue new features. Let's take a look!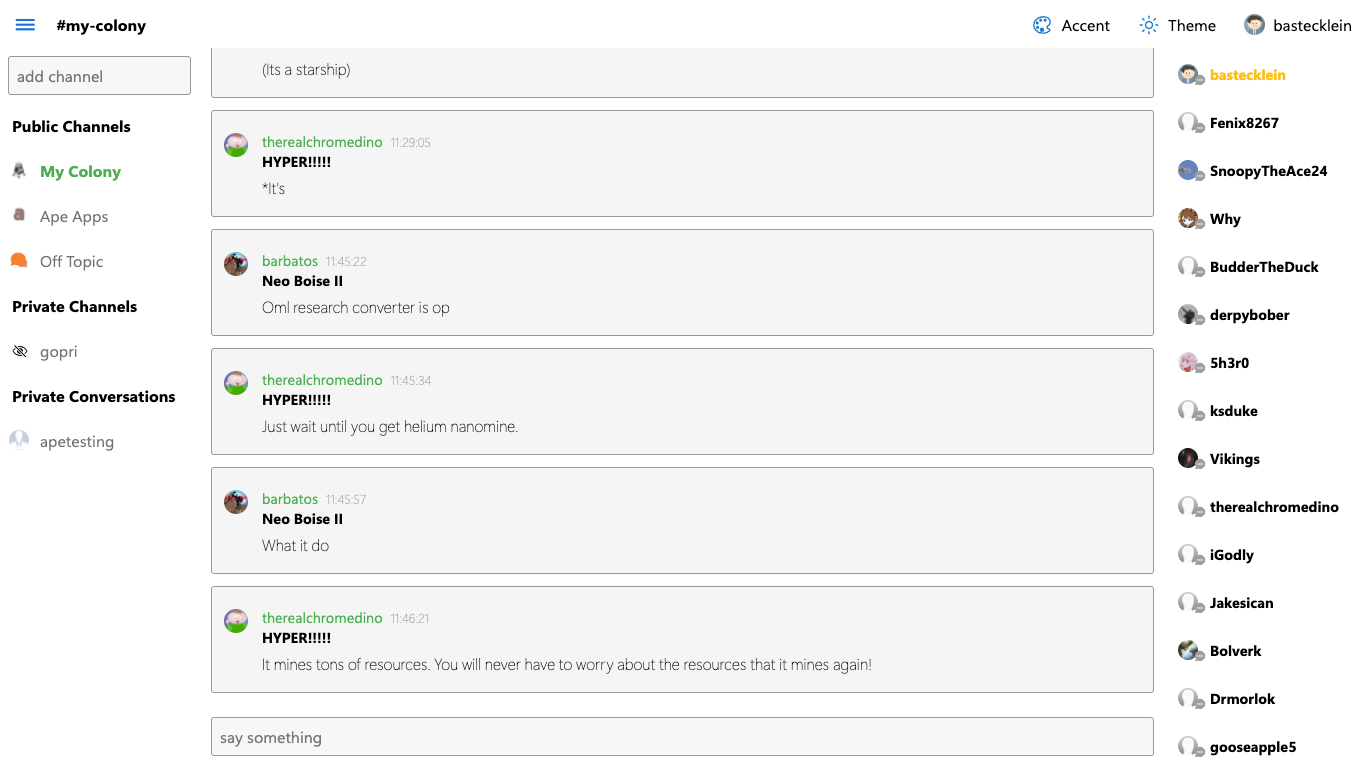 To get started, Ape Chat now finally supports push notifications. Prior to this update, you could get a notification if the Ape Chat window was minimized and you got a private message, but what if you didn't have Ape Chat open? Well now when you open the Ape Chat application (
https://chat.ape-apps.com/
) you will get a pop up notice asking if you want to enable push notifications (if you say no, you can show the popup again by finding it in the main slide-out menu). Once you activate push notifications for your client, you will get a notification whenever another user sends you a private message through Ape Chat.
This feature isn't just for private messages though. Now if you right-click on one of your channels on the left sidebar, you will see a new Subscribe option.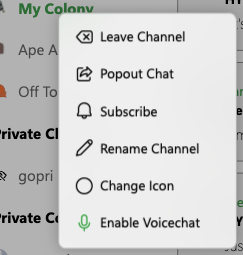 Subscribing to a channel will allow you to get notified when new chat messages are posted to that channel, even if Ape Chat is closed. If you grow tired of being notified, you can unsubscribe in the same manner.
The Push Notification options will only be available if your device/browser supports the Web Push API, which as of this writing is pretty much everything except for browsers on iOS (which will supposedly be coming soon).
Speaking of mobile devices though, one of the biggest issues with Ape Chat has finally been rectified with the all new mobile interface.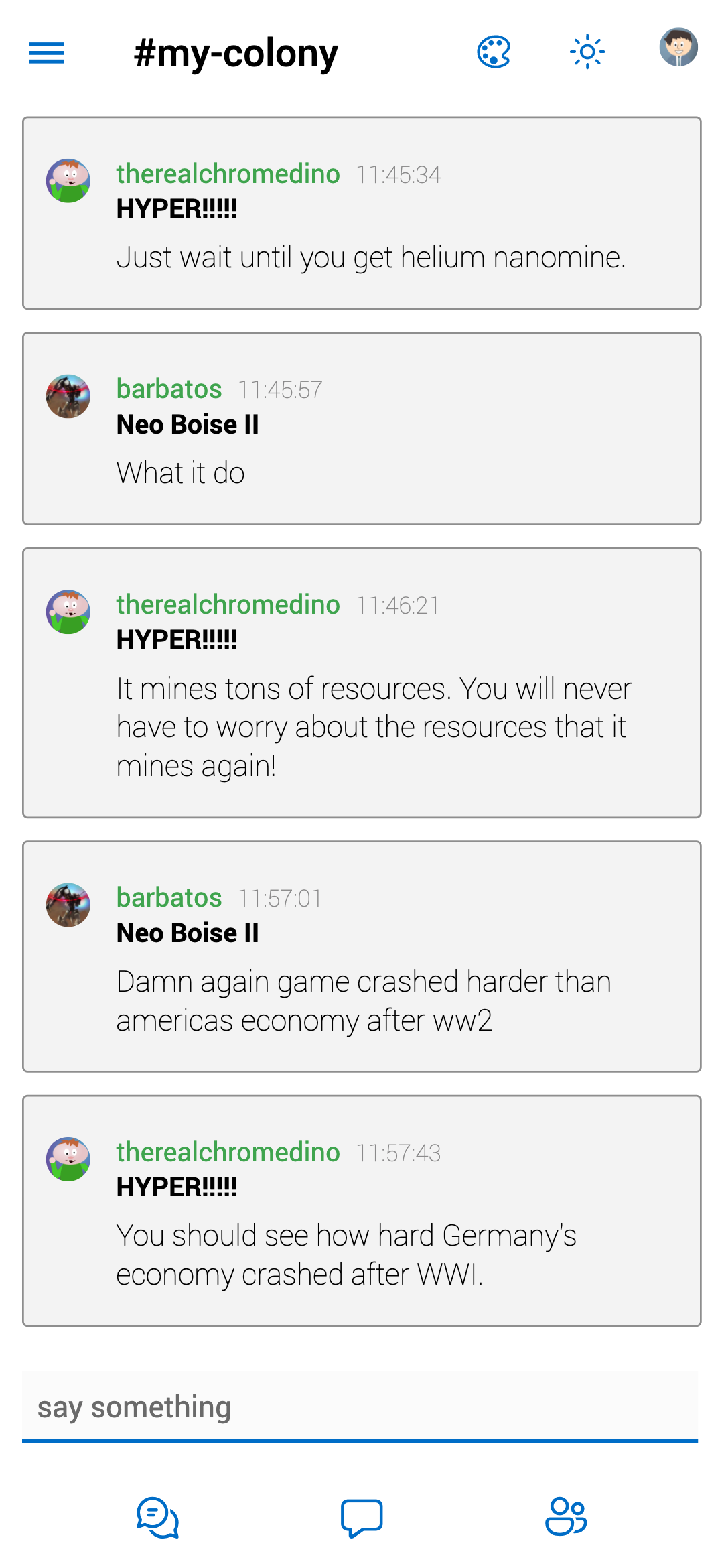 Running Ape Chat on mobile will now give you a bottom toolbar, finally allowing you to access the Chanels and Users listings, which were previously unavailable on mobile. This new interface upgrade now makes Ape Chat fully usable from a mobile device.
In addition, the PWA/Add to Homescreen support for Ape Chat has been greatly improved, on both Desktop and Mobile. Installing Ape Chat as a PWA on Desktop (you should see an install icon in the address bar on supported browsers) gives you a clean user interface, making Ape Chat look and feel like a native app on your device. On mobile, the installed PWA interface (on iOS, you have to do the "Add to Homescreen" feature) now detects devices that have a Notch (like most modern phones do) and updates the layout to work around the notch cutouts.
Other than the new feature additions, a whole host of bugs have been corrected in this release, including a lot of the bugs that would cause the chat server itself to crash and restart (thus filling the chat roll with "Server Disconnected, will try again soon" messages). And speaking of the "Server Disconnected" message, it no longer prints a message to your standard chat roll, but will now just give a small notice at the bottom of your screen, which will go away once the server connects again.
All in all, today's Ape Chat update is probably the most significant one in the last two years. If you use any of the Ape Chat channels, or want to be notified when new chats are posted in the My Colony or Ape Apps forum channel, consider installing the Ape Chat PWA or adding Ape Chat to your Homescreen, and enabling Push Notifications. It's a great way to keep up on what is happening in chat, and also finally makes the private messaging feature in Ape Chat useful!
Ape Chat can be used on all platforms right from the web browser at the link below. The Website/PWA is now far superior to any of the older "stand alone" Ape Chat clients released to the various app stores, and should now be considered the primary/definitive version of the service.
https://chat.ape-apps.com
#apechat
Owner of Ape Apps, LLC
Linkback References

Try Boom Feed, the free RSS reader from Ape Apps! Boom Feed is a free RSS, Podcast, news reader and aggregation app, available on most platforms including Desktop, Android, and iOS. Try it today!