Find User
here you can look for a user
TRIPPED , how do you do it? i want one! - Page 3
A few minutes later. Someone must have been watching the market coz it's all gone.
Craig said:I tried to check it a while ago and just ended up crashing, was going to see if they stopped yet but I guess not 0.0
Yepp, they're still going strong lol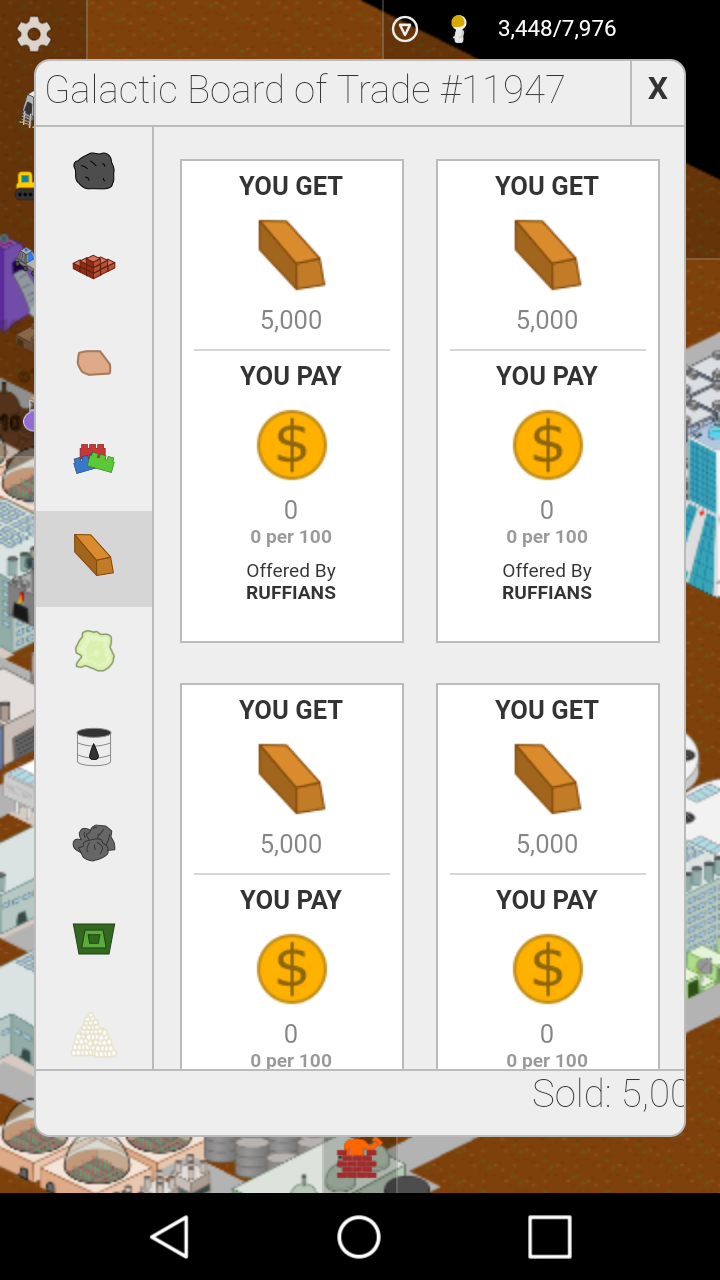 The market for every resource is now flooded with $0 sales. Also some sales where you get *negative* resources. I was financially stable before because I sold aluminium... I'm now building lots of investment banks coz I don't think I'll be selling aluminium for a while...
from the amount they sell, i kind of suspect they just sell it out of nowhere, maybe those resources were not deducted from their warehouse.
Charter code: T0gtaz50 (Both 0 are zero). Join me, I am resource rich.
Charter code: T0gtaz50 (Both 0 are zero). Join me, I am resource rich.
@Nikko
, i'll pick up all the alu from you. I need tons of it anyway. Let's talk over discord later
I've been monitoring prices through the API this week... seems like there were some huge spikes/dips on market rolling prices.
I've made a script that gathers data every 30 minutes (maybe I'll monitor every 5 or 10 minutes next week). By the rolling prices, it seems like there were some huge transactions before all those dumps, which forced the rolling price down again.

@barbossa42
that is a very, very cool graph. Are you monitoring the prices per 100 over time? Do you perhaps have longer timescales? Out of pure narcissism I'd like to know if my aluminium selling has had any impact. Plus it is really cool to see the history like that. Huge spikes in prices is very interesting... or is that huge spikes in amount being sold/minute?
@Nikko
I'm using data from this link: https://www.ape-apps.com/viewpage.php?p=584
It has no data on amount, just prices. The graphic follows the rolling price.
My guess is that those spikes (those are HUGE, the graphic is in logarithmic scale) were caused by Ruffians buying some of those absurdly expensive and large contracts (like 100.000.000 Uranium for 200.000.000 per 100) and selling everything for 0...

Try Boom Feed, the free RSS reader from Ape Apps! Boom Feed is a free RSS, Podcast, news reader and aggregation app, available on most platforms including Desktop, Android, and iOS. Try it today!