Find User
here you can look for a user
Main colony not loading after long time not playing
Hi there everyone!
Today I wished to get back to big times when I was playing at this wondeful game, so I tried to load the colony where I left it months ago.
My PC windows 10 app got an automatic update to 0.63 (I guess about 10 releases newer from the one I left) but my main colony consisting of 100k people is not loading. Other colonies are, but they were just some tests I made.
After giving the .mcz file name to the loader, I get two popups: the first message is about a heavy taxation on which I can only press the :-( button (I was aware of it), the second popup message is a warning for a loss of connectivity I'm not experiencing at all. By clicking on OK button the popup disappears and nothing happens, I'm back to the main window. See enclosed screenshots.
I'd like to keep playing with my old colony that kept me busy for months on building it rather starting a new one.
Does anyone know how to get rid of this? Bast, can you help??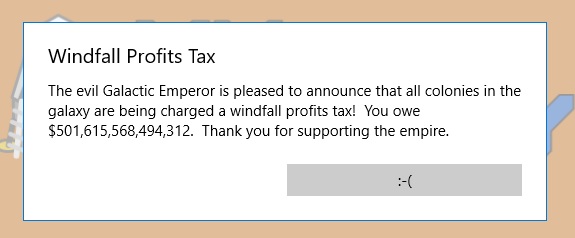 So, from what I can understand you either have not signed in with an Ape Apps account, which is now mandatory to play online, or it is something else. Are you connected to internet?

Make an account here; https://accounts.ape-apps.com/register.php



My Colony, the Corporate Sector! Join the NOZ Federation and my commonwealth!
I have an account and I'm logged in. Connection is working.
Any other suggestion?
The current version is actually 0.65, so double check the version you have installed. It may depend on which version of the pc game you are running as you can get it through the MS Store or the ApeApps Launcher, or directly thru the website here. Launcher and website here are the same just different update methods.

Also make sure any firewalls you have (including the Windows one) are NOT blocking it.

Edited to clarify the firewall thing.... oops :)

Try Boom Feed, the free RSS reader from Ape Apps! Boom Feed is a free RSS, Podcast, news reader and aggregation app, available on most platforms including Desktop, Android, and iOS. Try it today!