Find User
here you can look for a user
Network Browser v2.7.0 Released
Today I am rolling out Network Browser v2.7.0, which is a new feature release containing a couple of goodies which have been requested by the community.
Firstly, a couple of new items have been added to the drop down application menu, which is where you can find the new features for this release. The first is the
Upload Folder Here
option, and the next is the
Setup Folder Backup
option.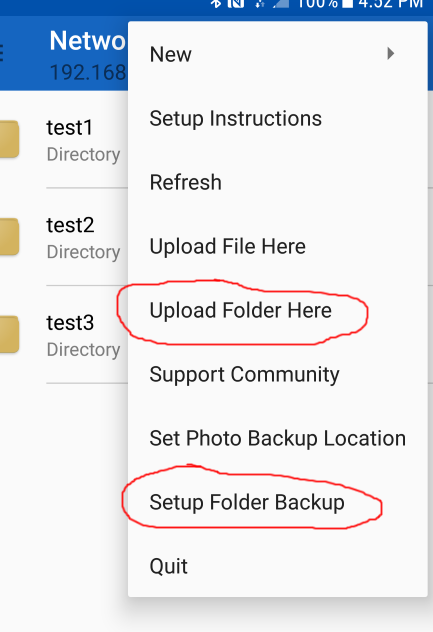 Upload Folder Here
is self explanatory and has been long requested by users. If you have
Helios File Manager
installed on your device, you can now upload an entire folder to the network, which is a lot more handy than the previous one-file-at-a-a-time method. To go along with this, there is a new upload status indicator at the bottom of the screen when uploading multiple files.

The next new feature is
Setup Folder Backup
. With this, you can set Network Browser to automatically keep a folder (or several folders) on your device backed up to a network location of your choice. The backups will take place every night at around 2:30 AM. At some point I will expand this and let you choose the time and other variables, but that is how it works as of right now.
In addition to these changes, a number of bugs and glitches have been addressed, but of course, with new features tends to come new bugs, so be sure to let me know what I have missed so I can get them fixed. And as always, keep the suggestions coming. These updates came from you guys, so your input helps shape what will be added in updates to come!
Owner of Ape Apps, LLC
Linkback References

Try Boom Feed, the free RSS reader from Ape Apps! Boom Feed is a free RSS, Podcast, news reader and aggregation app, available on most platforms including Desktop, Android, and iOS. Try it today!