I am currently putting the finishing touches on My Land v1.26.0, and it should be hitting all platforms within the next couple of days. This update is not necessarily large in terms of new content, but it includes a major conceptual change that will allow the game to move forward over the next coming updates. Also, thanks to the persistence of
@DKMK100
, I will be moving My Land up to a more rapid and regular release schedule, closer to the pace of My Colony, while I ramp up the content and add exciting new features to the game engine. So, what has changed in this release? Let's take a look!
For starters, one of the main things that has held My Land back was the fact that the game had only one real resource, money. There were a lot of things I wanted to do in the game, like combine the crops you harvest into other things for instance, but I was unable to since the engine was limited to only one resource type and it was going to be a slight undertaking to change that.
Well, for this update I decided to finally change it, and the game now supports more resources than just Money! In order to accommodate this change, I also introduced the new concept of resource storage to the game, which is indicated by a new HUD meter at the top of the screen.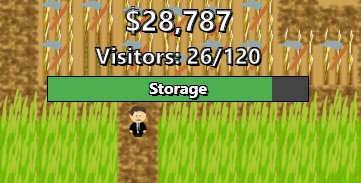 All resources share the same general storage pool, since I don't want the game to become quite as complicated as My Colony/Antiquitas. You start the game out with 0 storage capacity, and you increase your capacity by building one of this updates' new structures, Silos.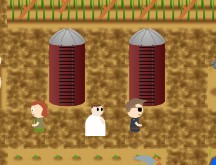 If you have free storage space in your Silos, produce that you harvest will be sent to the silo. Otherwise, it will immediately sell for money like it always has. To indicate this new behavior change, crops that are ready to harvest now show a Scythe icon instead of the previous "bouncing dollar" icon. To manage your storage, there is a new Storage item in the main slide-out menu. From there, you can see everything that you have sitting in your silos, and you can sell it for money if you want. Also, now when you plant new crops, you will first use the seeds that are in your Silo before purchasing new ones for money.
Finally, this update adds one new crop, the yummy delicious Watermelon!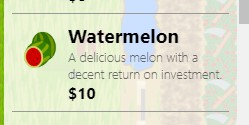 The best part of this update is the new game mechanics that the new storage and resource system will enable. The next thing I plan on adding is a new class of structure that will convert combinations of existing resources into new resources. For example, a mill that turns your wheat into flour, which can further lead to an oven that turns flour into bread, which can further lead to a new bakery tourist attraction. So we are really going to be entering a whole new "era" so to speak, in terms of new My Land content and capabilities. It should be exciting!
As I said before, My Land fans can thank
@DKMK100
for catching me on chat and shaming me into blowing the dust off of My Land. The updates are going to be coming a lot faster now, so be on the lookout. I may try to build My Land up to the point where it can be worthy of a Steam release by this fall. For fans of the game though, rest assured that, even with all of the new content and capabilities on the way, I plan to keep the gameplay of My Land similar to how it is now, and I will not be adding a ton of complication like you would find in My Colony. So stay tuned, there is a lot more My Land to come!