Find User
here you can look for a user
Network Browser v2.7.2 Released
The Network Browser v2.7.2 patch is being finalized and should be available for download on all platforms within the coming days. This update fixes a handful of bugs, and also adds a new option to Settings, allowing you to deliberately choose whether or not to use either Network Browser's internal video player, or a 3rd party system player such as VLC.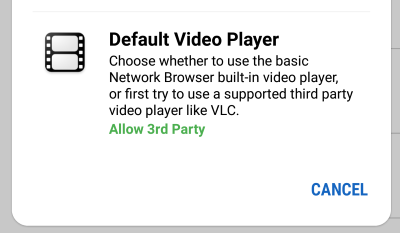 With the 3rd party option turned on (default on non-TV devices), Network Browser will first attempt to use an external video player. If Android returns that it cannot find a suitable player, it will automatically fall back on the internal Network Browser player.
That's all for today's patch. Keep letting me know what issues you find, as your feedback has been helping catch bugs and improve the app! And if you haven't tried Network Browser on Android yet (what's wrong with you?), you can find download links for Google Play and the Amazon App Store at the following website:
https://apps.ape-apps.com/network-browser/
It works on Phone, Tablet and on TV devices. Enjoy!
#networkbrowser
Owner of Ape Apps, LLC
Linkback References

Try Boom Feed, the free RSS reader from Ape Apps! Boom Feed is a free RSS, Podcast, news reader and aggregation app, available on most platforms including Desktop, Android, and iOS. Try it today!