Find User
here you can look for a user
Antiquitas v1.28.0 Released
Today I am putting the finishing touches on
Antiquitas v1.28.0
and pushing it out to all platforms, and this probably the most significant update to the game since it first came out. As I was playing Antiquitas the other day, I thought
ya know, gee. Why don't I just port the My Colony online server over to Antiquitas?
So, that's what I did, and now we have Antiquitas:
The Online Update
!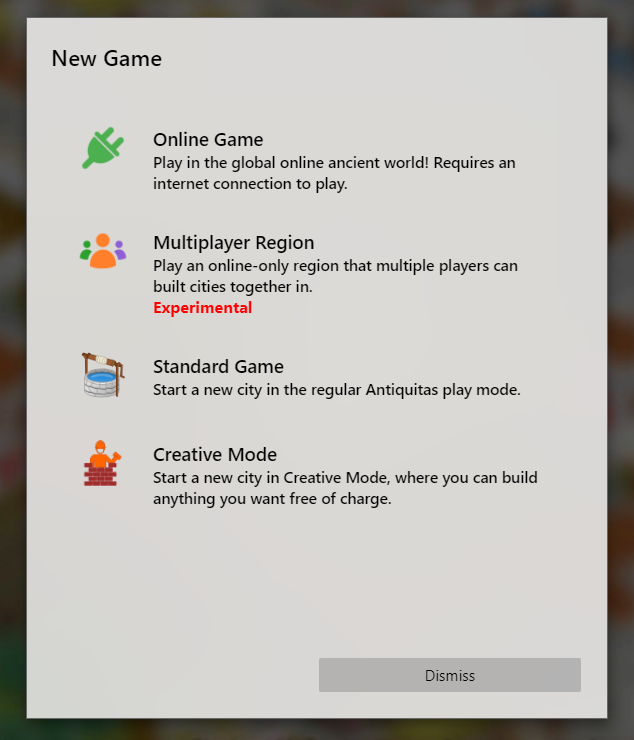 If you are familiar with My Colony, the online experience for Antiquitas will be familiar to you. You are now able to start a new city in online mode, under the tutelage of another real life online player whose city has gained independence. That player will be able to help you get started and grow your civilization. Online global chat is also now enabled in the game, allowing players to communicate and help each other while they play.
The three Docks structures in the game have gained online resource trading capabilities. Building the docks will unlock the global online resource marketplace, where you can buy and sell resources with other players.
Every online city will also now gain it's own city website, located at
https://antiquitas.my-colony.com
. Right now the website is loaded with My Colony references, as I basically just copied the My Colony website and made some conversions to support Antiquitas, but the site will be updated within the coming days.
Since the online feature does copy a lot of code from My Colony, I may have missed some My Colony references in the game, so let me know if you find things that are out of place.
Anyway, since there was so much code copy/pasting to get online working, I consider it somewhat experimental in this update, and the next update will clean up anything that is amiss. That said, I don't really
expect
a lot of problems, since the online code has been pretty well hashed out over a long history of My Colony updates, but we will see what happens.
So go ahead and give Antiquitas online a try, and stay tuned for more to come!
Wow So happy you decided to try and bring this game mainstream .
Really I love the graphics and the fact of NOT being able to gain Billions in a resource .
my colony is still good over all I just like the idea of true building game . I sure make a lot of new regions as I hit a billion in resources it just gets repetive .
pS yes I know these kids love collecting resources and that were the moneys at .

)))) Now what about Horses ? LOL really the game being as it is horses are so involved .
still anticipating my colony 2 .)))))

Ps lord GIVE US a OPPTION of BUYING direct FROM YOU steam Microsoft adds a cut increasing the cost alot .
I hear steam Is 8.50 $ before you did that it was 3.50 if you did not raise the price again before steam gouged it .
Direct from you well honestly 10 bucks would still be fair . Just don't like middle men as they are only there making money off your work .
Deleted found the solution

Try Boom Feed, the free RSS reader from Ape Apps! Boom Feed is a free RSS, Podcast, news reader and aggregation app, available on most platforms including Desktop, Android, and iOS. Try it today!