Find User
here you can look for a user
My Colony v1.30.0 Released
Today I am updating the original
My Colony
to
v1.30.0
, bringing along some fixes, minor changes, and adding
Seasons
to the challenges system. Let's take a look!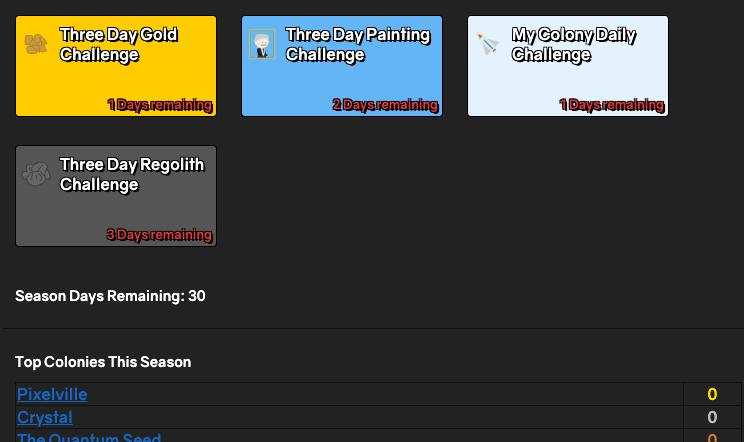 Edit 2023-09-25
: v1.31.0 has also been pushed out which is just a minor bug fix release, so there are no new notes for that update.
The largest change you will notice is that the Trophy leaderboards have been reset, and there is a new counter showing how many days are left in the current season. Trophy seasons will now last for 30 days, after which time the colony and the federation with the most trophies in the previous season will each get one
Seasonal Trophy
and everything else is reset to zero. This should hopefully give some other colonies a chance to appear on the leaderboards, since it was getting to be impossible to compete with some of the larger colonies out there.
There have been issues lately with players who are modifying their game data in order to get more resources for online play. I have started issuing 2 year bans for all colonies who are participating in this behavior, meaning that you and all of your colonies will be blocked from using MC online features for two years. In addition, there are new runtime checks in the engine that will reset all of a colony's resources to 0 if resource amount modifications are detected by the game. I really hate banning players for anything, but I can't just let abuse like this run unchecked.
For colonies with super large amounts of money and resources, there is a new Q abbreviation for numbers in the
Quintillions
and above.
I corrected an issue where the
Ore Zapper
and the
House of Horrors
were providing incorrect resource storage.
I also fixed an issue in this update where players were unable to restore backed up save files.
Finally, there has been an issue lately where certain ad blockers were blocking My Colony from download all of it's game data files, causing the game to hang forever on the loading screen. The game will now try to detect this scenario and give a warning message, so that the player actually knows what is happening instead of just seeing an endless loading screen.
That about wraps it up for this update. Let me know what issues you have with it, and thank you for playing!
https://mycolony.online/
#mycolony
Oh, need 24/7 internet. I'm losing my internet next week. Sorry Bastecklein, it was a good time. I just can't continue to play a game that is only online. Have a good time in your future endeavors.
Linkback References

Try Boom Feed, the free RSS reader from Ape Apps! Boom Feed is a free RSS, Podcast, news reader and aggregation app, available on most platforms including Desktop, Android, and iOS. Try it today!