Find User
here you can look for a user
Sorry, General!
If you play the game while logged in to your Ape Apps Account, My Empire is now using random roaming My Tokens as opponents, and while testing today I came up against none other than
@GeneralWadaling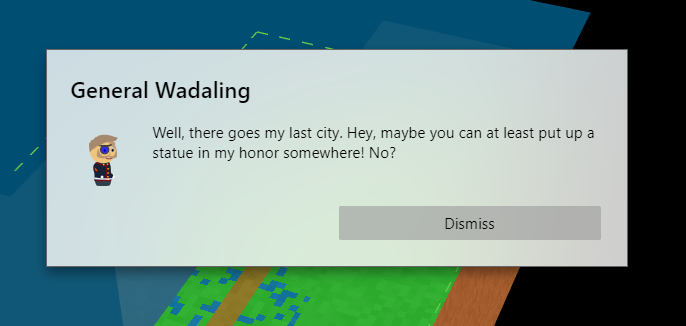 Even though he has provided so many good models for the game, I was unfortunately unable to spare his empire from complete destruction.
Owner of Ape Apps, LLC
Hahahaha!!!!!

did you put a statue of his name though??

*Sorry it got destroyed too*

THIS IS WAR!!!!!!!!!!
Archmage Of Nations Of Oz[NOZ]
Invincible
Join The NOZ discord server today!!
https://discord.gg/aFUB4NU

At least tokens will be something good to have!
XD
You can help by EXPANDING IT.
Linkback References

Try Boom Feed, the free RSS reader from Ape Apps! Boom Feed is a free RSS, Podcast, news reader and aggregation app, available on most platforms including Desktop, Android, and iOS. Try it today!