Find User
here you can look for a user
Continued Ape Apps Launcher Improvements
Ape Apps Launcher v1.6.3
is now available for all platforms and includes continued improvements to the platform. This thread takes a look at some of the new features added to a launcher, and a glimpse at what's to come.
Firstly, the context menu for your installed apps has been revamped. Now when you right-click on one of your installed apps, you have new options available, including a shortcut to all of your apps saved data. On Windows, you can add a launcher shortcut to the desktop or start menu, and on Linux you can now create application launchers for your individual apps which should work in Gnome, KDE, XFCE, and probably others.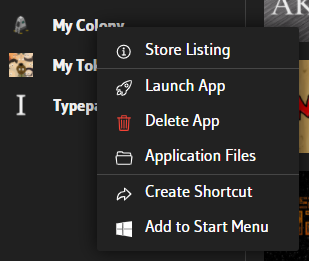 New settings have also been added to the Windows and Linux clients to better tie the launcher in with your operating system. You might remember a few months ago that changes were made to the Launcher and other Ape Apps desktop applications that removed the self-installer package which automatically created desktop and start menu links for the launcher. Now if you go into settings, you can manually recreate those links.

Windows users also have the option to automatically start the Ape Apps Launcher in minimized-to-tray mode when booting their PC.
Deleting an app from the launcher now gives you an additional option to clean up all app saved data from your PC.
Other changes are going to be coming to the Launcher in the months ahead, leading up to the important release of My Colony 2. When you are logged in to your Ape Apps Account, instead of being taken to the all-available apps listing screen, there will be a new personalized home screen giving you information about your entire Ape Apps account and let you see what games your friends are currently playing, with one-click join game access on supported games (such as the upcoming My Colony 2, and current multiplayer games like Epic Advanture, Colony Wars, and Death 3d).
Another feature that will be making it's way to the Launcher is the ability to view live streams. Several Ape Apps games include streaming capabilities, such as My Colony, Antiquitas, Gone Rogue, and Hell and Back, but it is difficult to know who is streaming and when. A new streaming section will be added to the Launcher showing all players who are currently live-streaming their gameplay (unless they opt out of public listing). Players will also have the option to customize their streaming channel and even add a PayPal or Bitcoin address so that people can "tip" their stream (Ape Apps will not be a "middle man" or take a cut from any tips, it will be direct from user to user).
The Launcher is also getting a new TV mode with gamepad support. Many Ape Apps games already support gamepad, but the launcher itself does not. This mode is intended for users who have PC's hooked up to their TV, so that they can easily play games like My Colony (and MC2) on the big screen. Along with the new Launcher support for Linux on ARM, this can also be used with Raspberry Pi devices. I am also looking at adding a way to link local video folders to the launcher so that you can easily view and play your personal movie collection while in TV mode. This is a feature that I personally want, which is the main reason for it's development... 🙂
Anyway, those are the plans for now. Users for the Ape Apps Launcher have probably noticed an increase in update frequency over the last few weeks, and this is probably going to continue as the Launcher continues to improve and serve as the best way to enjoy Ape Apps software on your desktop. You can find download links for Windows, Mac, and Linux below:
https://market.ape-apps.com/ape-apps-launcher.html
#apeappslauncher
Owner of Ape Apps, LLC
Linkback References

Try Boom Feed, the free RSS reader from Ape Apps! Boom Feed is a free RSS, Podcast, news reader and aggregation app, available on most platforms including Desktop, Android, and iOS. Try it today!