Find User
here you can look for a user
Colony Wars Update and Migration
A couple of months ago, I announced that I would begin
phasing out Web App Core
, the cross-platform app wrapper I have been developing and using since around 2012. I have been making this change due to the fact that Progressive Web Apps (PWA) have now become the primary development target for Ape Apps, and their capabilities have reached the point to where using a big, heavy and bloated app wrapper like Web App Core is no longer a necessity. In addition, many of the features of PWA's work better when each app is hosted on its own domain or subdomain, as opposed to having every single app hosted on the same address like
Ape Web Apps
currently does. So this migration away from Web App Core/Ape Web Apps and towards individual domains has been a slow one and has taken up a lot of my time over the last couple of months, but progress is being made, and the next title on the migration list is none other than the long-in development game
Colony Wars
!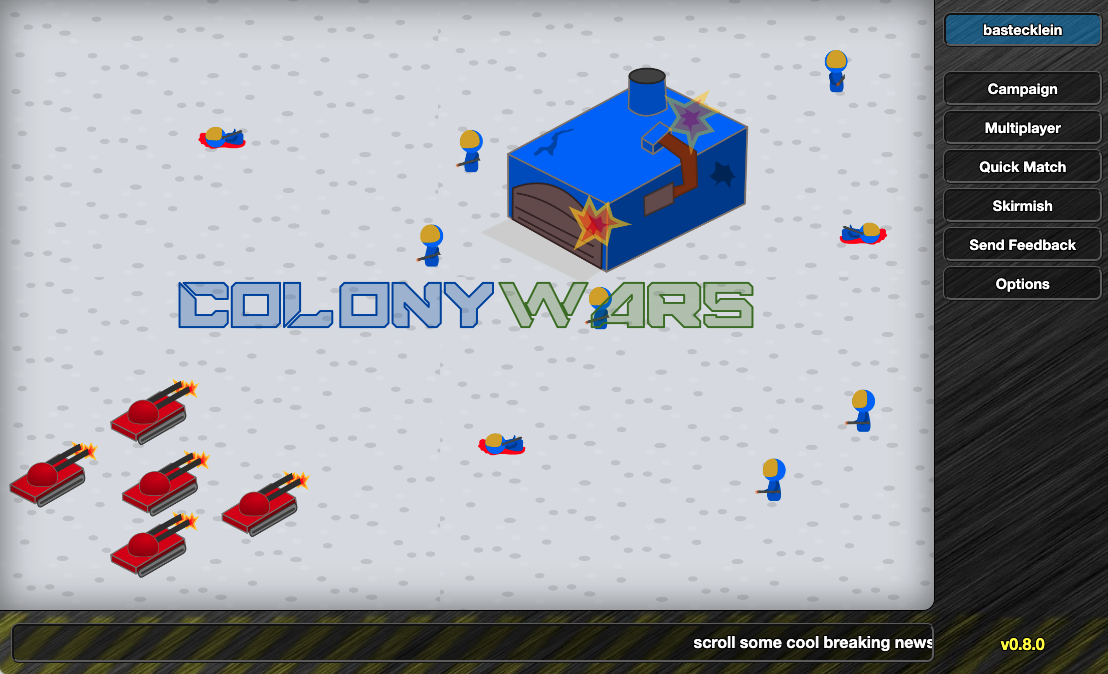 As of today, Colony Wars can now be accessed from it's new URL on the main My Colony Universe website:
https://wars.my-colony.com
. I think it is now almost up to fully functional from its previous release on Ape Web Apps, minus the Map Editor which I am still converting off of Web App Core. Out of all of the titles I have already moved off of Web App Core, Colony Wars has been the most difficult, as it utilized nearly the entire suite of Web App Core provided functions. I hope to have the conversion fully completed by the end of the week.
This conversion will bring Colony Wars up to
v0.8.0
. The primary changes in this release will be (obviously) the migration off of Web App Core, but also some new features as well. I have added a new
Skirmish
option, which will allow you to more quickly launch an offline battle VS the AI players without first going through the online multiplayer lobby. I am also adding an even faster
Quick Match
option, which will immediately put you into an offline Skirmish match on a random map with AI players already set up. There are also some bugs/UI issues that will be cleaned up that have been on the to-do list for ages now.
Beyond v0.8.0, I am planning to bring Colony Wars back to life off of the back-burner. Spending some time playing old school Command and Conquer with my son as convinced me that Colony Wars needs to be completed. Beyond new units, buildings, and maps which are all needed, I also need to start working on the single player Campaign. I want to have cheesy cut scene videos like in old Command and Conquer games, although I am not going to be hiring actors and doing any filming. I think I am going to render all of the cutscenes using Death 3D, creating characters using My Tokens and scenes with the Death 3D map editor. I have begun scripting out the story, which takes place in the year 2083 and begins with the LIS declaring independence and ambushing the United Earth Space Marines detachment on Terra Nova. Chronologically, the Colony Wars story takes place about a year before the events of Death 3D, and about a decade or so after the events of the Deimos trilogy.
So anyway, that is a look at what is coming down the pike for Colony Wars. If you want to check it out at it's new domain while it is still being worked on, you can access the site using the
beta
URL parameter to prevent it from activating it's service worker and caching the in-development code:
https://wars.my-colony.com/?beta=1
#colonywars
Glad to know Colony Wars is continuing development! :D
You can help by EXPANDING IT.
Linkback References

Try Boom Feed, the free RSS reader from Ape Apps! Boom Feed is a free RSS, Podcast, news reader and aggregation app, available on most platforms including Desktop, Android, and iOS. Try it today!