Find User
here you can look for a user
My Colony 2 v0.25.0 Released
I am just putting the finishing touches on
My Colony 2
, and the update should be rolling out to all devices over the coming
weeks
(yes
weeks
, more on that in a bit). There are a few goodies in this release and a slew of bug fixes, so let's take a look at what's included!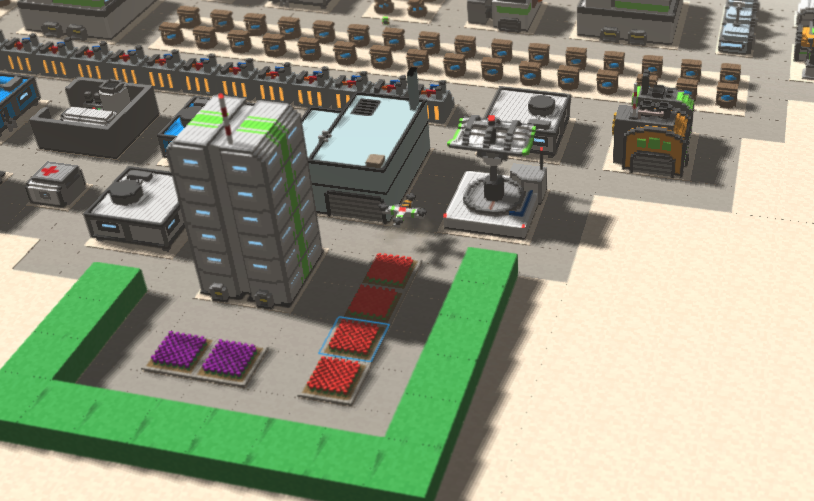 I got some heat in the Play Store reviews section for MC2 not having many decorative items as compared to MC1, so to start addressing this, v0.25.0 adds a few decorative items that MC1 players will be used to: the
hedge wall
(made of Plastic in MC2), as well as
6 different color options of decorative flower beds
(also made of plastic). I should not have underestimated the degree to which players like to decorate and customize their colonies, so from here on, I will attempt to include at least one new decorative item in each update. If any of you voxel modelers out there have ideas and submissions for items that are purely of a decorative nature, feel free to submit them for inclusion as well!
The
Advanced Networking Infrastructure
tech is now available to unlock, and with it comes the new
Uplink Station
(model by
@GeneralWadaling
), which provides significantly more bandwidth than the current small server building. The Uplink Station also requires a Level 2 or higher settlement, and is built with the Construction Drone.
Next up,
@spamdude
recently submitted a model for an upgraded
Vehicle Factory
. The model was great, but I wasn't sure there was a need for it in the game, since it really does not need a bunch of new rovers. But I wanted to add it anyway, so I made some adjustments to the gameplay. The new Vehicle Factory is now an upgrade to the existing Construction Yard. The Construction Yard now maxes out at building the Advanced Builder Bot, and to get any of the newer bots, you will need to upgrade to (or outright build) a new Vehicle Factory. Keep this in mind, if you get the MC2 update and suddenly lost a lot of unit construction options, it's because you need to upgrade to a Vehicle Factory. It adds a bit of progression to the game. The structure also produces a ton of Spare Parts.
I mentioned this update could take
weeks
to arrive. If you play My Colony 2 on the Web (or have the Progressive Web App installed), the Launcher, or the Windows Store download, the update should be available to you today, if you haven't been updated already. iPhone users can expect the update next week sometime. For Android, who knows when it will arrive.
I have noticed a serious backlog for app updates getting approved to the Play Store recently. I still have apps that have been sitting in the "waiting for review" queue since August 15 (12 days as of this writing), which is extremely odd, since the normal review time has been a few days or less. Not sure what is going on over at Google lately, but if you are using the Android app, you may not get the latest MC2 update until early-mid September (unless their process greatly speeds up).
Of course, super slow app store updates give me yet another opportunity to plug the
Progressive Web App
(PWA) version of My Colony 2. Over the last few years, and even more-so beginning this year, PWA's have been my primary development focus, and I consider the web releases of all of my games to be the primary/best editions, and they are the only editions I personally use on my own devices. The native mobile apps are actually just wrappers for the PWA, but they are in a way gimped versions (particularly on Android) due to limitations imposed on the embedded WebView component VS the features afforded to the browser. The PWA, when properly installed to the home screen, gives you the full app-like experience, is always up to date, and is better supported than and other release.
To install the PWA onto your Android device, simply navigate to the MC2 Web App URL using Google Chrome, and you should automatically get an "Install to Homescreen" banner:
https://www.apewebapps.com/my-colony-2/
Anyway, now that my semi-annual PWA sales pitch is out of the way, that is it for this update to My Colony 2. Go check it out, let me know what needs fixed, let me know what you would like to see added, and stay tuned for more!
#mycolony2

Try Boom Feed, the free RSS reader from Ape Apps! Boom Feed is a free RSS, Podcast, news reader and aggregation app, available on most platforms including Desktop, Android, and iOS. Try it today!