#barrelriver2
Posts and pages on Ape Apps tagged with <strong>#barrelriver2</strong>
Today I have released a big update to
Barrel River 2
, the WebXR enabled 3D barrel racing game!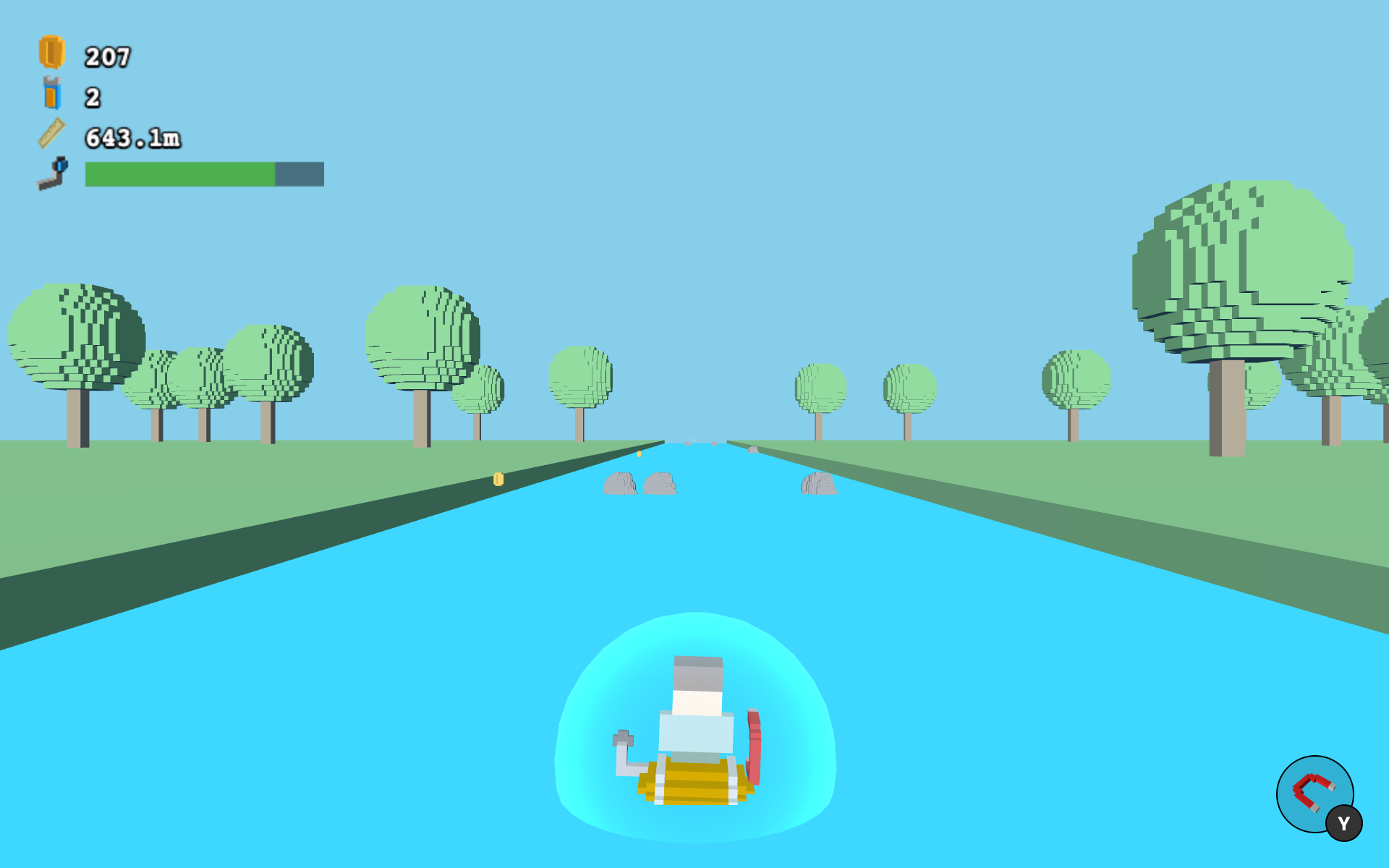 Barrel River 2 now allows you to spend all of those coins you found on the river in the new river shop. Purchase upgrades and customizations to your barrel to help you achieve top distance. And speaking of top distance, there is now a global distance leaderboard for users who are signed in with their Ape Apps Account. Also if you are signed in, you can now customize your character by using one of your
My Tokens
characters as your barrel "passenger!"
Barrel River 2 is available for free as a progressive web app (PWA) by going to this address:
https://br2.ape-apps.com/
It can be played with a keyboard, gamepad, motion/tilt controls, or in VR by using a Google Cardboard headset or opening up the above link in your browser on your Oculus Quest! Check it out today, and good luck on the river!
#barrelriver2
#mytokens
I have mentioned on here before how I have recently purchased an Oculus (aka Meta) Quest 2 VR headset, and with it created my first (free) WebXR game
Barrel River 2
. Now, as work begins on the
v0.20.0
update to
My Colony 2
, I have begun adding initial WebXR immersive virtual reality support to Scroll3D, my custom game engine that powers not only My Colony 2, but other titles such as
My Empire
and the 3D modeling tool
Voxel Paint
. Support is still in it's infancy and will not be complete by the time v0.20.0 ships, but I have included a video below that demonstrated walking through a MC2 settlement in VR mode.
Obviously on the headset it is full 3D and you can look all around yourself. So far, it's not perfect. I had to turn the graphics quality in the engine settings all the way low to get this fairly large colony to run properly (on a small settlement, I was able to keep all settings on high). What is demonstrated above is the game being played using the "man on the street" view mode that was introduced in v0.19.0, but the player on an Oculus, Google Cardboard, Windows Mixed Reality, or other VR headset will be able to play the regular city-building mode of My Colony 2 in VR as well. It's actually pretty neat to be hovering "up in the sky" and looking down upon your settlement, using the VR controls to fly around the world and place structures!
Of course, VR is a cool feature, but not entirely necessary in a game like My Colony 2, but having the capabilities baked in to the Scroll3D engine will open opportunities to future projects. For instance, I am thinking about a Gone Rogue 2, where you can play the normal "classic" top down way, or you can actually explore the dungeons in first person immersive VR mode, fighting enemies up close and personal. A Scroll3D based remake of Epic Adventure could also basically become like a VR version of Minecraft. There are a lot of different possibilities, but I mostly want to make sure that Scroll3D titles can always be played on any device, whether it's PC, mobile, TV, or now VR.
VR support is basically a sideline addition to the forthcoming v0.20.0 update, which should be hitting all platforms next week. I am primarily focused on cleaning up and fixing some of the issues related to the massive changes to the modding system from the last update, along with a few UI improvements and the obligatory addition of new structures, etc. But little by little over the coming months, VR support will be refined and improved to the point where MC2 is 100% fully playable from an immersive VR mode on a supported headset, or even a cheapo Amazon headset + bluetooth gamepad in Google Cardboard mode.
So anyway, just wanted to share the VR future that will be fully hitting MC2 later this year, along with the possibilities it brings to other Scroll3D related projects. I will leave you with a few other screenshots I captured from within the Oculus headset of a MC2 water world. Enjoy!
#mycolony2
#barrelriver2
#scroll3d
#vr #webxr
Last week I ended up purchasing an Oculus Quest 2, and to celebrate the purchase I wanted to see if I could create a VR game for it. So after a few days of hacking one together, I am ready to release my first attempt at actual VR programming,
Barrel River 2
!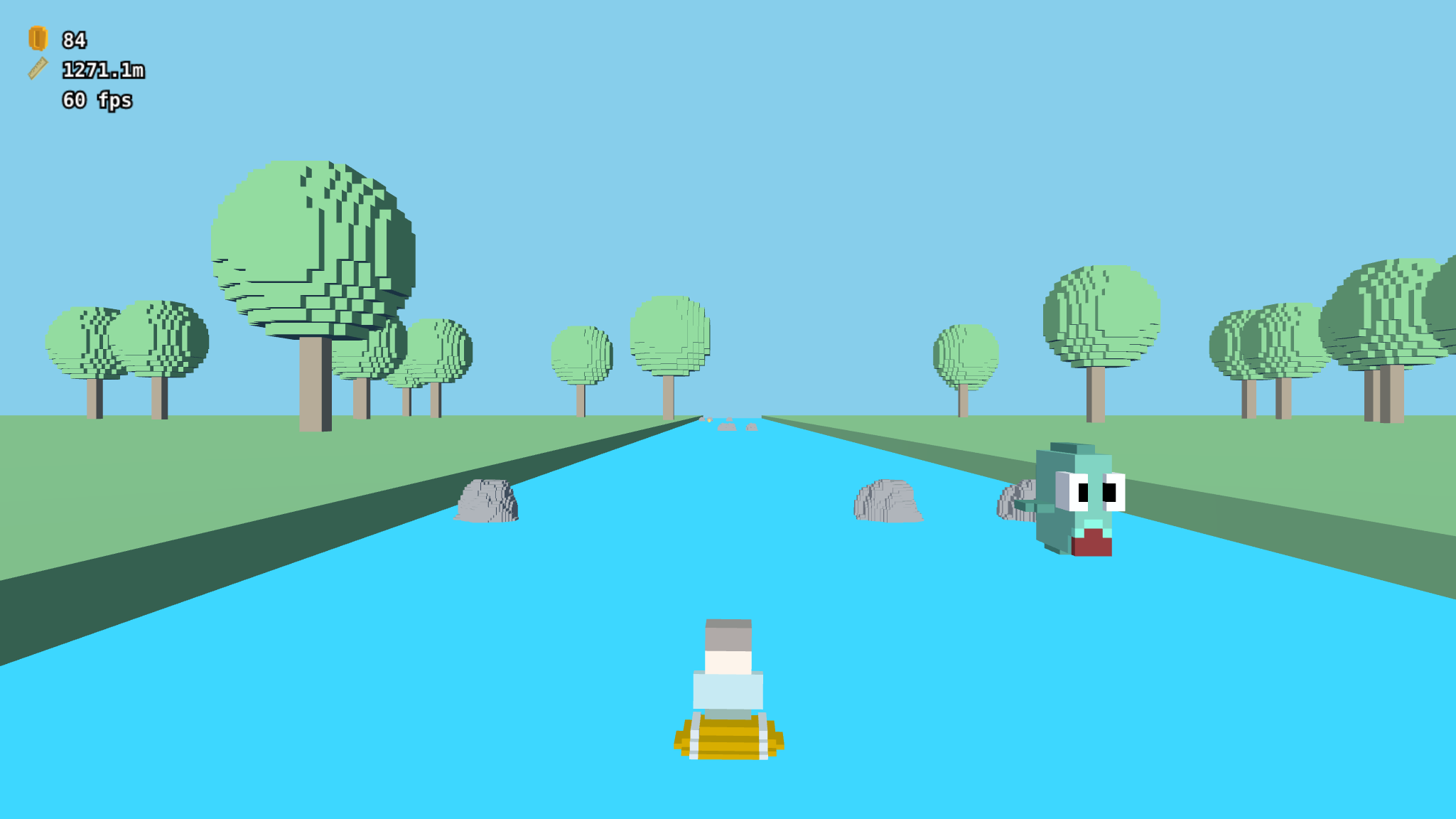 Of course, you don't need a VR headset to play
Barrel River 2
. It supports multiple play modes, including keyboard, gamepad, and motion/tilt controls on mobile. No matter how you play it, the game is a pretty big improvement over the original Barrel River that I released back in 2014. Similar to the original, the goal is to collect coins while you avoid the fish and rocks. I have retained all of the corny sound effects from the first game, but the graphics have all been redone, this time created using Voxel Paint.
If you try out the game, be sure to sign in with your Ape Apps Account, which will make the game save the total number of coins you collected. In future updates I plan to add things like barrel upgrades and powerups you can get using the coins you collect, so start building them up and saving them to your account now!
You can play Barrel River 2 on any platform straight from the web browser. VR support works with the Oculus browser, Windows Mixed Reality headsets, and even Google Cardboard players. Bookmark the Barrel River 2 page or install it as a PWA!
https://br2.ape-apps.com/
#barrelriver2
#voxelpaint
#barrelriver

Try Boom Feed, the free RSS reader from Ape Apps! Boom Feed is a free RSS, Podcast, news reader and aggregation app, available on most platforms including Desktop, Android, and iOS. Try it today!