Find User
here you can look for a user
Referring Antiquitas BUG here No save And Game advt clicked crashing chrome
Referring the Bug to this form as no Bug forms on Antiq hopefully the mode will Understand .
version 1.3.0 Chrome
Bug 1 The game does no save when clicking save it just cycles never saving .
Bug 2 When clicking on Your own adverts for your games ( on the bottom left )
the game pages starts loading then crashes Chrome ( 3 out of 4 tries 4th time game loaded )
may not be relivent game in question is mash party .
If the mod deletes ill repost In Antiquitas But as that form is just post by post this is the best way to ensure this is seen thank you .

Ps I am aware the update was done sometime today and as such the programmer may already be aware of both these bugs But having no way of knowing for a fact the programmer knows I am posting this .
I am also aware Chrome is described as live development and again the programmer may be aware of the bug and may at this time be fixing the bugs And again Not knowing if he knows of it or not I am posting .

I post this in hopes Of helping the programmer improve the game so the games stay as liked as they are .
To add on average one out of 4 times when loading My colony or Antiq the main game page noting will be clickable ( reloading the game fixes this .
also when entering ether game one out of four time nothing will be clickable ( both games will run no lagg just can not click anything and at times curser is not present when this happens .
Again reloading game fixes this .
Bother games have been doing this from last updates till present but as the bug will be so hard to find and a simple reload fixes it I have waiting till now to post .
so My colony .52 and Antiq preves version as The game fails to save will not know if it has been fixed now .
UPDATE Antiq saves as normal when compression is turned on .
and wile using regular save never does stop cycling if I use browser reload then reenter the game the date has been saved .
The game just wont finish save wile in game .
I don't know, I cannot reproduce any of the issues you have mentioned. What browser are you using/version/32/64 bit/operating system? Also try doing a hard-reload as a lot of the shared scripts have changed recently. Maybe your CPU got gimped from the spectre/meltdown patches lol
Owner of Ape Apps, LLC
sorry i have chrome 32 bit and have reloaded and even deleted all history and every thing still game the hard reload key short cut does nothing but deleting all browser files is the same game still refuses to save wile in game but as i say the compressed save works .
after this reply ill recheck as for the other clicking your advert bug well rarely click adverts so just the one game I did not know you had .
well now the game just did the impossible lol see i deleted ALL browser data as the hard reload key short cut is not working .
But somehow even though browser showed ZERO data the game managed to retain all colony data .
anyway took two time to gte the game to its self to clear data .
but still will NOT ((( Complete the save using regular Uncompressed save ) just keeps the blue save timer rolling untill using the browser refresh then once the main game page reloads and you go back into the colony the game has accutly saved .
Once again Chrome 32 bit game version 1.3.0
you know compressed save works correctly regular save does save just wont finish In game browser reload and the colony is ok .
Really want to see how the map editor worked out got to buy it even if this stays as is .

UPDATE Just loaded antiquitas on 64 bit Chrome Regular save does not finish just like 32 bit chrome
two different laptops one is 64 bit windows 7 the other 32 bit windows 7 now downloading windows 7 64 bit desktop version
desktop version 64 bit saves correctly but again BOTH 64 bit chrome and 32 bit chrome fail to compleat a regular NON compressed save .
advert chrome crash probly just a glitch in my 32 bit chrome its self no crash in ether 64 bit or 32 now
But agin oringial Chrome 64 bit and 32 bit regular save fail to finish .
PS 64 bit pc just redid windows 7 browser clean first time every running Antiq . .
key board key short cut hard reload ctrl - f5 does not do reload on ether pc browser .
can you open the chrome developer tools browser console and tell me if any errors come up when you try to save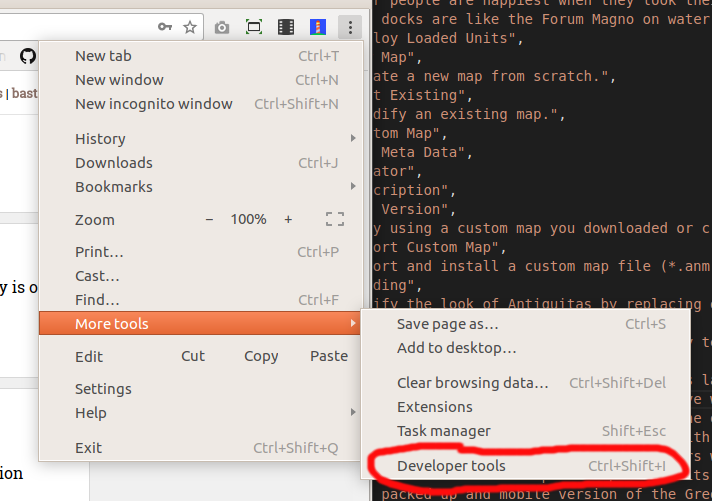 Owner of Ape Apps, LLC
Also do you think it could be related to this issue, where watching the Emperor video interferes with saving?
https://www.ape-apps.com/viewpage.php?p=14449
Owner of Ape Apps, LLC
Linkback References

Try Boom Feed, the free RSS reader from Ape Apps! Boom Feed is a free RSS, Podcast, news reader and aggregation app, available on most platforms including Desktop, Android, and iOS. Try it today!