Welcome to another exciting edition of the My Colony release notes! There were several changes made to the engine on this update, so let's see what all is new and what has changed.
My Colony v0.46.0 Changelog
New Stuff
Added new experimental lighting engine to the game
Colonies now go through a day/night cycle
Added in-game link to the release notes
New engine settings: Building Animations, Lighting Effects, Day/Night Cycle, Particle Effects
New structures: Small Light Post, Glow Goo, Paste Boiler, Atmosphere Scrubber
New ad-free content: Small Red Light Post, Small Green Light Post, Security Wall, Security Wall Light
Changes
Zolarg Mound now produces a small amount of food even if you have no sugar
All buildings can now be built in "chain" mode, regardless of size
When the game has a display width > 1000px, there is a new building confirmation window at the bottom of the screen that shows total cost of all queued buildings
The ice world is now a bit darker by default
Notes
The biggest change was the addition of the day/night cycle to the game, which has been requested several times before. It can be turned off if you do not like it. I was hesitant to add it because I though I would need to draw new night-time graphics for all of the buildings, but instead I made it so that buildings and vehicles can generate light sources. On my computer, iPhone, and 2 Android devices, I did not see any noticeable lag associated with adding light, but that does not mean it can't hurt performance, especially on a large colony. That is why the setting can be turned off in the engine settings, as can night-time mode altogether. There is still work to be done on the lighting effect, most notably the fact that lights can be seen through buildings when they should be covered. Blocking the lights will require more calculations and might impact performance, so I am looking at options of how to do it correctly. I think the lighting though adds a nice look to the game's graphics, without requiring any extra art skills on my behalf :-)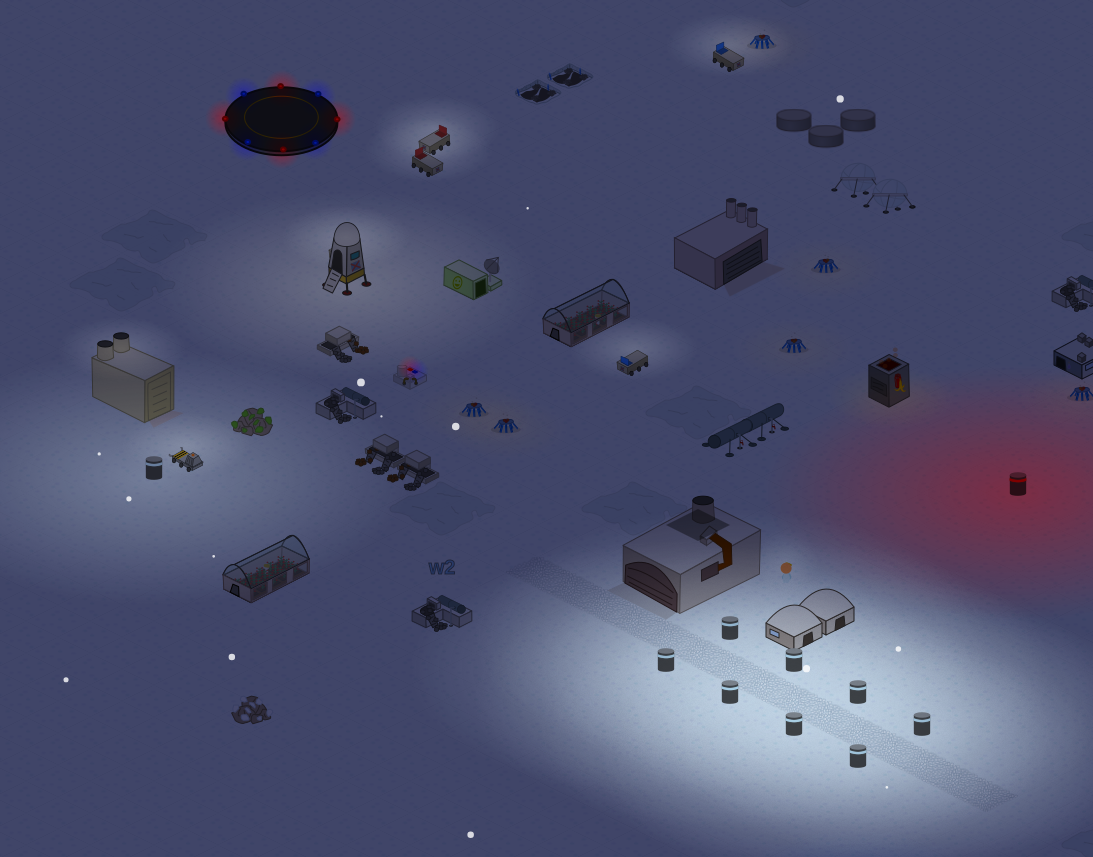 Some changes were made to make Zolarg ice map a bit easier. The Mound now produces some food on its own (without requiring sugar), and there is a new Paste Boiler building that is like a Zolarg version of the Atmosphere Generator. In terms of strength, it's actually somewhere between the regular human Atmosphere Generator and the Medium Atmosphere Generator.
Humans get a new Atmosphere Scrubber building which should help manage atmosphere levels. I have not turned on the negative atmosphere effects yet, since I realize that people who have been playing a long time probably have a ton of atmosphere built up, and I don't want to damage their colonies. The game is balanced to where a new colony starting out should be able to easily contain atmosphere before it becomes a problem, but for existing colonies, turning on the penalty right now could be an issue, so I will continue to wait on it.
The new (work in progress) construction bar for Desktop and Tablet users has been implemented. It shows the number of buildings you have queued up and their total cost. I think this will be helpful information, since a lot of times it can be easy to get a bunch of buildings ready to go and then run out of resources. Let me know on ways that I can improve it.
I also brought back the 'Private Charter' option, which can be found on the statistics screen. I didn't even know that it was removed, which was an oversight on my part. Should be back to working like it always has though. Additionally, more engine settings have been added, including the often requested 'Disable Animations' setting, although I don't know why you would want to turn off my glorious animations!
The next few updates will probably focus on new content/structures more than engine changes, although fixes will always be made. I also plan on further changes and refinement over the next few weeks, as I want everything with the engine to look polished before the release of
Antiquitas
later this fall. Since
Antiquitas
will not be receiving near-weekly updates like My Colony does (and it wont be released as a beta), I want things to be fairly locked up on that game by the time it's out. Speaking of
Antiquitas
, I've got a bunch of new structures coming over the next few days, featuring amazing artwork from our own forum user
@jova
, so stay tuned for that!
Anyway, that's it for this update. Stay tuned, cause there is a lot more to come!