Find User
here you can look for a user
New Engine Settings Menu
The latest MC2 build now includes an in-development Engine Settings menu for turning on or off the various Scroll3d engine features: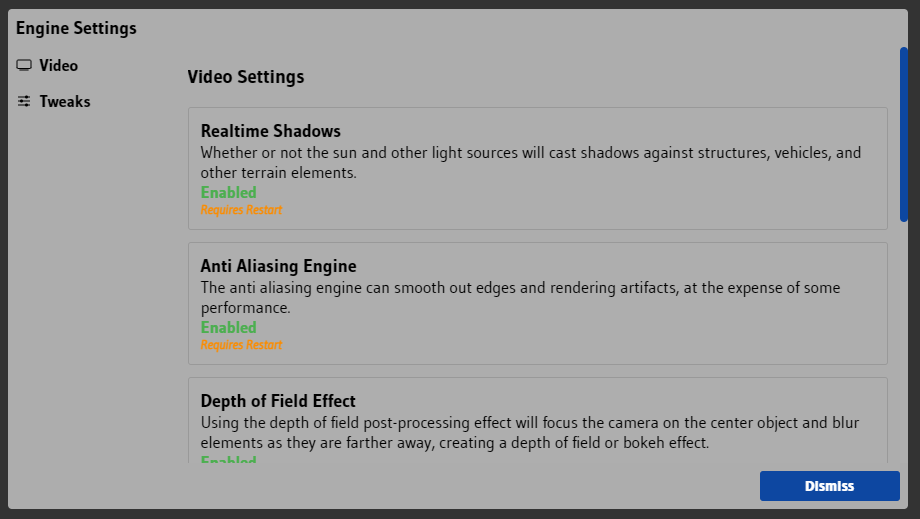 Before now everything has been switched on, so play around with the various settings and see how they impact your framerate/memory/cpu usage. Most of the settings that are labeled "Require Restart" don't actually require you to restart the application entirely, but rather to restart any game you are currently in. IE you can change the settings from the title screen without having to restart MC2.
Anyway, let me know what you think. More settings will be coming here in the future as well, so keep an eye on it.
Owner of Ape Apps, LLC
Hey Bast! With the release of Scroll3d, can scroll 2d become open source? I would love to make a Mc1 clone with it, provided you dont care if I do.
Join my Commonwealth! WAst4IOO : and join the NOZ discord: https://discord.gg/Vy6UZhhfA2
Owner of Komet Labs!
No
@Luker124
I do not plan to make it open source. I still use Scroll2d in a lot of other projects. You should be able to find plenty of online tutorials on how to make an isometric tilemap though.
Owner of Ape Apps, LLC
Linkback References

Try Boom Feed, the free RSS reader from Ape Apps! Boom Feed is a free RSS, Podcast, news reader and aggregation app, available on most platforms including Desktop, Android, and iOS. Try it today!