Find User
here you can look for a user
My Tokens meet My Colony
To tie in to this months pending release of the
My Tokens
app, starting with My Colony v0.61.0, if you are logged in using your Ape Apps account and you have made some Token characters tied to your account, they will randomly appear in your colony through the various tourist gateways.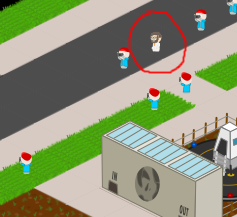 This is just a small fun customization and should also give a bit of variety to Tourism, adding more characters to the game without me actually having to manually create them all.
As of now, only your own personal Tokens will appear in your game, and they will show up randomly. The odds of a Token coming to your colony are relative to the number of Tokens created on your account, so that the more Tokens an account has, the more they will show up.
In the future, I plan on expanding this by allowing Tokens that other users have made and set to 'Roaming' show up in your colony. Eventually, you will be able to select a visiting Token, see who the creator is, and leave them a small message or an in-game gift which they will be able to take back to their owners' colony.
Token integration will be coming to the next Antiquitas update as well. I might make an engine setting where you can block them from visiting if you want to, although they are pretty much harmless. I suppose in Antiquitas though, they might look out of place among the Romans and Gauls, but hey, it's a game. Tokens are also going to be a fairly large part of the upcoming
Death 3d
. Already in Death 3d, if you play an offline bot-skirmish, the AI enemies will take the form of any Tokens you have on your account, adding a ton of variety to the deathmatches. I plan to add Tokens to both My Land and Level Up soon as well.
The My Tokens app should be released to all platforms by the end of the month, although it is currently live in an unfinished beta form at the following URL, for those who wish to create some new tourists for their colonies. Enjoy!
https://www.apewebapps.com/my-tokens/
Owner of Ape Apps, LLC
cool, a great feature that can take some pressure of you. :)
That is a nice feature. I didn't realize this was avatars due to the name tokens....
My YouTube tutorial series: https://www.youtube.com/watch?v=Tfw_-RB6D-Q&list=PLHw_EJXYsdHgSUAzwqvtfgpoBDm16flcP
Linkback References

Try Boom Feed, the free RSS reader from Ape Apps! Boom Feed is a free RSS, Podcast, news reader and aggregation app, available on most platforms including Desktop, Android, and iOS. Try it today!