So today I am pushing out a new My Colony release, v0.74.0. This is mainly a bug fix and stability release, as I didn't add any new Reptilian buildings this time around. v0.74.0 is also the build that will be going out to Steam at the beginning of November, so those who have been waiting for the Steam release should add it to their wishlist using the following link, to help give the game a good boost out the door:
https://store.steampowered.com/app/964130/My_Colony/
That said, there are some new goodies on board with this update that some of you should appreciate. Let's take a look at what has changed with v0.74.0!
First, I did a bit of tweaking with the IQ/Education stuff. For starters, several of the buildings that required ultra-high IQ's have been slightly dialed back a bit. In addition, there is now a change that jobs will actually hire workers who are not quite smart enough to work there, sort of like in real life. These workers are placed in a new "on the job training" mode, where they still help production, just a bit slightly less than a normal worker. However, their IQ slowly increases while at work, as their company takes on the responsibility of their education. To a lesser extent, all regular employees get a slight IQ boost at work now too, as it is assumed that people pick up a bit of knowledge while they work.
Next up, there is a brand new engine setting that I know a lot of people will appreciate. You can now turn off (or on) the popup notifications that are active during online play (xxx is online, starvation in xxx, etc). I already reduced the occurrence of these in the prior update, but now if you want, you can just turn them off altogether.
Another fix that people will be happy about, is that Region games now properly report GDP and unemployment figures to the My Colony server. The GDP figures are the sum of all GDP's in the region, while the unemployment figure is the average unemployment across all region cities (weighted by the population of each city).
Next up, if you've ever wondered how much money a colonist needs before they retire, now you can find out. In the Economic Statistics screen, there is a new
Retirement Savings Cutoff
statistic. Any colonist whose savings go above this level will likely enter into retirement and stop working until either a) they die, or b) they fall back under the cutoff.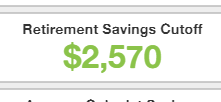 The savings cutoff changes pretty often based on global market prices. For those wondering how that price is derived, it is essentially the current average GBT price of a set amount of Food, Water, Rum, Cloth, and Toys. Everything a colonist needs to enjoy their golden years.
Also in this update, I have increased the rate at which unhappy colonists will utilize entertainment facilities. Before, it was not uncommon to have entertainment go 90%+ unused, but now if your colonists need it, they will be more likely than before to utilize it.
At last, I have made some changes to the save game code, in hopes to reduce the occurrence of corrupted game files. I don't know why some people experience this a lot more than others, but I added some additional stat logging to try to pin down exactly how and why it is happening, and I have also added some changes that might make it better too, but we will see if they worked over the coming days.
So that is it for today's update. There will be an extended delay between the next update as My Colony works its way through the Steam approval process. After that, things will be back to normal again. Until then, enjoy the update, let me know what issues you find, and thank you for playing My Colony!