Just a heads up to everyone, I will probably be releasing v0.78.0 tomorrow morning, which is a quick update to address a handful of bugs brought on by the last release. It will include fixes for building glitches and in game messaging, as well as a handful of hard errors reported through the bug logger.
Besides the bug fixes, there are two minor feature changes. First, when you use the "Clone Building" tool from the object options popup, it will now copy the flipped orientation of the building you are cloning. Secondly, roads will now use the standard object options popup.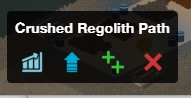 I will be back with a real content update after the new year, but I wanted to push this one out to get some of these bugs corrected first.
So have a Happy New Year and stay tuned for more!