Find User
here you can look for a user
Here's the big boy, Shuttlepod MK1!
Hello guys!
Probably we should have better means of transportation in MC2 so the colony can export a big mass of goods...
My I proudly introduce the big boy, Shuttlepod MK1!
It's quite big, and because it is rectangular I aligned it to the side so it can spin in the way like in MC1.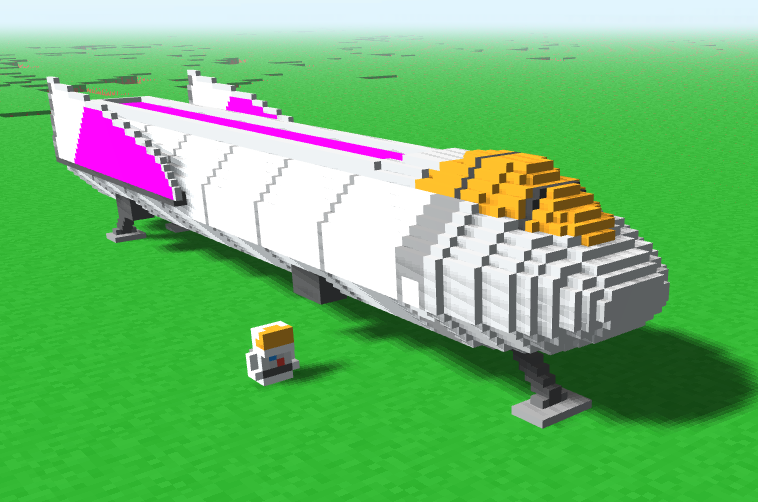 There might be some differences with the Shuttlepod in MC1, but the general adaptions are the same.
The wings are folded when landing or taking off vertically, otherwise in flight the wings are collapsed for better aerodynamics.
4 small but robust VTOL (vertical take-off and landing) engines are installed.
I guess
@bastecklein
would like to see this.
You can help by EXPANDING IT.
In case you need alternative version that it is aligned right at the middle of a 10x10 tile.
You can help by EXPANDING IT.
Shortened version for faster rendering. Took 17 seconds to load on Voxel Playgrounds.
(modification: length shortened from 10 tiles to 7 tiles)
@bastecklein
You can help by EXPANDING IT.
Oh wow.
I am going to try to add something to Voxel Paint that lets you pre-compile the models and save that compiled data to the .vpp file so that there is not that huge load time.
Owner of Ape Apps

This thing is huuuuuuuge!
Have a fantastic day!
~cakedon (formerly itsLiseczeq)
Linkback References

Try Boom Feed, the free RSS reader from Ape Apps! Boom Feed is a free RSS, Podcast, news reader and aggregation app, available on most platforms including Desktop, Android, and iOS. Try it today!