Find User
here you can look for a user
My Colony 2 v0.32.0 Released
My Colony 2
has just been updated to
v0.32.0
and the patch should be hitting all platforms over the next few days. New content and engine improvements are in store, so let's take a look at what is new!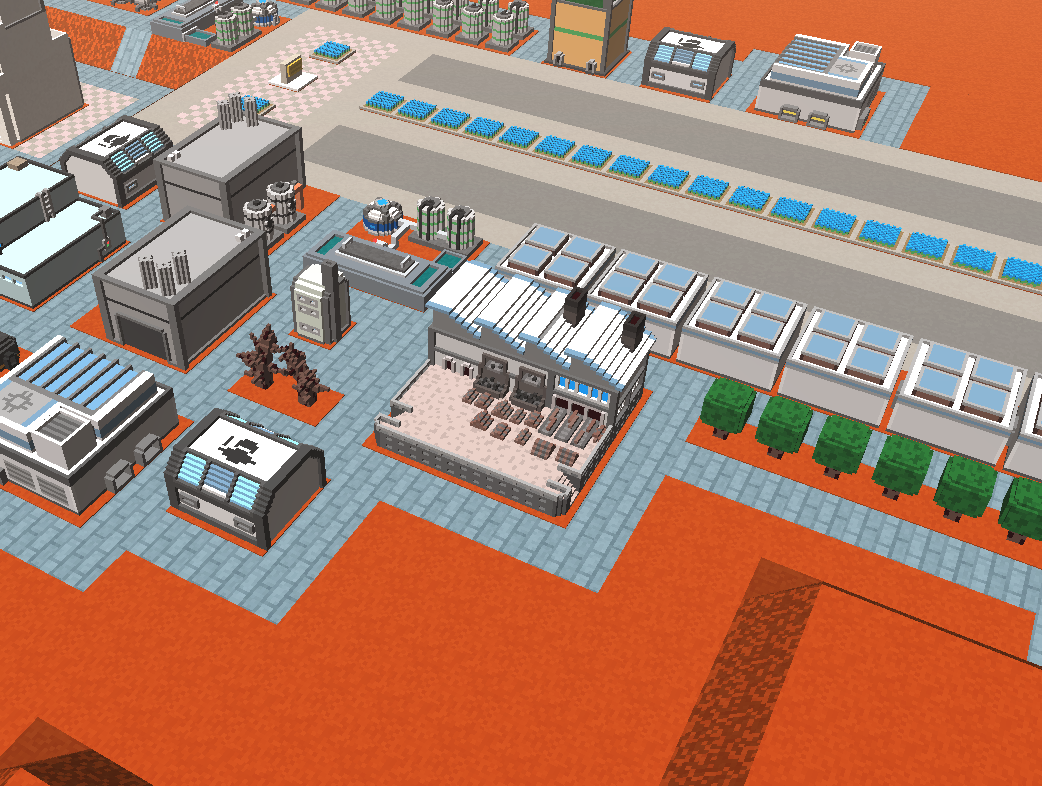 The primary focus on this update has been performance optimizations. As many MC2 worlds are starting to get quite large, this has taken it's toll on game server performance. Since My Colony 2 is broken up into separate game client and server threads, it is sometimes hard to tell that your game server is lagging out, but the easiest way to tell if your game server is lagging behind is to watch your rovers. If they are suddenly moving very slow, it means your game server is falling behind.
A lot of time and work was done on engine optimization in this release, and I hope that some of the players with larger worlds are able to notice a difference. There was so much technical work done to the engine in this update that I will not bore you with the details, but there are two changes that are worth noting because they may become noticeable to players.
Firstly, the synthetic crystalline deposit now has a maximum life of 2 hours (real life hours, roughly not exact). After a deposit has been around for two hours, it will be removed from the game. This should finally put an end to the massive out of control crystalline fields that have cropped up in several game worlds.
Finally, harvesters that have been idle for a very long time and whose owners have not been online in a very long time will be removed from the game. Sometimes a player will join your world and create a lot of harvesting bases and then not log in again for a very long time. Eventually those bases clean out all nearby resources, but the game still has to process and account for all of the idle harvesters that are littering the world. These harvesters will now die eventually.
Again, a ton of other engine changes were made, but these are the ones that players may notice and think "what happened to my crystalline field" so I wanted to point them out.
I also fixed an issue where the game was generating way too many colonist units, especially if the player had a large residential building. In some instances there would be several thousand colonists walking around the screen at a time, all doing expensive collision detection. This should now be resolved.
Finally, I added a few new structures that were submitted by the community. From
@SPARKY0303
we have the new
Large Charcoal Factory
, and
Plastic Tree
and the
Dead Plastic Tree
, and from
@spamdude
we have the
Ether Well
and the
Medium Ether Tank
.
The next MC2 update will probably be another big content dump like the one prior to this, unless I determine that more engine improvements are warranted. Let me know if this update solves some of your performance issues, and as always thank you for playing MC2, thank you to all who submit structure models to the game, and stay tuned for more!
https://www.apewebapps.com/my-colony-2/
#mycolony2
Definitely noticed the server's performance optimizations; my 6 MB world now renders around base tick speed! Thank you and amazing work
@bastecklein
!
Humm just like the real worlds mars is littered with junk vehicles .lol
well ill say i lost a few hundred lost in the wilderness
I love watching this game grow and develop.
Keep up the good work!
Best of regards, Wastelander (formerly Architecture), Overlord and Designated Leader of the Earth States.


I was fascinated by this game

Try Boom Feed, the free RSS reader from Ape Apps! Boom Feed is a free RSS, Podcast, news reader and aggregation app, available on most platforms including Desktop, Android, and iOS. Try it today!