Find User
here you can look for a user
Colony Wars Updated to v0.13.0
Tody comes a new update to
Colony Wars
, bringing the game version up to
v0.13.0
. Besides bug fixes, this update adds some new settings to the new match screen.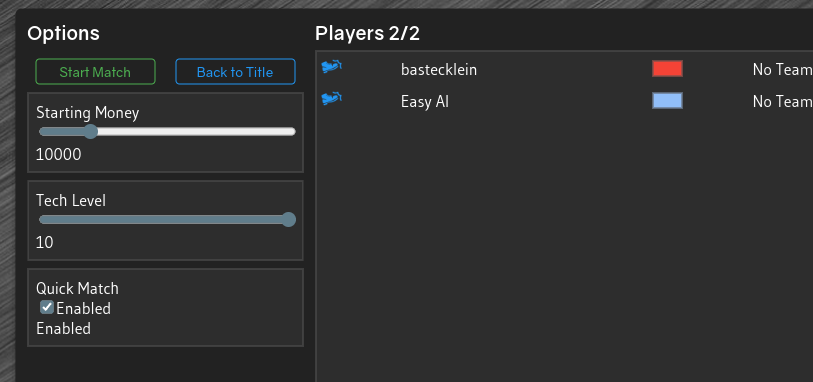 We are now able to customize some of the gameplay parameters when starting a new match. You can adjust the amount of
starting money
, adjust the
tech level
, and there is now a toggle for
Quick Match
.
The starting money option is obvious. For the
tech level
, it is loosely based off of the tech levels from the original Red Alert, and the chart I used for reference is here:
http://ra.afraid.org/html/ra/a_tl.html
.
Quick Match
should be a welcome addition to all. When Quick Match is enabled, a player will be defeated once his last building is destroyed, so you no longer need to scour the map for all of the AI's hidden units.
I have been in an RTS mood lately, so I may do some more Colony Wars updates. Let me know what other game setup options you would like to see in the future. United Earth could also use a few more units and structures, and then after that I think I am ready to start implementing the LIS faction.
So there is the update, check it out, let me know what you think, and stay tuned for more!
https://wars.my-colony.com/
#colonywars
Landmines, barbed wire could spice up gameplay

Try Boom Feed, the free RSS reader from Ape Apps! Boom Feed is a free RSS, Podcast, news reader and aggregation app, available on most platforms including Desktop, Android, and iOS. Try it today!