Find User
here you can look for a user
Updates and Announcements - Page 4
The original My Colony has just been updated to v1.16.0 and should be hitting all platforms shortly! This is a minor bug fix and stability release, rolling up fixes for all bugs reported through the Ape Market Console since September.
Enjoy the update, and when you are ready to take a break from My Colony, check out the sequel My Colony 2, now available on most platforms as well!
https://apps.ape-apps.com/my-colony-2/
#mycolony
Today I am putting the finishing touches on
My Colony 2
v0.17.0
, which should be hitting all platforms over the coming days. In some ways, v0.17.0 on the outside is a minor update, but in other ways it begins to completely change everything for the My Colony series, as several new concepts are coming online. So let's take a look at what has changed and what is new with My Colony 2 v0.17.0 -
The Phara Update
!
The My Colony 2 engine is starting to gain support for AI controlled civilizations, and the first work has been started in this regard with the introduction of the
Phara
, a new
Desert World
native species conceptualized by
@GeneralWadaling
nearly a year ago. Desert World players will start to notice the new faction and their settlements crop up around their maps.
There is still a ton of work to be done with the AI, and some bugs to work out. At present, the AI doesn't do much except for generate new settlements, so don't expect any interactions or diplomacy quite yet. The AI routines are going to be fleshed out over the next several updates, and the initial AI processing is going to be largely based on the AI code from
Colony Wars
, but more on that later.
I have wanted AI controlled civilizations in My Colony since the first release of MC1, but have never gotten around to it. You may or may not know that My Colony 1 was initially envisioned as a futuristic version of Sid Meiers's Colonization, and was to have native species to deal with and you would also have to fight against the "king" for independence (in My Colony's case, United Earth). The game never turned out like that, and My Colony 2 will not have fighting for independence either, although the engine might in fact support that scenario soon, but we will get to that later too.
I next want to move on to a new concept I have added to the game, which is progression through both Player and Settlement leveling up.
Settlements now have a Level, which you can increase by using Civics. Behind the scenes, Players also have a level which can be increased using Money, but that part is not yet implemented.
Right now there isn't a huge point in leveling up, although eventually some government type structures and policy options will require either a specific player or settlement level to unlock. This adds extra goals and an additional player progression aspect to the game. Various forms of this have been suggested throughout the years for My Colony 1, so keep an eye on these features as they are fleshed out over the coming updates.
Next, I want to touch on what has been by far the #1 requested My Colony feature since the game first came out -
Military and Combat
, both of which are now making their way into My Colony 2!
This is another concept in it's initial phases and some of it still doesn't work right, but let's go through it. There is a new early-game tech called
Colonial Security
which is now needed for the Security Station and also unlocks the new
Barracks
. From the Barracks, you can now construct the first military unit, which is the
Infantry
unit. The Infantry is able to either attack or defend. It will automatically attack enemy units if in range, and will attack an enemy structure on command. A lot of the initial combat code has been taken from Colony Wars.
So what constitutes an enemy? The engine now accounts for diplomatic relations between each player behind the scenes. Players can either be Neutral (the default status), Enemies, or Allies. To become an enemy, you open the Players tab in the Statistics window, click on a player, and choose to declare war on them. They will instantly be notified of your treachery.
Now, here are the limitations.
The 'Propose Alliance' and 'Sue for Peace' options currently are not functional
, so if you do decide to declare war, there is no getting out of it. So keep that in mind.
There is a lot more to say on AI's and the new Combat features, but there have also been some other tweaks to the game that I wanted to touch on before getting too deep into the woods.
Firstly, when you go to build a new unit, it will now appear at the Construction Yard that is the closest to where your current camera position is location. In other words, if you are actively looking at a construction yard and you build a new unit, it will pop out of the construction yard you are looking at. This comes in handy as settlements begin to spread out and grow.
Another big change is that new players who join your public game will no longer start out at chunk 0:0. I know that it could be annoying to have all Landers start the game at the exact same spot, so the new Landers will now be randomly placed, somewhat in the area of the currently settled world, but away from all other players.
Now some kind of bad news. You may know that
I recently updated Voxel Paint
with some cool new features, such as metallic voxels, transparent voxels, etc. Well, I went to implement those features into the My Colony 2 engine, and it completely kills performance. I don't know why yet, but just having one structure with a metallic texture destroys the game, and that is on a high end PC with a good video card. So until I can get the performance situation worked out, the cool new features from Voxel Paint will have to wait. 🙁
Now I want to dive a bit deeper into some of the new features, and how they tie to what I have planned for My Colony 2 going forward.
Some of you may have heard during some of my Podcast episodes or from various release notes here on the forum that I had long wanted to make a game called '
New World
' that involved showing up on a new continent in ships like the Spanish did, and trying to get rich on a land inhabited by natives. Well, Amazon recently beat me to the New World game, but the idea still remains in my mind. A lot of this updates recent changes, including AI civs and combat, go directly towards making that game concept a reality.
Additionally, there has recently been discussion with GeneralWadaling about migrating Colony Wars to the Scroll3D engine. I think that my new strategy instead is going to be to have the My Colony 2 engine be sophisticated and customizable enough to be able to be morphed into a Colony Wars type Real Time Strategy game. This would be great for multiple reasons. Firstly, less game engines to maintain is always a good thing for me. Secondly, it will greatly increase the capabilities that modders have to make different types of games for the My Colony 2 engine. A win for everybody!
So with the above two points in mind, here are some things I need to work out before I can make everything a reality, which should give you an idea of some of the features that will be coming soon to My Colony 2.
Firstly, there needs to be more World options then the current infinite maps. You need to be able to create maps of a specific size, and also maps that have a predefined layout, which means some type of map editor. To get started on this work, the next World type I am adding to the game is going to be the My Colony Classic world, which will be roughly equivalent to an MC1 large sized Red Planet map (probably not suitable for multiplayer). It should be a fun challenge for some players, but will also bring important new features to the engine.
Next of course, the AI needs to be expanded and improved. The first order of business is to get the AI's capabilities to be roughly in line with those in Colony Wars, which will allow basic war and RTS support. In addition though, the AI needs to be able to conduct peaceful diplomacy and trades. And for that matter, players need to be able to trade with each other as well.
Modders need to be able to customize various UI aspects. The game UI needs to be able to basically look like the Colony Wars UI, which means options need to be added to show/hide elements and to more the position of different elements. The new/join game screen also needs to be customizable.
And of course, the game content needs to be expanded as well, and that will happen over time for sure.
So there is a ton of work to do, and absolutely all feedback is appreciated. In the meantime though, check out the v0.17.0 update to My Colony 2, and stay tuned for a whole lot more to come!
#mycolony2
#colonywars
#voxelpaint
Today I am pushing
My Colony 2 v0.16.0
which should be arriving to all platforms over the next couple of days. This release contains some important performance improvements, along with loading and saving time improvements, as well as some new content. So let's dive in!
For starters, two new tech upgrades have been added in this update,
Human Cloning
and
Large Scale Construction
, and with the addition of the latter comes the return of the
Megabot
!
The Megabot is required to build three of this updates new structures, the
Large Living Quarters
, the
Uranium Enrichment Facility
, and the
Cloning Facility
. In addition, this update also adds the
Gold Synthesis Lab
, the
Canteen
, and the
Advanced Water Pump
(the models of which were provided by
@GeneralWadaling
).
I have added additional information to the Settlement statistics screen (and also the "s" hotkey for opening the stats window). Now when you click on a settlement, you can see some basic stats, including the current rate to which the colonists Education, Entertainment, Medical, and Security needs are being fulfilled.
More stats will be coming as time goes on, but at least now you can tell what you need to build in your settlement to attain optimal production levels. Although the above stats do currently impact production output, the game does not yet calculate colonist happiness and approval ratings. This will be coming soon, so be sure to use the new information on the Stats screen to get your settlements running properly before the next update.
The Encyclopedia now has a little bit more information when you click on a structure, but I realize that I still have a lot of work to do in that area. Be patient, all of the encyclopedia information found in MC1 will eventually be available in MC2 as well!
The MC2 update is live now on the Web and the Ape Apps Launcher, and will be hitting mobile devices over the coming days. So thanks for playing, and stay tuned for more My Colony 2 goodness in the weeks ahead!
https://www.apewebapps.com/my-colony-2/
#mycolony2
Today I am publishing the
v1.15.0
patch for the original My Colony, which should be hitting all platforms over the coming week (except the Windows Store, more on that in a second). This update addresses a few bugs which have cropped up over the prior months, as well as updates the Scroll2d engine and all native platform wrappers to their latest releases.
There was an issue where online regions were not saving correctly when first started. I think this was the issue that
@colbya
was reporting a couple of weeks ago, although I'm not 100% sure. Either way, several issues have been fixed in this department regardless.
The menu icons have been migrated over to a different icon font, since the other icons were not rendering properly on some Android and Windows devices. This hopefully fixes the issue.
I have made some UI changes to better support devices that have a camera notch or rounded corners. I don't know if I am completely satisfied with the result, so there may be more tweaking on this front over the coming updates.
I may (or may not) have pinpointed the NaN% issue in the statistics window. At least it was fixed on the colony I tested it on, we will see what happens.
Finally, some important information for users of the Windows Store edition of My Colony. The legacy Edge rendering engine that powers the current Windows Store app has been depreciated by Microsoft, and I need to move the app over to the new Chromium Edge rendering engine. Sadly, the two app containers are not completely compatable, and so the update will cause all users to lose all saved data. It is therefore important for all Windows Store users to backup their game files before updating.
To make this less painful, I have removed the current app from sale and will hold off on posting the update to Windows for several weeks, to minimize the amount of people who will be impacted by this. In the meantime, those who purchased My Colony through the Windows Store are encouraged to use the Progressive Web App instead (PWA) until the migration is complete (the new version will be based on the PWA anyway). If you signed into the Windows app with your Ape Apps Account, the purchase will be synced to your account anyway, so you will still have premium.
Players who use the Cloud Sync feature should be unaffected.
My Colony PWA:
https://www.apewebapps.com/my-colony/
#mycolony
My Colony 2
v0.15.0
is available now, and should be hitting all platforms in the coming days. This release will also be pushed to iOS, so iPhone and iPad users can finally get their hands on MC2! So what's new? Well aside, from usual tweaks and fixes, v0.15.0 is the Water World Expansion update! What does that mean? Let's take a look!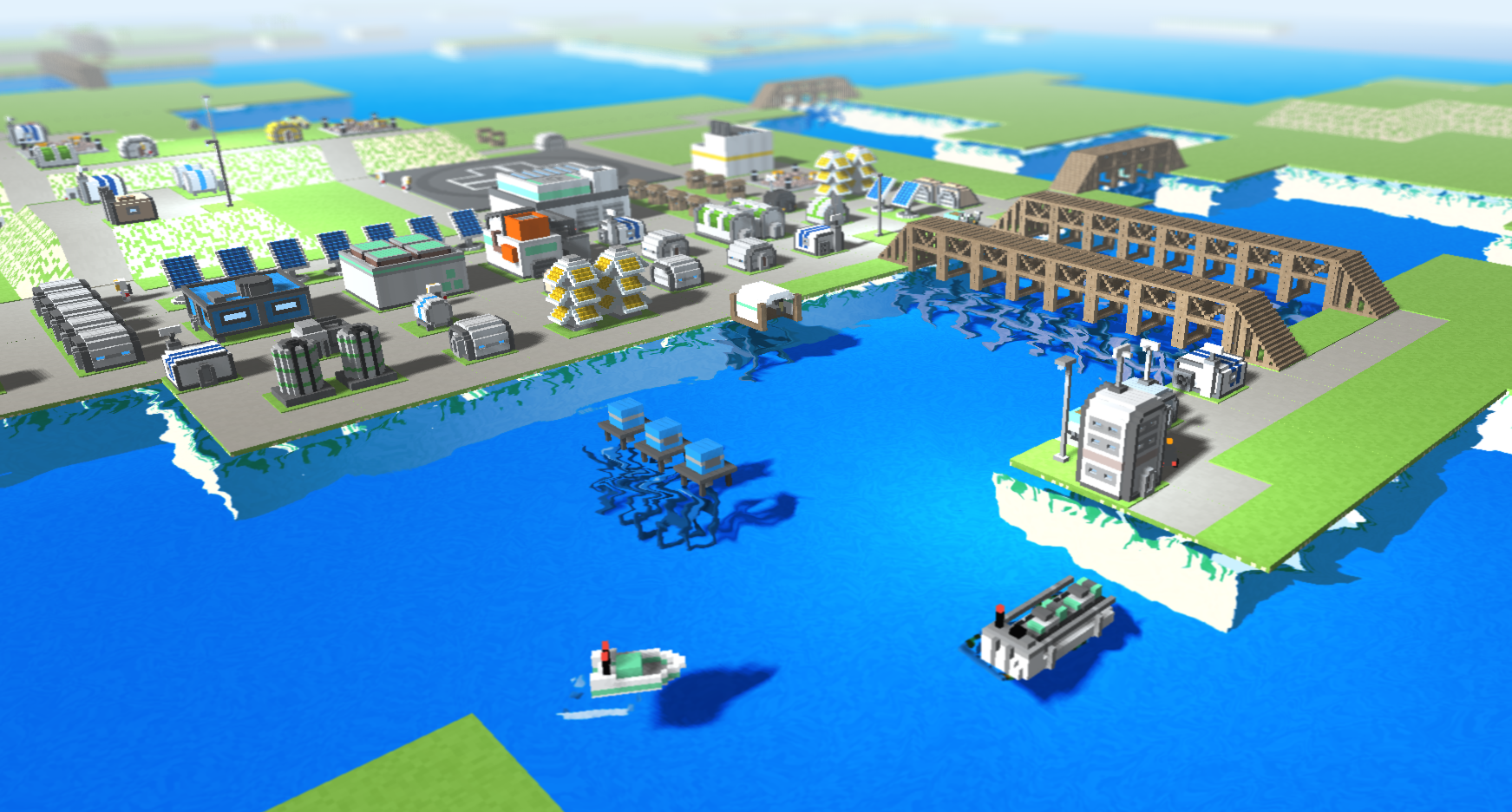 The My Colony 2 engine now has support for water based structures and units, and with the aid of a couple of models from
@spamdude
, we now have our first two water units, the
Sea Rover
and the
Expansion Barge
!
The Sea Rover is a little utility bot for building water based structures, and the Expansion Barge is the water based version of the mobile outpost. Take it out to sea, and when you find a suitable island, you can deploy it near the shore into the
Supply Transfer Station
, which can connect to existing Supply Transfer Stations and Logistics Stations to form resource supply networks.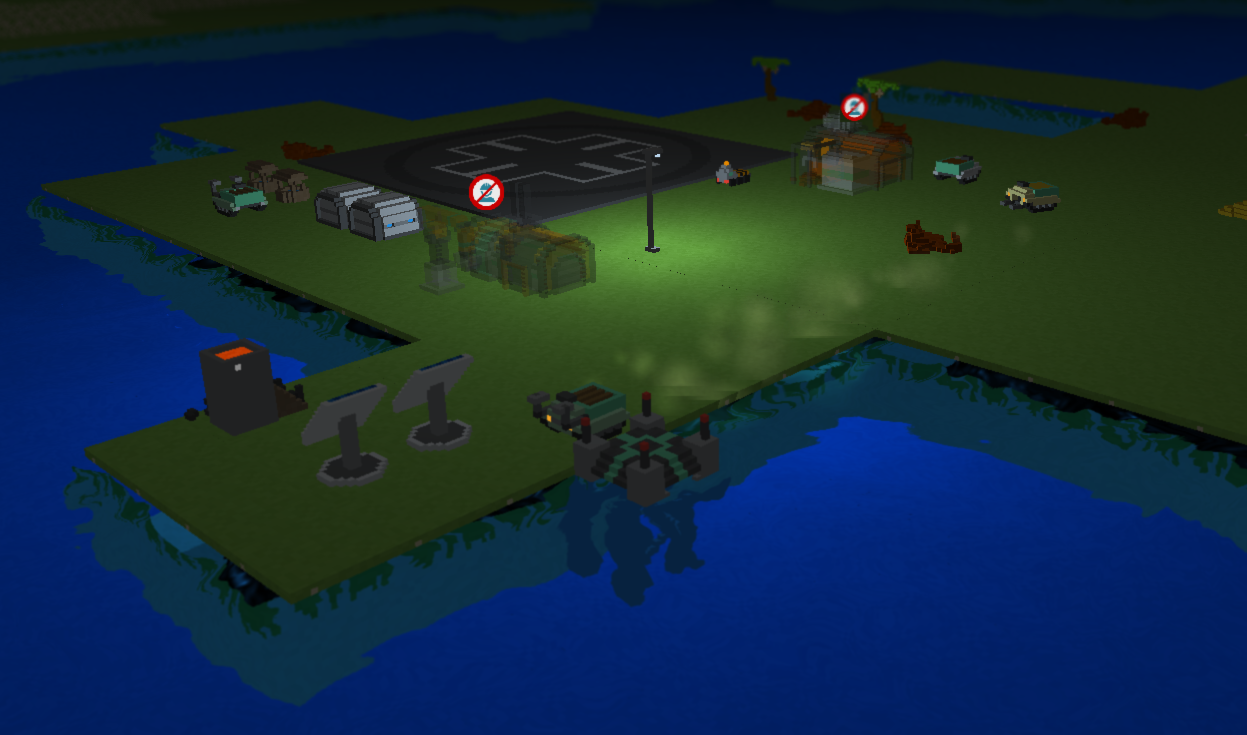 In addition, the Water World now has a more efficient method of producing drinking water outside of the basic wooden Water Well. The stack begins with the offshore
Salt Water Pump
, which (as in MC1) pumps the new
Salt Water
resource, which must be stored in the on-shore
Salt Water Tank
. From there, it is converted into large amounts of drinking Water utility using the
Water Distiller
(and thanks to
@GeneralWadaling
, as I used several of his models for this supply chain).
Anyway, these changes represent a much needed update to the Water World map, and it should now be possible to progress through the Water World as you can on other worlds.
Moving on, several changes have been made to existing mechanics. To start with, there was a core networking change made in this release, which means clients <= v0.14.0 will not be able to connect to clients >= v0.15.0.
Performance testing showed that the rendering of settlement border lines was having an unreasonably large impact on the game. I have changed the default behavior to no longer check the individual elevation of every border tile, which in some cases places the border lines on the wrong elevation, but renders a lot faster. You can also change it back to the way it was before, or for even more performance, disable settlement border rendering altogether. Find the new options in Engine Settings.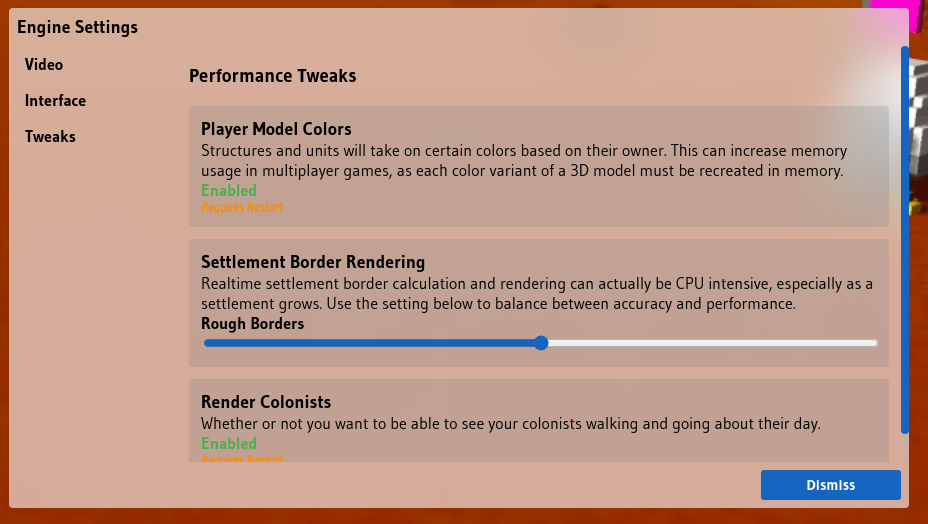 Some existing structures have been altered. The effective range of the
Logistics Station
has been greatly increased to 800 tiles, and the
Raw Materials Depot
now has
Charcoal
storage. I have also increased the number of
Spare Parts
that the
Lander
can hold to 4.
In the next update, I am going to be changing the way the game packages it's data files, because the My Colony 2 load times are starting to get a little long. This is because MC2 now has over 150 individual data files representing units/structures/etc that it has to load one by one on startup and upon returning to the title screen. Starting in v0.16.0, the game is no longer going to load individual data files, but instead load one single bundle file, which in my testing basically cuts the loading time by about 2/3.
So that's about all for today's update! I hope you guys enjoy the Water World changes, and stay tuned for more My Colony 2 goodness in the weeks to come!
#MyColony2
Linkback References

Try Boom Feed, the free RSS reader from Ape Apps! Boom Feed is a free RSS, Podcast, news reader and aggregation app, available on most platforms including Desktop, Android, and iOS. Try it today!