Find User
here you can look for a user
My Colony v1.25.0 Released
Today I am releasing the
v1.25.0
patch for the original My Colony, which should be hitting all platforms throughout the weekend. This update brings some critical bug fixes, changes to how the app is packaged, as well as a change to the Challenges system, so let's take a look!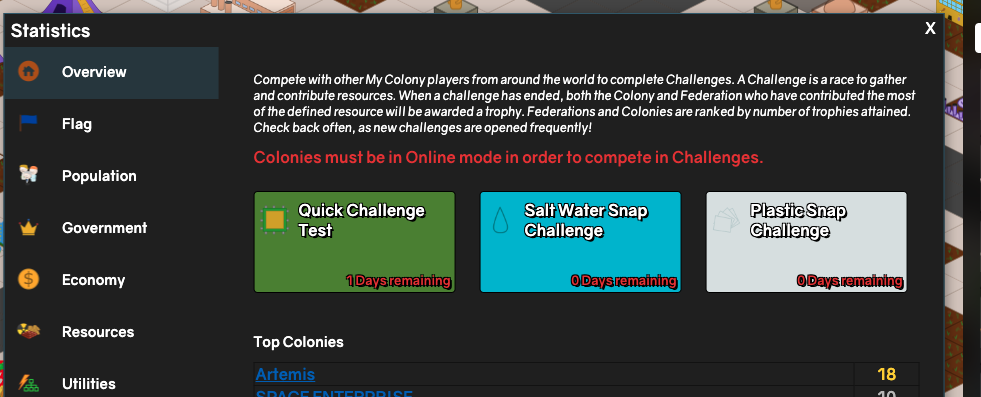 The main change in this update is to the Challenges system, with the addition of the new
Snap Challenges
,
Daily Challenges
, and
Three Day Challenges
, all automatically generated by the My Colony server.
Challenges were well received by many players, but I quickly realized it was sort of a pain for me to keep up with the system, having to create new challenges, stories, and logos every day, so I sort of fell behind on it. Well, now there will always be challenges available, with the addition of the three new challenge types mentioned above, which are all generated by the server.
Every day, a new Daily and Three Day challenge will be added, worth one and two trophies respectively. In addition, there are now one hour Snap Challenges, which will be generated at random times by the server throughout the day, so you never know when a Snap Challenge will occur. These rapid challenges are worth one trophy, and should give more players a chance to compete in the system, since you have an opportunity to sneak in under the radar and complete a challenge before some of the big colonies even notice it's there.
With these three new challenge types, there will now always be plenty of challenges to compete in. Of course, bigger challenges will still be added from time to time worth a lot more trophies.
Moving on, I have fixed the issue with
resource decay
that was making new Alpha Draconian colonies impossible to create. The new rule with decay is that resources will never decay to below the amount you are given at the beginning of the game, even if you have no storage.
Next up, a change is coming to the
Steam
edition of My Colony. There was an issue before where people were abusing the fact that the Steam client added premium to their Ape Apps accounts and were using the Steam version of the game to give free premium upgrades to other players. Because of this, the Steam Premium key is now going to be removed from everyone's Ape Apps account. The next time you log in to Steam after the update, the game will ask if you want to connect your Steam and Ape Apps accounts, and there can now only be one steam account per Ape Apps account. If you log into the Steam client using a different account, the original Ape Apps account will lose it's Steam Premium. Also, the Steam version of the app will now no longer start up unless Steam is running and signed in to a valid Steam account.
It might sound like a mess, but for players who were being honest about it, you should not really notice any difference. I hated having to add some form of minor DRM to the game/accounts, but of course there are always people who need to abuse things, so this should fix the issue.
On the plus side, once you tie your Steam account to your Ape Apps account, your account will gain automatic login for all current and future Ape Apps titles released on Steam (when opened through Steam).
Finally, I am bringing back the packaged desktop
Native Client
versions of My Colony, which I have not released for quite a while now. Several players have said they wanted these packaged versions of the app to return, so they will be. I plan to have them uploaded to the
Ape Market
some time later today.
So anyway, that is all for this update. It should be live on the
Progressive Web App version
right now, and will be hitting all other platforms over the coming days. Enjoy!
#mycolony
Thank you so much for the update Bast!
Epic, just got back into the game after like 5 years, great to see new things and the game regularly updated.
I just bought the game on steam a week ago, so does that mean, if I log onto this account I will get the key, and If I ever made other accounts I don't? Thank you in advance.
You may know me as FelixPSY375 or MintyDexter69 on other games and platforms
Very glad to see the change regarding the challenges, they make the game very interesting and enjoyable. Thank you for your hard work on this game, it's truly a joy to play.
Wow! What a nice update! Keep up the good work!
Best of regards, Wastelander (formerly Architecture), Overlord and Designated Leader of the Earth States.


well thanks i liked the desk top client my self
well the game now renders either IF you use Auto it still will not render using a PNG file .
Auto just nloves filling half the region with rivers either lava

Whoops that steam thing might have been my fault
Well, of course it's better now. I've only ever tested it on one account.
Have a fantastic day!
~cakedon (formerly itsLiseczeq)
Should trophies be able to do more things than just bragging rights, such as being able to unlock certain things in game?
I hope development has still been going well by the way.
Linkback References

Try Boom Feed, the free RSS reader from Ape Apps! Boom Feed is a free RSS, Podcast, news reader and aggregation app, available on most platforms including Desktop, Android, and iOS. Try it today!