Well, it's late at night as I type this, and I've just put the finishing touches on the
v0.93.0
update for My Colony. I'm going to try to get it pushed out to all platforms tonight, but if I end up getting too tired (likely) I will finish the work tomorrow. v0.93.0 is a mix update between content and features, so let's go ahead and take a look at what's new!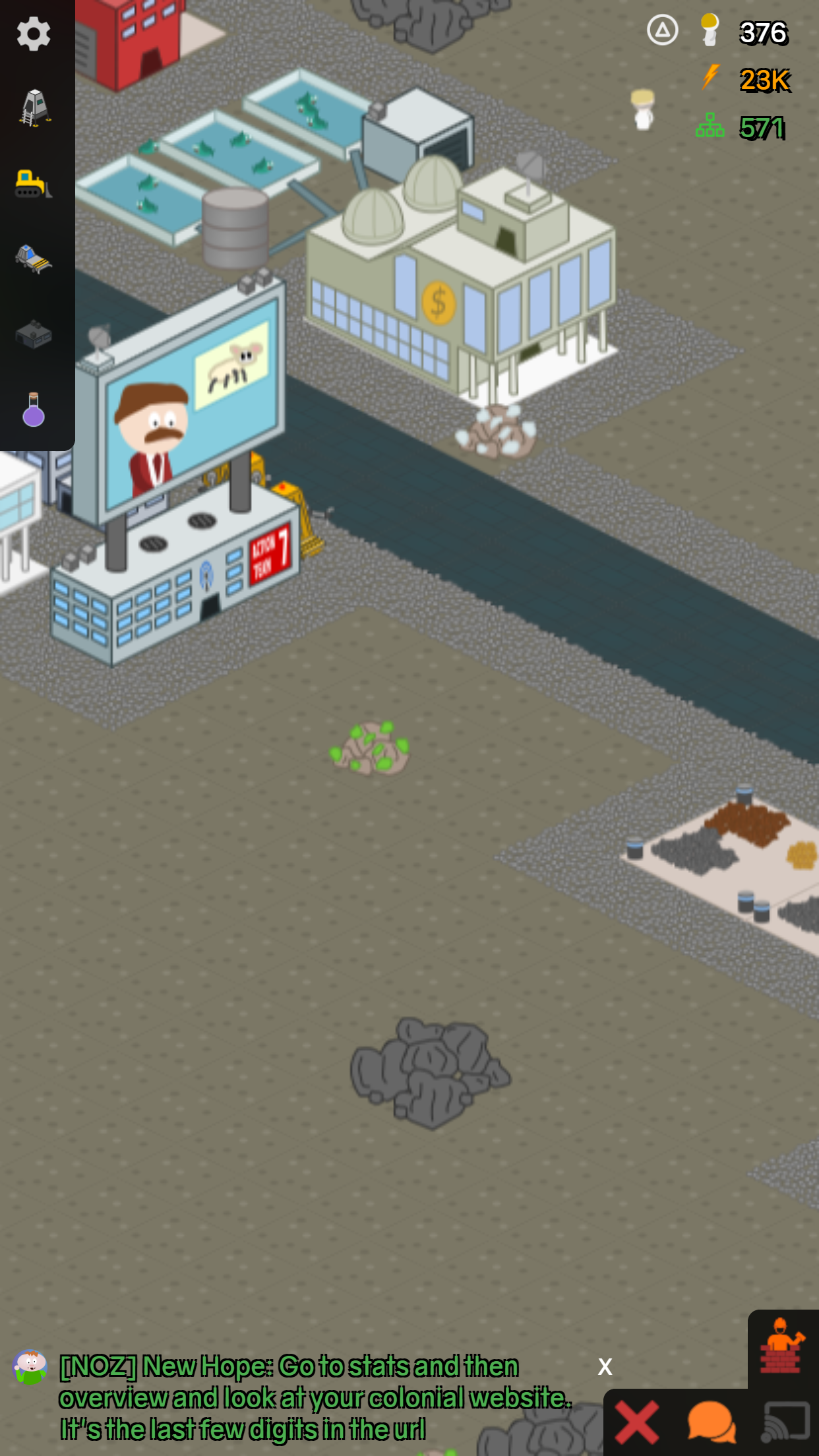 First of all, I made some minor interface adjustments on mobile. As some of you may know, I was busy with family most of this week and was unable to use my PC, and I took some time to spin up a new colony on mobile (an iPhone 7). It has literally been forever since I played my own game on mobile, and I noticed some annoyances right off the bat, particularly with the new chat notifications, since in-game chat has started to become a lot more active.
To address this, I moved things around a bit. Now, the build menu icon appears in the bottom right of the screen, above the standard bottom right buttons. The chat notifications are now aligned to the bottom-right corner of the screen, and no longer have a darkened background. Also, their rendering order has been adjusted so that they no longer appear on top of other menus.
In addition, when not using resource "marquee" mode, the top-right resource display no longer has a darkened background, and the text has gotten a bit of extra black border around it to make up for the difference. Also, all of the remaining UI elements with a simi-transparent black background have been adjusted to have the same opacity level, since I thought it looked strange having some UI elements being less transparent and some being more. For the most part, these UI changes are minor, but I think they will make the game a bit more enjoyable on mobile, particularly the issue with the chat notifications covering up important UI dialogs.
Next, I made another change regarding the chat notifications. Previously, clicking on one of the notifications would open up the in-game chat slideout. This is no longer the case. Now when you click on an in-game chat notification, it opens up the brand new User dialog window, showing you all of the online colonies for the Ape Apps user who is chatting.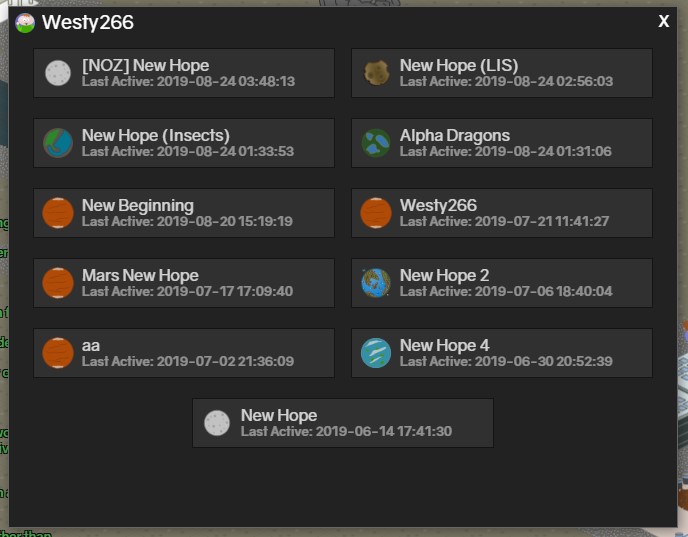 Clicking on one of their colonies opens up the standard colony info window, allowing you to send gifts and messages. I realized that with so many requests for resources coming in over chat, it was cumbersome to have to go to the communications hub and put in a charter code. Now you can just click on their name and send them some resources.
And speaking of the colony info window, it too has been slightly revamped. It now shows the colony owners username (clicking on it brings up their list of colonies), and the action buttons have been moved to the bottom right corner of the screenshot.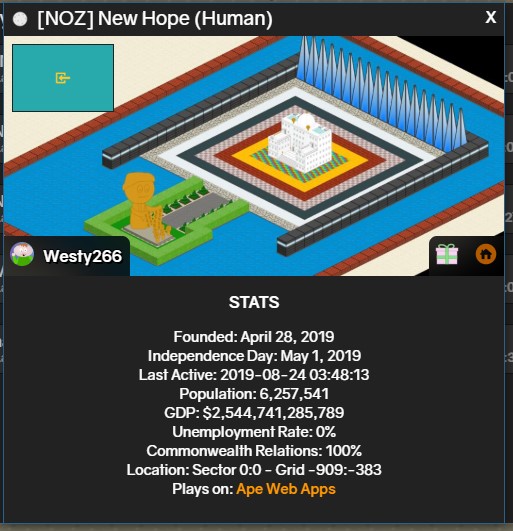 Sorry for picking on you here
@Westy266
, but your beautiful colony screenshot just had to make it to the release notes. Oh, and that rectangle in the top-right corner of the screenshot area is the flag of the colony, which leads to the next new feature, colonial flags, along with built-in flag maker.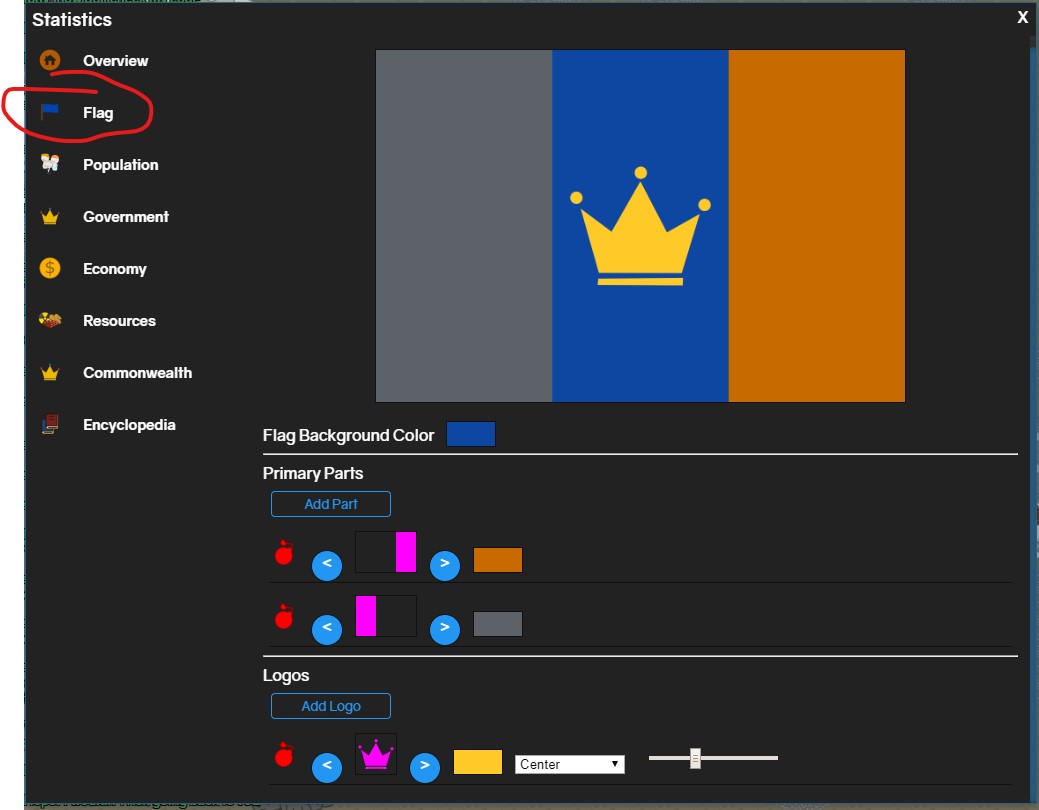 The Stats screen has a new Flag section, which takes you to the flag maker. I need to clean up the interface a bit, but it's mainly functional. Basically, a flag consists of three primary sections, the overall background color, the "parts" section, and the "logos" section. The background color is pretty self explanatory (I hope).
The "parts" section consists of things like stripes, bars, circles etc, of various shapes, sizes, and positions. You can add as many parts as you want, there is no limit, and you can set different colors for each.
Likewise, the "logos" section lets you add little symbols to the flag. Like parts, you can also add as many logos as you want. You can set their placement, and the slider let's you adjust their size. Most of them allow you to set their color, but some do not. Most of the logos come from in-game UI assets right now.
I plan on expanding the "parts" and "logos" selection in the coming updates, so let me know what kind of things you want to see added, so that you can make the best colonial flag for your awesome colony!
Next up, a couple of important changes have been made to Regions.
Now, all region colonies should share a common gifting capacity, so that you do not need to build huge capacity buildings in every map.
Regional natural resource deposits (ore/gold/aluminum/etc)

will now actually deplete when the colony is not active
So that second one is pretty important, since it is a departure to the way regions had been working, and some colonies might be built depending on the old behavior. However, the old behavior was obviously flawed, so I think that the adjustment was necessary.
Moving on, I raised the costs a bit on the Tech Office Building. That building is sort of powerful, and I didn't nerf it any, but I did make it slightly more expensive.
Also in this update, I made further changes to how colonists handle Work, Medical, Entertainment, and Protesting. These all have long standing irregularities that aren't so easy to fix, so I hope these new adjustments help.
Finally, I went ahead and added a bit more content as well, mostly more I.T. stuff, but also a couple of other things.
New Techs Added
Multimedia Infrastructure
Proxy Servers
Insectoid Mind Network
New Structures Added
Ether Tree Farm
Quantum Nuclear Reactor
Official News Station
Imperial Propaganda Office
Online Black Market Office
Hacker Camp
It's a little late and I'm a little tired to explain all of the new content, but you can mostly look at the names and see what's going on. You can check out the
IT industries ideas Vol.3!
thread to see what I was pulling from for the I.T. stuff (and to give you an idea of what is coming next). I also added upgraded structures for the old
Nuclear Reactor
and the
Tree Farm
.
So that about wraps it up for this update. I think the pace and scale of updates has been pretty good lately, so I will probably be keeping it like this for a while. There will probably be a few more I.T. related updates, plus a ton of other stuff currently sitting in the suggestions box, so keep the ideas and bug reports flowing!
I hope you enjoy the update, and as always, thanks for playing My Colony!