Happy Friday to everyone here, and it's time for another My Colony patch, v0.82.0! This update continues the bug fix series that I have been doing while I work on
Colony Wars
, but I've also added a couple of features that you will hopefully find helpful. Let's dive in and take a look.
Firstly on the bug fix front, every issue that had been tracked to the automatic bug tracker from both My Colony v0.81.0 and
Antiquitas v1.22.0
has been resolved, along with a few other issues that I noticed while digging through the code.
One of the biggest issues in My Colony deals with corrupt save files. While working on this update, I noticed that ever since I implemented Regions way back in September, the game was no longer saving backup copies properly for single city maps or region overview maps. This means that besides for sub-city files, no backup saves (the *.mcb files) were being done properly.
For those who are not aware, when you save a game in My Colony, it creates the compressed (if compression is turned on) *.mcz save (that also syncs to the cloud if you have cloud sync turned on), and also an uncompressed *.mcb file that saves only to the local device. When you go to load your colony, it first tries to load the *.mcz cloud save, then the *.mcz local save, and if those do not work, it tries for the uncompressed *.mcb backup save.
What was happening in the code is that first it was saving the uncompressed backup save as a *.mcz file, and then saving over it with the final compressed *.mcz file. So there was no backup. This means if that there was an error in the compression for some reason, there was no uncompressed backup to fall back on.
It also means that if there is an old backup *.mcb file saved somewhere on your device from before the error occurred, opening a file could potentially restore that old backup and override everything you had done in the meantime.
I also noticed that a majority of the save corruptions seemed to be happening on Windows 10, Android, and Desktop. These also happen to be the three platforms where save compression was turned off by default. I had it turned off because compression can cause memory issues when saving cities that have been expanded multiple times and have millions of citizens. Since I am more moving towards Regions being the default play mode though, I decided to turn the compression on by default on all platforms to see if it helps. You can still turn it off on a per-colony basis if you want to.
Next up, I made it so that importing and exporting goods through the Mass Driver/Star Gate (etc) type buildings no longer has to be done in fixed lot sizes. Now when you go to make a trade using these buildings, you will be presented with a slider dialog that lets you make trades up to the max that the structure supports.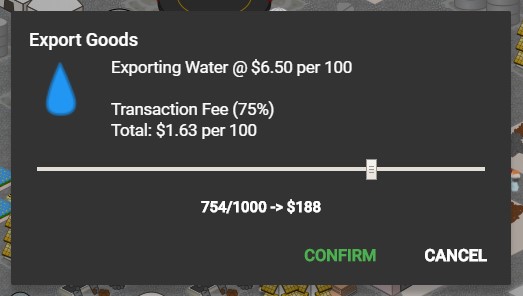 I still need to make improvements to the dialog, but it should make some of the buildings with the ultra-large capacities a little more useful.
Next, I have also made changes to the in-game notifications and especially that chat, which should hopefully make them more useful. First, if you are using the "Desktop" style interface (the one with all of the build options appearing in the right-side sidebar), in-game notifications will now show up in a notification area at the bottom right of the screen, instead of popping up in the bottom middle. When you have notifications there, there will be a new red
x
icon in the bottom right corner that lets you clear all notification messages at once.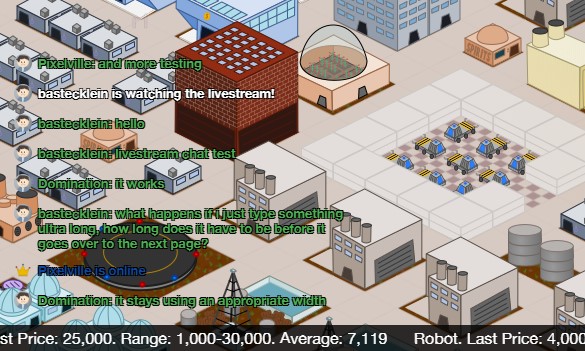 The other change is that all chat messages now show up in the notification area. This only works when you are signed in to the chat server, but now once you sign into the chat server for a colony at least once manually, you will automatically be signed in each subsequent time that you open your colony. That way, if you are playing your colony and somebody is trying to talk to you on chat, you will know it without actually having the chat window open. You will also get livestream chat notifications, and notifications when somebody decides to watch your livestream.
On mobile (or if you are not using the "Desktop" interface), you will still get new chat notifications, but they will pop up in the same way notifications currently work, in the bottom-middle of the screen. As always, you can turn off all notifications in the engine settings menu.
Finally, the Russian language translations by Anton zlo have been expanded in this release, and a full set of French translations has now been provided by
@Sobeirannovaocc
and
@Freedmoon
! This is great news for players using Russian and French, so please be sure to show your appreciation for their hard work and efforts.
Just a few final words before I go here. I plan on doing another episode of the
My Colony Podcast
soon, probably at the beginning of next week. People seem to be enjoying the show, so I will be making it a regular thing again. If you haven't checked it out yet, please do! Next, I plan to have a multiplayer beta for Colony Wars soon(ish). I wanted it to be done by the end of this month, but coding the AI is taking a bit longer than I had planned. I've got it now to where the AI will build their base, but they are still a bit too stupid at it. The beta will be coming before long though, and it is going to include the map editor, as well as multiplayer, supporting LAN/Online/ and AI skirmish. I hope to have the multiplayer matchmaking server running by the end of next week, so that I can get some people online to test the multiplayer out.
Anyway, that is all for today's My Colony update. It should be hitting all platforms throughout the weekend here. I plan on starting the next My Colony update (v0.83.0) on March 1 (I am actually half way planning things now), so get those bug reports filed before then. I know a lot of people think I do not read the reports since I do not post replies, but that is not the case. I just do not see the need to post "Ok" or "Thanks" at the end of each bug report.
Stay tuned for more, and thanks for playing the game!!