Find User
here you can look for a user
My Colony removed from Google Playstore
@bastecklein
My colony has been removed from the Playstore. There's no issues if you already have the game downloaded to the most recent version. However, you can't update the game to its most recent version and you also can't search for the game itself
This is right, I just got a notification from Google that they have removed the game because they say it violates their malicious code policy, as it cause users to download apps from outside of the Play store.

This is, of course, insane, as the game does nothing of the sort. I am attempting to go through the appeals process, but I have been down this road with Google before on other apps, and the prospects are generally not good.
Owner of Ape Apps, LLC
Here is what their (likely automated) email said:
Hi Developers at Brandon Stecklein,

After review, My Colony, com.ape.games.mycolony (Version Code 149), has been suspended and removed from Google Play as a policy strike because it violates the malicious behavior policy.



Apps that cause users to download or install applications from unknown sources outside of Google Play are prohibited.



Next Steps

1. Read through the Malicious Behavior policy for more details and examples of policy violations.
2. If possible, make changes to bring your app into compliance. Remember your app must comply with all policies listed in the Developer Program Policies and additional enforcement could occur if there are further policy issues with your apps.
3. Sign in to your Play Console and submit the policy compliant app using a new package name and a new app name.

Additional suspensions of any nature may result in the termination of your developer account, and investigation and possible termination of related Google accounts. If your account is terminated, payments will cease and Google may recover the proceeds of any past sales and/or the cost of any associated fees (such as chargebacks and transaction fees) from you.

If you've reviewed the policy and feel this suspension may have been in error, please reach out to our policy support team. One of my colleagues will get back to you within 2 business days.

Regards,

The Google Play Review Team

I also just got a similar e-mail and suspension for
Helios File Manager
, which leads me to suspect they are going through my account taking things down. I had something similar happen a few years ago, and when I tried to appeal they suspended my entire account, seemingly just for bothering them about an appeal, which took forever to get resolved.
So anyway, like I said in the last post this isn't my first time down this road with Google Play, but usually it does not turn out good at all. The internet is also filled with horror stories from other developers working with Google Play, so we will see what happens. Could be that I am done on Android now 😕
Owner of Ape Apps, LLC
You could use another apk store besides Google play.
Might also try just reuploading it as a 'new game'
Questions?
Concerns?
Feeling lonely?
Feel free to get in touch with me via message or heading over to
https://discord.gg/tsBg6Ec
@cry8wolf9
yes, I am just suspicious that an entire Google Play account suspension is what is coming next, judging by my own past experience and stories I have read from other developers. I do have it available on the Amazon App Store, and people can get the .apk from the Ape Market. It's just that Google Play is the only store on Android with a real amount of usage.
Owner of Ape Apps, LLC
The following chart shows how important Google Play is to My Colony: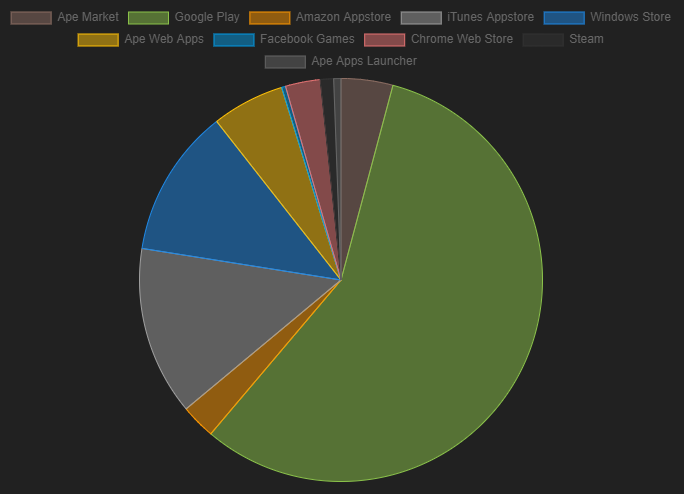 This is how many users come from which marketplace over the last 30 days.
Owner of Ape Apps, LLC
But.. the violation it's real, or is Just google acting like a bully?


They don't like the external link?
@Ansom
the violation is not real. The app let's users export files using Helios File Manager, but they are linked directly to the Google Play store, which is obviously not an unknown source.
Owner of Ape Apps, LLC
But online game use external server, i'm not sure if this comunication can be a problem.

But, pretty much all online game work with external server..

This problem are probably caused by automatic system, or user report.
Why would it be a user report
@ansom
there is nothing of the sort in it
Linkback References

Try Boom Feed, the free RSS reader from Ape Apps! Boom Feed is a free RSS, Podcast, news reader and aggregation app, available on most platforms including Desktop, Android, and iOS. Try it today!