Find User
here you can look for a user
My Colony v1.20.0 Released
Today I am publishing a long awaited update to the original My Colony, v1.20.0, which is live now on
Ape Web Apps
and the Ape Apps Launcher, and should be hitting everywhere else sometime next week (might have delayed app reviews due to labor day weekend). People have been asking for fixes and content, so it's time to give MC1 some love, so let's take a look at what is new, as well as what's to come!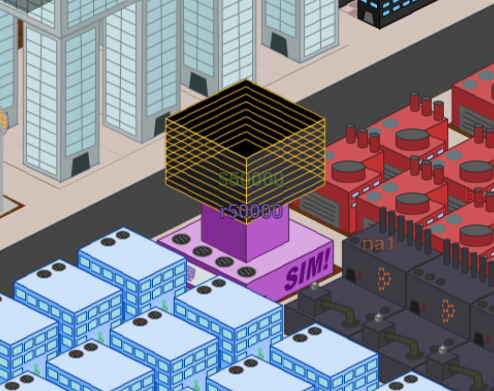 First off, one of the longest awaited bug fixes is here in this release, regarding colony
health statistics
. There was a bug in MC1 where, if your colony ever ran out of food or water, it would completely bork the health reporting stats, even after food and water was restored. This has been corrected, and health stat reporting should be back to normal. If yours was borked, it might take up to ten minutes in-game for the issue to correct itself.
There was a request by
@josip0101v
to overhaul the building color codes in the "Building Colors Only" view mode, and this has now been done. I don't remember the new color coding off the top of my head, but its something like Yellow for resource production, Green for residential, blue and purple are in there too. I think they correspond to the graph colors when you click on a building. Anyway, it's better than showing everything in Red.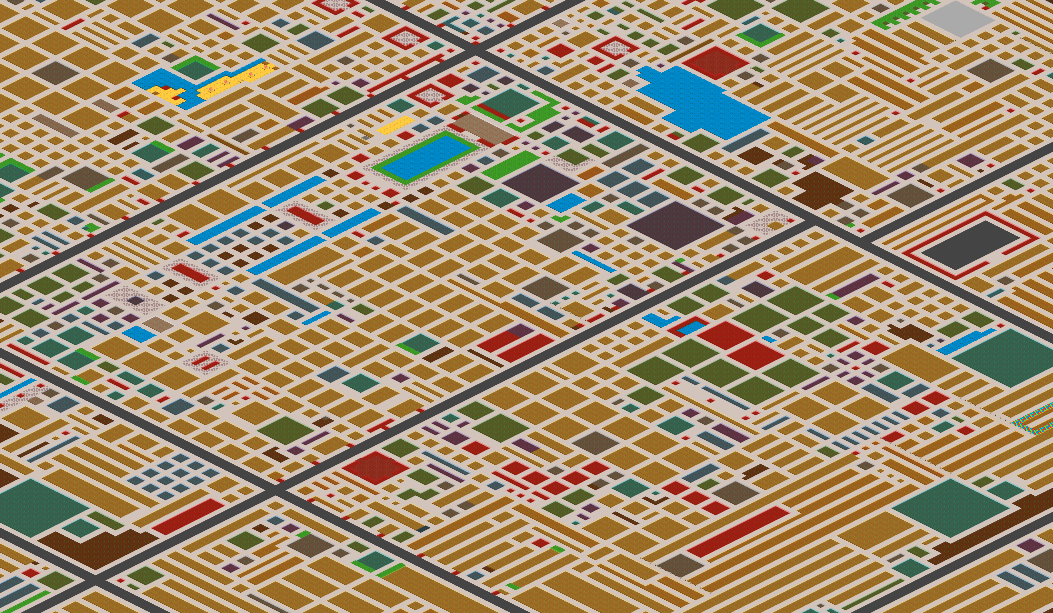 If you are one of those people who hate kids, then you are in luck because the long broken
Deport Children
function has been fixed. Deporting children will remove all kids 10 years of age and younger. The cutoff is 10, because MC1 considers kids over 10 to be working age, and they are available to work in the labor market.
There have been several issues raised related to inappropriate language and behavior in the in-game chat, so some
basic automatic chat moderation
has been added. These changes only apply to the green letter chat that shows up in the game window, and the slide-out chat sidebar will still show everything, for those who do not want moderation.
The game will filter out a variety of common profanity words. By filter them out, I mean if a message contains one, the message just wont show up in the game at all (it will still be in the chat sidebar though).
The chat overlay will now no longer show messages over 400 characters long. There have been complaints about people either typing a bunch of nonsense or just copy/pasting stuff into chat. This will no longer show up.
There have also been complaints about non-stop spam posting. The game will now no longer allow more than three messages from a user within a 10 (I think 10) second time span. This should be well enough time to allow for normal conversation to go uniterrupted.
Again, none of this moderation happens in the slideout chat, it's mainly to keep things from showing up for people who are just trying to play the game.
By request from
@Shadowdoom286
, more information has been added to the popup window when you mouse-over the population of your colony. It will now show the number of children, the number of working age adults, and the number of retired people.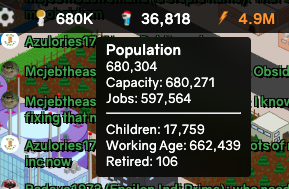 Moving on. The
Quantum Warehouse
and the
Gravity Compression Warehouse
now have storage for
Cobalt
. Cobalt will now also be generated by the
Research Converter
.
I have included three new buildings in this update that were submitted by the community. The new
Nuclear Water Synthesis Plant
(submitted by
@itsLiseczeq
) is a great new structure for water generation (mid game, but its probably one of the best structures for late game as well). The
Department of Paradoxical Studies
and
Nanite Server Building
(submitted by
@Electrogamer1943
) have also been added. The Department of Paradoxical Studies is roughly the LIS version of the Department of Fish Mating Studies, and the Nanite Server Building is an upgrade to the Large Server Building, providing more bandwidth, but costing nanites and cobalt.
Next, I decided people might want me to start adding more late game content, and so I am starting down a new tech path which I will expand on over the coming updates. The new
Advanced Simulation Theory
research has been added to the game, which unlocks the new
Advanced Simulations Unlimited
structure, which is an OP generator for money, research and civics but costs huge amounts of power and bandwidth, and really chews through the nanites.
Moving forward, I think the game needs (at a minimum) better production facilities for Software, Nanites, and Bricks, so you can expect those in the coming update. I am also open to continued community submissions, so keep them coming and I will keep adding them. While I have been focused on MC2, there seems to be a larger desire for me to keep adding content to MC1, so I might as well, so stay tuned for more content to
both games
as the weeks progress!
So that's it for today, check out the update on the web now, idk when it will hit other platforms but it should be this coming week (maybe longer for Android). Enjoy!
#mycolony
ancient alien brick factory
"The cutoff is 10, because MC1 considers kids over 10 to be working age"
Jesus
Have a fantastic day!
~cakedon (formerly itsLiseczeq)
I vaguely recall way back when you introduced the mass transit system into regions, you said something about trains, as well as adding it to non-regions. Any plans on that, or it that just dead (so we have to build 30 to 50 bus stations per city in a region just to get a decent number of commuters)?
Can deportations be accessed earlier?
But why are we so eager to deport!?
@Ikacprzak042
And
@BigMoTheDragon
I don't know if I will go all-in on the time it would take to implement trains, but I can add higher capacity bus stops, which should address the issue.
Owner of Ape Apps, LLC
My citizens insist on breeding like rabbits and eat like pigs, I'm constantly at a loss to take care of them. AN option to process the surplus population into food and water would solve all my problems.
Ikacprzak042 said:My citizens insist on breeding like rabbits and eat like pigs, I'm constantly at a loss to take care of them. AN option to process the surplus population into food and water would solve all my problems.
I would make a modest proposal (ha!) for a new nano tech factory: Lentsoy Orange. Does to excess population what the atmosphere scrubber does to excess atmo. New improved flavor!
Linkback References

Try Boom Feed, the free RSS reader from Ape Apps! Boom Feed is a free RSS, Podcast, news reader and aggregation app, available on most platforms including Desktop, Android, and iOS. Try it today!