Find User
here you can look for a user
My Colony v1.21.0 Released
Today I am putting the finishing touches on and releasing the v1.21.0 update to the original
My Colony
! Since interest in the original My Colony remains high, I am putting it back on the front burner, and we will discuss that more in a bit. Until then, let's take a look at what is new!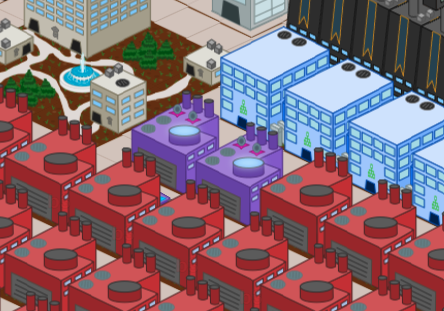 First off, and as every Ancient Astronaut Theorist knows, the Ancients were experts at brick making, and now their secrets have finally been unlocked with the introduction of the new
Ancient Alien Brick Factory
! A couple of these should easily take care of most or all of your colony's brick needs.
There have been requests to beef up the transportation capabilities between regional cities, so there is now a new upgrade to the Regional Bussing Authority called the
Deluxe Bussing Authority
! There is nothing earth-shattering here, but it does have a vastly higher bussing capacity than the current structure, which should come as a big help for many Regional players.
The last update introduced a new tech called Advanced Simulation Theory, and this update brings a long-awaited upgrade to the I.T. Studio Complex called the
Simulated Software Studio
! Here, virtual people, created by software, are in turn used to produce even more software. It seems unholy, but one building full of these sims can output about as much software as 50 buildings full of human workers. The A.I. is taking over!
Next up, a new late game technology has been added called
Simulated Fabrication
. Basically magic, this tech allows simulated people to create real things. How does it work? Who cares? Because it unlocks the shiny new
Simulated Nanite Factory
!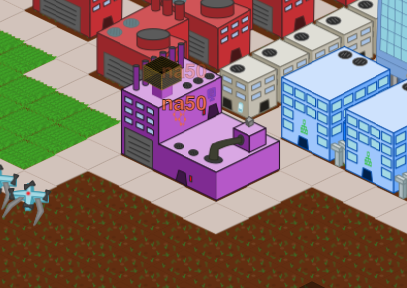 Here we have Nanite production on steroids. I don't know what the math is, but one of these things is roughly equivalent to 600 regular Nanite Factories, so it's a big deal. It might seem OP right now, but you can assume that some larger scale Nanite consumption is coming in the not-too-distant future...
There have been a couple of minor changes as well, based on user feedback. The
Bulldozer
behavior has been changed. Now instead of destroying buildings, it sells them, so it's basically a quick-sell toggle. Additionally, I have made all
Encyclopedia entries alphabetically sorted
so it's easier to actually find things.
I know there have been a lot more suggestions/requests lately, so if I did not get to yours yet then don't worry. I am reviving My Colony back to full-time production, so it will be updated a whole lot more in the weeks and months ahead (along side
My Colony 2
and
Colony Wars
, but more on those later 🤐).
This brings me to the future of My Colony. Based on comments here, the in-game feedback and on the app stores, it's clear that people want me to continue working on and expanding the original My Colony. I am fine with doing so, but there is also the reality that it is an almost seven(
!
) year old game, and since it's not really a pay-to-win type In App Purchase festival, it's big income generating days have largely come and gone. So to be worth my time to keep pouring time into the original My Colony at the expense of other projects, I need to find a way to be able to make it generate a return.
So I was considering ways to do this that would not be annoying or disruptive. There are a lot of new ad formats available on mobile now, but I really didn't want to flood My Colony with annoying pop ups like every other mobile game. Then just this morning, a friend of mine told me he had spent some money buying collectors items in the game World of Tanks, and it gave me an idea for My Colony.
What if, on occasion, I made available "special edition" or limited time only releases of certain buildings, such as holiday themed variants of current buildings, that people who wanted them could buy with Ape Coins? So for instance, there could be the "Halloween 2022 Themed Investment Bank" (or anything really) that you could only buy during a two or three week period, then it's gone for good (gone for sale, if you buy it then you always have it on your account).
So anyway, people who like to collect things could get all these extra buildings. Even tough they wouldn't necessarily provide a leg up on the game, they would let you make your colony look a lot cooler, and also satisfy the collection itch. Most importantly, it would help support the continued development of this "oldy but goldy" game.
That is all just an idea though, I have not decided one way or another. I might just add that to MC2 instead.
Anyway, there is a lot more to come, not just for MC1, but for the entire My Colony Universe. I plan to get another MC2 update in this month, and I've got some really cool things headed to Colony Wars, such as Super Weapons. So stay tuned, because there is a lot of exciting My Colony goodness headed your way!
Bro... Building skins? Take my goddamn money already!
Have a fantastic day!
~cakedon (formerly itsLiseczeq)
@bastecklein
Suggestion: Please add the Alien Materials Factory.
Best of regards, Wastelander (formerly Architecture), Overlord and Designated Leader of the Earth States.


No skins, or at least no limited edition crap.
I noticed that for Deluxe Bussing Authority, Tall Construction is the tech requirement, but Megabots are used to build it. A mistake? I here point it out for you.

Also, in Encyclopedia, the Terrain tab doesn't have the terrain objects in alphabetical order, jtlyk.
My opinion I would put an ad on mc1 & 2 when you quit for a start for non licensed players/non premium (I don't know if you already do as I have the full version )and more focus on multiplayer sense will help spread the word like most games with these clans/groups to push players to invite other (it's just a marketing strategy not assuming you don't know just remember to make sure your able to keep a living making these gems
I'd like to have all resources and worlds available regardless of your faction. I'd like to also have ether provided by the research converter.
Personally, I'd throw a few bucks your way if you made a donate button somewhere on the start menu. I don't think anyone would be annoyed at a voluntary payment option to keep the game running on top of doing limited edition skins.
Ryzen 9 5950X
RTX 2080Ti
64GB DDR4 RAM at 3200MHz, CAS 16
1TB PCIe 4.0 NVMe SSD
1TB SATA3 SSD
16TB HDD
1000-watt 80+ Titanium PSU.
I'll support new buildings for sale, if they offer some game purpose, unless you price them too high

Linkback References

Try Boom Feed, the free RSS reader from Ape Apps! Boom Feed is a free RSS, Podcast, news reader and aggregation app, available on most platforms including Desktop, Android, and iOS. Try it today!