#MyColony2
Posts and pages on Ape Apps tagged with #MyColony2
I hope you are all having a great today! Today I am releasing My Colony 2
v0.12.0
, which includes quite a bit of new content. I have also submitted this build to both the Google Play store and the Amazon App Store so that I can start getting better feedback on mobile performance and UI! MC2 is really starting to shape up into a real game now, so let's take a look at what is new in this release!
First, you may notice that My Colony 2 now has a proper title background image instead of a blank grey screen, which of course looks a lot nicer. Modders can obviously customize this to be whatever they want.
I started adding in the interface for the in-game
encyclopedia
, which you can see from the main slide-out menu. The only section so far is the in-game
credits
, which are automatically generated based on username data attached to game data and .vpp files. Check it out if you want to see who has all helped on the game so far! The neat thing is that the credits will be different when you activate a mod, so that you can see information on the mod creator as well.
Since the game is starting to get more resources, I made a change to the resource readout bar. It will appear static as normal until your resource list takes up more space than can fit on one line, then it will begin scrolling like it does in My Colony 1.
Speaking of resources, I added two new ones to this release,
Rum
and
Sugar
! I always thought that Rum in MC1 should have been made out of sugar instead of food, so that is how it works now in My Colony 2. Sugar is obtained through the new
Sugar Extraction Lab
which extracts trace sugars from your excess food. Rum is naturally made as the new
Distillery
. Unlock these structures with the new
Microgravity Brewing
tech.
As you may have noticed in the background of the above picture, the
Solar Tower
from MC1 has returned. You can unlock it using the new
High Density Solar Panels
tech.
Some good new structures pulled from
@GeneralWadaling
's voxel batch have been added, including the
Regolith Processing Plant
, and
Greenhouse Park
, and the
Trading Depot
.
The Regolith Processing Plant is a superior version of the Regolith Compactor on Lunar maps. The Greenhouse Park is sort of like the Green Dome from MC1, except it will produce some food as well. The Trading Depot currently only generates a bit of cash, but is eventually going to be used to facilitate trade between players on the same world. So stay tuned for that.
You can now start generating Civics using the new
Civic Center
! The Civic Center is unlocked with the
Colonial Civics
tech. Civics in MC2 are slightly different from MC1, in that they are stored at the settlement level and are not shared between settlements, even if you have a logistics center. Civics are going to determine the "city level" of a settlement, and be a factor in deciding what sort of government options a city has available.
I have made a lot of fixes to pavement rendering in this release. In addition, Pavement is now slightly depressed into the ground once built. It is fairly subtle, but you can notice it when the lighting is right.
In addition, the engine can now automatically generate brick road patterns for pavement, which I demonstrate in this release with the addition of the
Solar Road
. I also want to add checkered pavement generation, which will probably be coming in the next update or so.
There are more little changes here and there, and you will see them as you play. For now though, I want to thank everyone for playing, leaving feedback, and helping with content! The next few updates are all going to be big on content, so stay tuned for more!
#mycolony2
Today My Colony 2
v0.11.0
is heading to the "stable" channel, and should become available for all users soon. This is the last update before the "beta" heads to Android, and there are a few goodies inside, so let's take a look!
Firstly,
Research
is now being utilized!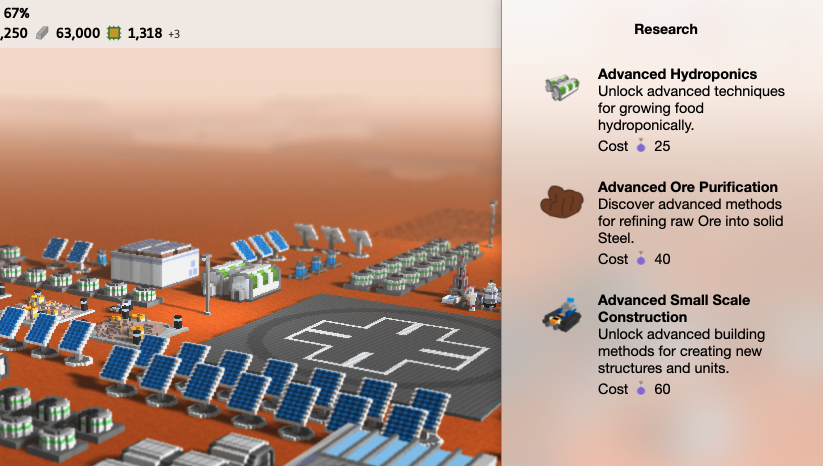 I have added three techs (pictured above) in order to get things started, and as a result, the
Hydroponics Farm
,
Ore Fraking Operation
,
Advanced Ore Refinery
,
Dormitory
, and
Warehouse
all now have tech requirements before they can be built.
Moving along, clicking on a building will now give you some options, you can Rotate, Power On/Off, or Sell a structure now:

Next,
Pavement
has been added to the game, although it may be a bit glitchy still. The glitchyness is related to rendering, so you can build pavement in your maps without worrying about ruining anything.
I have also added the
Advanced Builder Bot
to the game, and several of the existing structures have been moved over from the Builder Bot to the new Advanced.
Finally, I have added the ability for the Engine to utilize Premium content, and added a
Small Warm Light Post
and a
Golden Shelter
as a proof of concept. In addition, modding and multiplayer now require Premium.
So that is this update in a nutshell, although there are a lot of smaller changes that you will notice here and there as well. The upcoming
v0.12.0
is going to be a large content release with a lot of new structures, techs, and units, and it will be the first version published to Android. Publishing to Android will allow me to collect more feedback and bug reports, so it should really help development out a lot. I plan to have iPhone, Windows Store, and Steam releases sometime this fall.
Thanks for playing My Colony 2, and stay tuned for more!
#mycolony2
Today marks the availability of
My Colony 2 v0.10.0
, along with some cool new features and enhancements! Updates for MC2 will be weekly during most of the rest of the summer, so make sure you stay tuned for all of the new features and content. In the meantime, let's take a look at what's new with this release.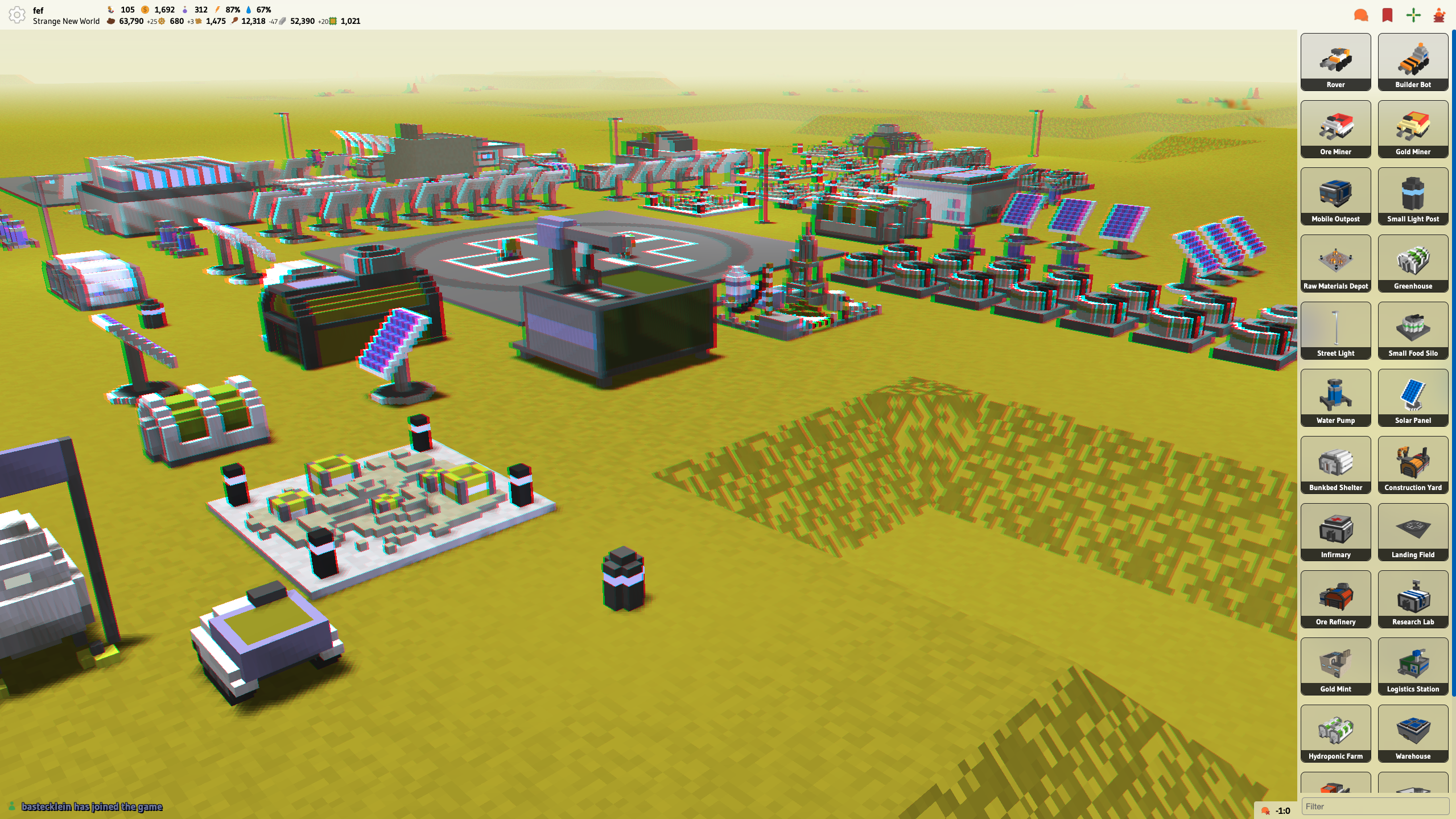 My Colony 3D
- If you thought that
Jaws 3D
was all of the rage back in the day, it's got nothing on My Colony 2. If you have a pair of
red
/
cyan
3d glasses, yes the old movie theater kind, you can now enable
Anaglyphic 3d Mode
in the Engine Settings menu for a neat stereoscopic 3d effect. Observe the above screenshot using 3d glasses for an example.
Back to Work
- The pandemic has ended for the worlds of My Colony 2, and so all productive structures are now requiring their workers to return to the factories. Hovering your mouse above the population readout in the toolbar will now show you the same stats that MC1 would regarding settlement population, housing, and jobs. New for MC2 though, buildings will now show a "workers needed" icon over the top of them if they have no workers available, so that you can see at a glance if you need to construction more housing or landing pads. Since the added work requirement will no doubt require a higher population, the
Dormitory
has been added as a more dense housing option.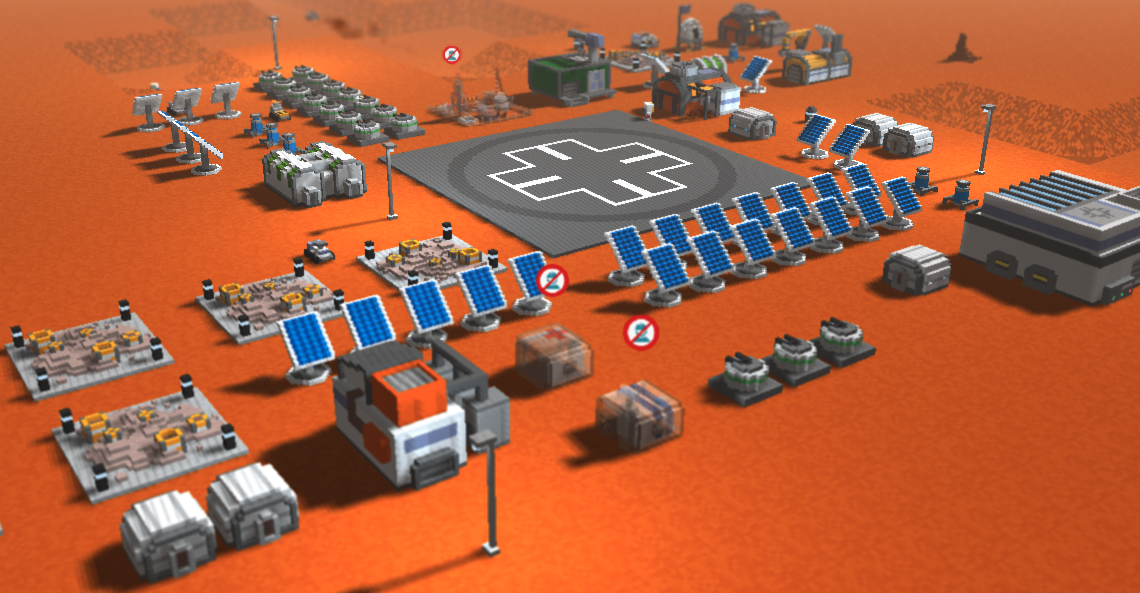 Storage Required
- Before now, it wouldn't really matter if you constructed storage facilities or not, as you could just gather infinite resources anyway. Now storage requirements are enforced. To assist in this new requirement, the W
arehouse
is now available to build in the game.
Money
is now in the game, which can currently be created using the
Gold Mint
facility. Eventually you will have to pay your workers, and Money is the way they are going to be paid. Money will also be the medium of exchange for player-player trades, once I get that implemented.
The
Desert World
is now functional and ready for colonization. To assist in Desert World colonization, I have added the new
Desert Rover
, the
Sand Drill
, and the
Small Condenser
to to the game.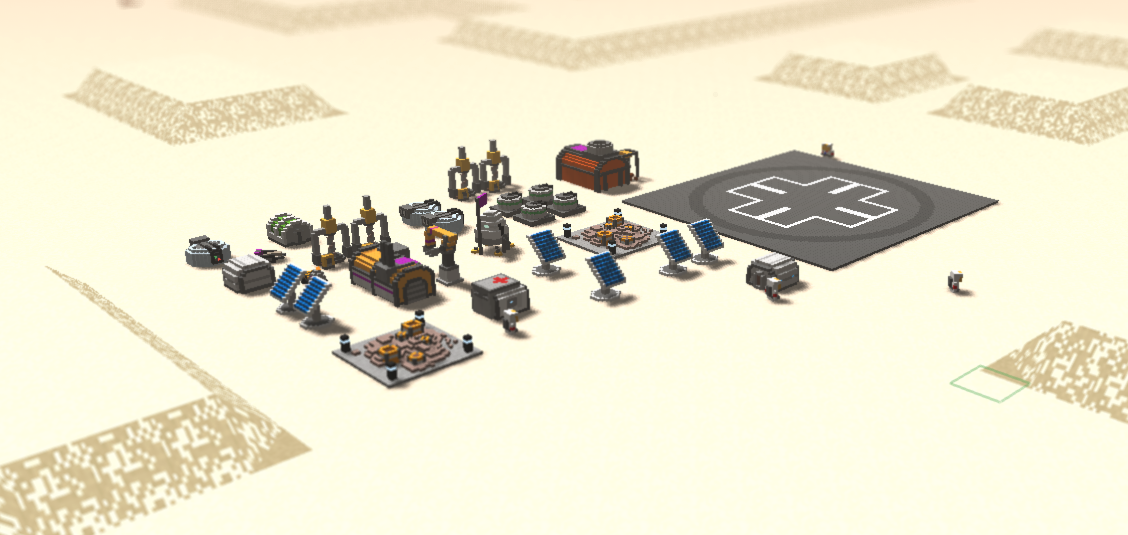 The updates are going to be coming fast to My Colony 2 over the next few weeks, leading up to the late-July Android release of the game. Once the game hits Android, some of its features are going to be moving behind the premium paywall, such as modding, multiplayer, and some of the world maps. Premium content is being added to MC2 because, unlike MC1, I do not plan on using in-app advertising banners in this game.
My short-term (next few months) to-do list for MC2 is as follows (and this is a loose roadmap, not set in stone):
Implement Abandoned World map with lakes of Ether and old ruins to explore
Start implementing Scripting Engine, starting with basic flags and triggers (enough to implement in-game tutorial at first)
Water Based Units and Structures, for both the Water World map and the coming Abandoned World map.
Pavement
Research and Tech Requirements
Building Options, such as Sell, Rotate, Prioritize, etc
And of course, more Structures and Units with each update.
Beyond that, my longer-term roadmap (this fall and beyond) includes a lot of things, some of the major being:
AI controlled Civilizations for trade or combat
Full Statistics screen window, similar to what MC1 has
Entertainment, Medical, Education and Security requirements. The necessary structures will be available to build well before they are required.
Cross-Server trade networks. I still do not want to have a big centralized MC2 server, but I am working out a plan where individual dedicated server owners can set up their own server-server trade networks, whereby multiple decentralized servers can be linked together and interact online.
iOS and Steam releases before the end of the year
So that is what is here now and coming soon for MC2! Thanks to all who have played and contributed content to the game, and stay tuned for more as the weeks progress!
#mycolony2
Today I am doing another "weekly" version bump for My Colony 2, incrementing the release to
v0.9.0
. This release cleans a few things up, adds a few things, and lays the groundwork for some sheer epicness that will be on the way very soon. Let's take a look!
In terms of content, I have added the Small Food Silo to the game, for storing food of course.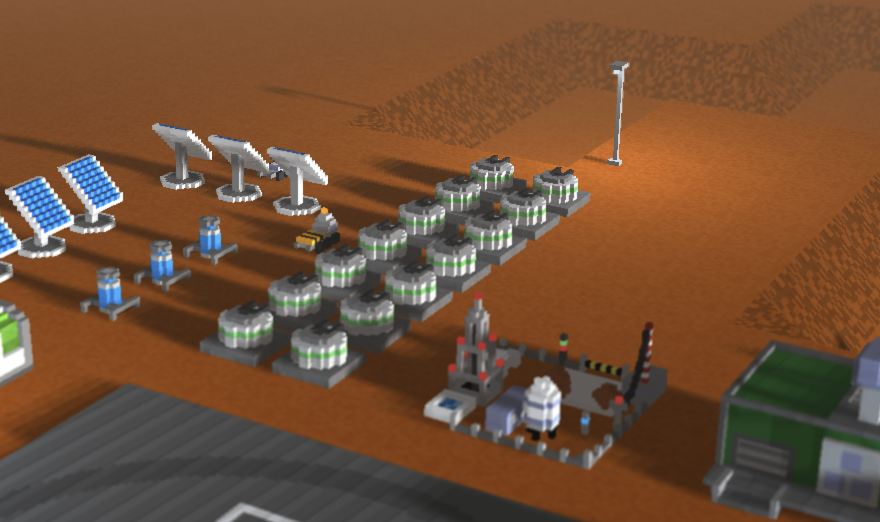 I have also added
@GeneralWadaling
's great
Advanced Ore Refinery
model into the game.
There have been a lot of fixes and improvements to the settlement resource sharing through Logistics Centers. There were some bugs in the prior release, and they should be ironed out now.
You can now generate Money and Research! I don't have a Gold Mint in the game yet, but I do have a research center, which now functions and produces research. Obviously this means that tech tree capabilities are soon on the way. And if anybody is interested in creating a gold-mint type structure model, I wouldn't be opposed....
Recently,
@eSandvich
asked about adding linear story type capabilities into the engine. I have thought about this, and am starting to work on a new system that will not only allow for that, but will also handle the in-game tutorial mechanism, as well as other neat things. This is a new event triggers/scripting system, something which was nowhere to be seen in My Colony 1, but could potentially lead to some very interesting scenarios and mods for MC2. I will explain how it works below.
First, if you look in the Game Editor, you will now see that many objects have the ability to set engine flags once they are constructed. The game engine will keep track of flags both for the overall server, and also for the individual player. Flags can be set by various means, but the most obvious ones are by either building something, or joining a game. You will also be able to set a flag by discovering a terrain object.
Next I will be adding Triggers. Triggers are events that are activated by certain conditions, primarily flags. When a player action sets a flag, triggers that were waiting on that flag will activate. When a trigger event activates, it will then call a Script.
A Script will be a set of one or more actions that will take place once an event is triggered. There will be a whole set of actions that can be added to a script, and they will be executed one after the other, in the order specified in the script. The actions can be things like play a certain text message or sound, give the player a reward or a unit, wait for a certain amount of time, set a flag, or do other things. The scripting engine could also accept user inputs. For instance, you could request that the player click on a location on the map, and those coordinates are passed to the next action on the script, which may cause a shuttle to land at that location and deposit colonists.
Anyway, for the base game, the scripting system is going to be primarily used for implementing the in-game tutorial and for possibly implementing the Points of Interest terrains concept that GeneralWadaling came up with a while ago. But I think that the system can ultimately lead to some pretty amazing mod capabilities as well, allowing for the creation of story-driven or objective based games.
Finally, in the Game Editor you will notice that the Civilization object now has a setting for whether or not it is player controllable. I will let you speculate on what upcoming feature is implied by that.
So that's all for this update. MC2 development is going to be ramping up pretty fast now, as I want to put a playable beta on the Google Play store by the end of next month. So keep the feedback coming, and stay tuned for more!
#mycolony2
Today I have bumped My Colony 2 up to
v0.8.0
which should now be available for all to enjoy. I don't have anything fancy to show a screenshot of in this release, but you now have the ability to
finally save and restore your games
! In addition, you can finally access the game menu from the dedicated server console, which means you aren't trapped anymore when you decide to open a dedicated server. Speaking of the dedicated server, now it will no longer simulate the game if there are no active players logged in. And as usual, there are a handful of minor changes in this update that aren't worth writing about.
#mycolony2
Today My Colony 2 is being updated to
v0.7.0
on both the
Web
and the
Ape Apps Launcher
. This update introduces some breaking changes that Mod developers will need to be aware of, so let's take a look at what's new!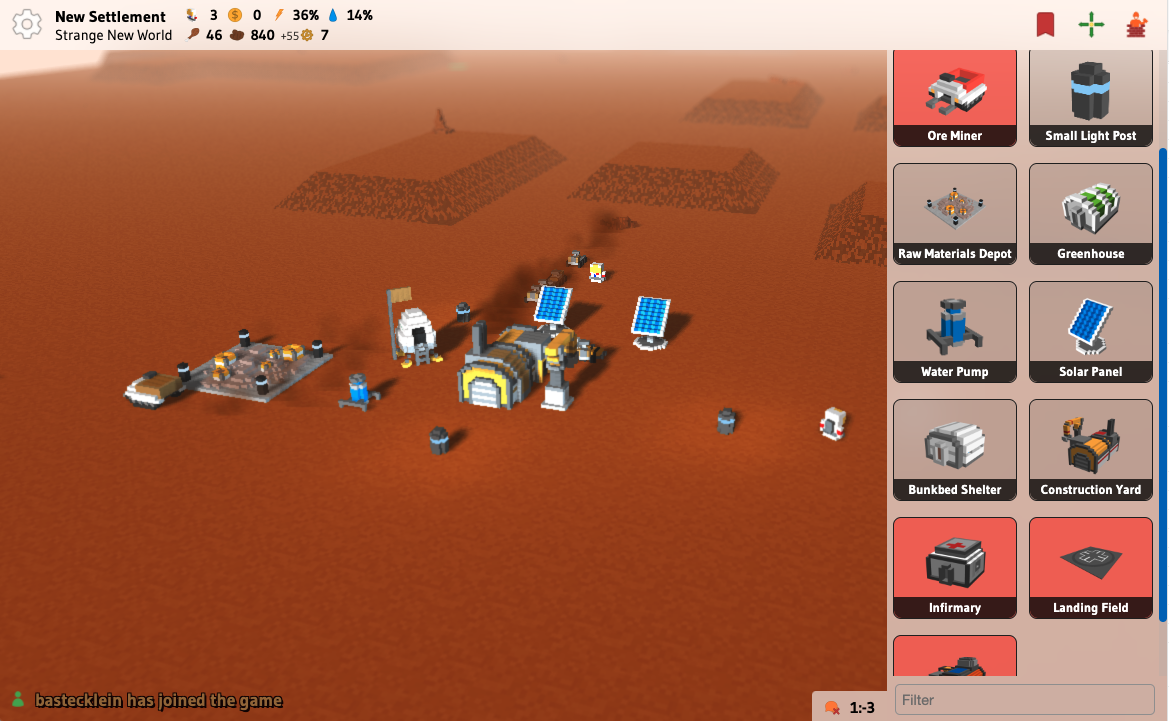 The largest change that Mod creators will need to be aware of is that My Colony 2 now has support for multiple civilizations!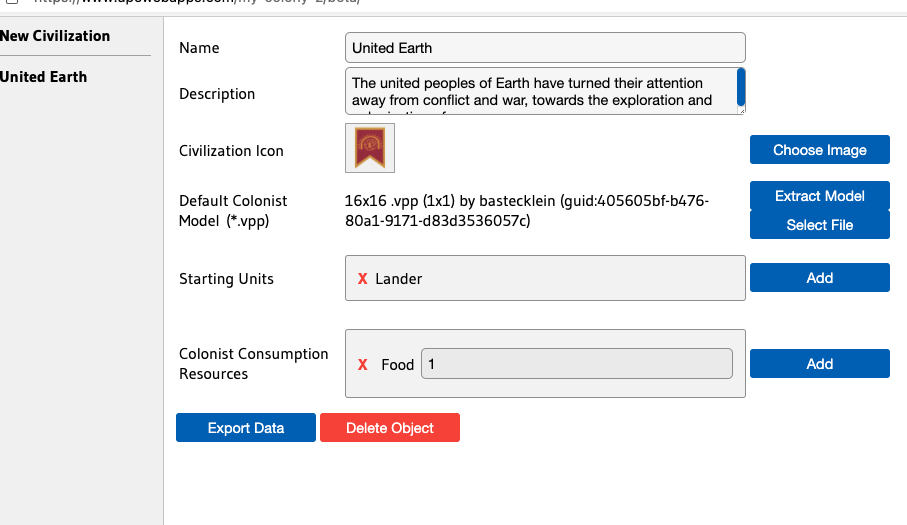 There is no requirement to have multiple civilizations,
but the game does need to have at least one civilization
, with a starting unit specified. Prior to this release, the starting unit was tied to the World object, which still shows up in the editor for legacy purposes, but will be going away soon. Going forward, the starting unit will be based on which civilization is chosen by the player, so
this absolutely needs to be set for any mod going forward
.
The engine now also recognizes and honors the 'Starting Amount' of resources. For instance, you will now begin the game with 50 food (more on that in a moment). Any resource can specify a starting amount, but the player will only get the "starting" amount of a resource upon creating their first settlement.
So speaking food, there is now food in the game, and your colonists will eat it. I still have to mess with the food consumption rate, as it seems a bit slow to me. It will probably be sped up in the coming updates.
Also, the landing pad now brings in new colonists! Eventually, you are actually going to see the shuttle landing and dropping off the colonists, but I just didn't get to that part yet. Still, new colonists will now arrive if you have a landing pad and available housing.
Resource storage and processing by the engine has been totally overhauled in this update. Prior to v0.7.0, resources were stored at the Settlement level. Now, the game has virtual "Resource Pools" that can span between multiple settlements. This change was made to accommodate the new functionality of the Logistics Station structure, which has been changed in the following way:
The
Logistics Station
now comes with (and as the ability to build) the Mobile Outpost unit, and now works as a "Resource Hub" with a radius of 400 tiles. If two or more same-player owned settlements are within each other's Resource Hub radius, their resource pools will be merged automatically. The Mobile Outpost, when deployed to a regular Outpost, has the ability to connect to the Resource Hub, but does not serve as a Hub itself. So an outpost can be 400 tiles away from a main settlement and use it's resources, but a second outpost cannot be 400 tiles away from the first outpost and still be in the network (unless the first outpost builds it's own logistics station).
Anyway, my description of it may be convoluted, but the actual execution of it is pretty simple in-game. Basically, players can now use Logistic's Stations and Outposts to combine resource pools between settlements. This means you can have a Gold Mining outpost far away from your primary base, but by using Logistics, the resources will still come back to the main base. Theoretically, you could end up constructing massive resource networks using Logistics Stations. Keep in mind that
this works only for resources
, and does not share utilities or population.
I will probably be adding a way for players to invite other players into their settlement resource pools as well.
Anyway, I am getting closer to having the structure of the game data nailed down, which means that before long I will be able to implement saving into the game. I don't know what order I am going to work on things next, but I think next I am going to be adding worker requirements to buildings and probably medical/entertainment etc. I also need to code enforcement for storage capacities into the game. So there is always a lot to do, so stay tuned and keep the bug reports and suggestions coming, and if you haven't tried My Colony 2 yet, you can find the early access game in your web browser at the following address:
https://www.apewebapps.com/my-colony-2/
#mycolony2
I have just updated
My Empire
to
v1.3.0
, which should be rolling out to all platforms over the next few days. This update makes some minor improvements to the user interface, and fixes the bugs that were reported through the Ape Market console. Read on for more details!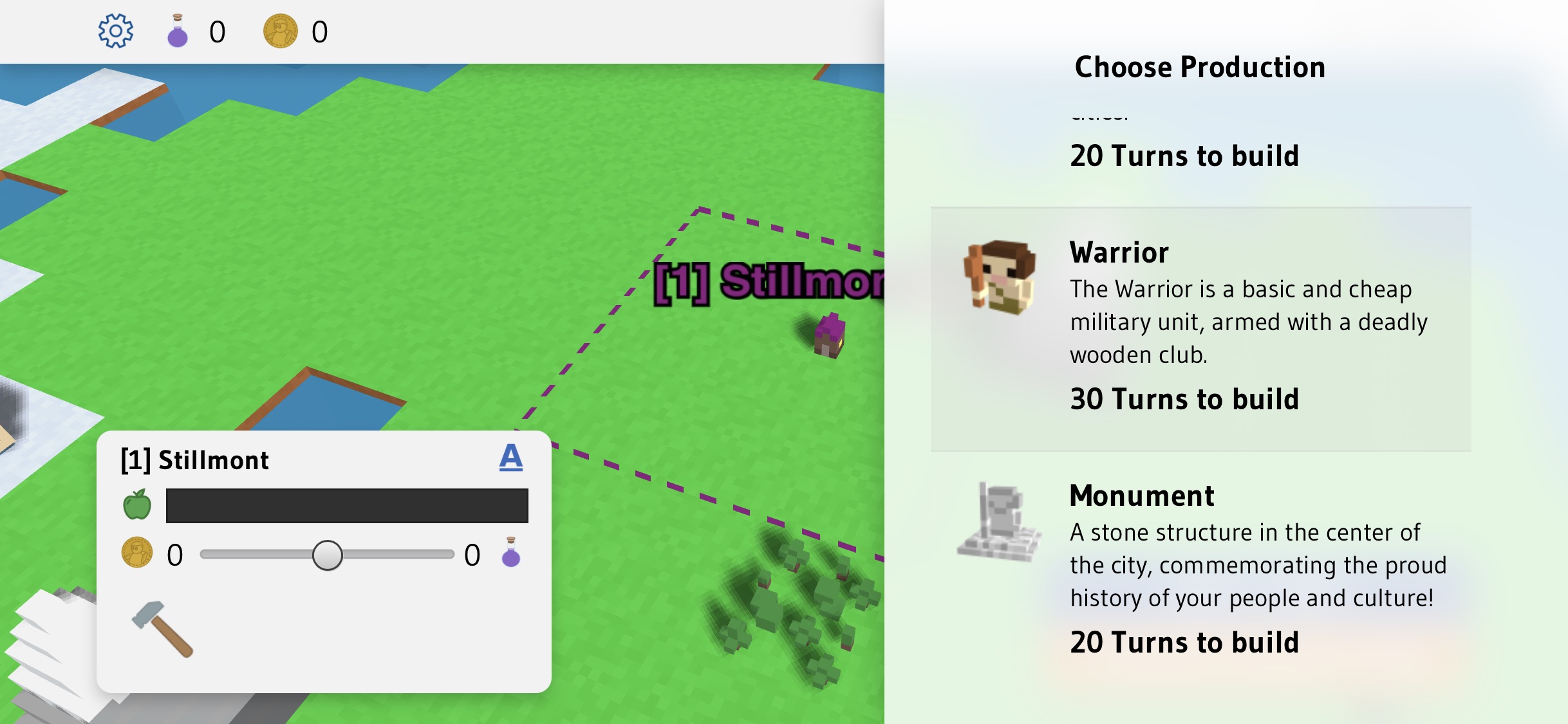 Most of the pop-up build menus have been moved to full-height slide-out menus, as shown in the screenshot above. This looks a little better in my view but, more importantly, works a lot better on mobile devices, where the previous pop-up versions of the menus only allowed a single build option to be shown on the screen at once without scrolling.
More importantly, the
iOS Edition of the game
now properly supports the "notch" in iPhones. Before there were ugly white borders around the entire game, but it now fills the entire screen and applies proper padding to UI elements so that they are not covered in the notch. This should also work right in notched Android devices, although I did not have one of those available to me for testing, so let me know if you see an issue.
On the desktop, you can now change the camera mode with the right-click mouse button, so that dragging with the left-mouse down will do a camera pan, and dragging with the right-mouse down will do a camera rotate. Give it a try, you will see what I mean.
Finally, all Scroll3d engine updates and fixes from the latest builds of
My Colony 2
have been applied to My Empire.
So anyway, that is all for today's My Empire update! If you want to download My Empire yourself, it is available on most platforms (
including Steam
), and you can find all download links here:
https://apps.ape-apps.com/my-empire/
Thank you for playing My Empire!
#myempire
#mycolony2
Greetings all, and welcome to another My Colony 2 version bump! This release features a handful of engine improvements, as well as new content and features related to the
Water World
!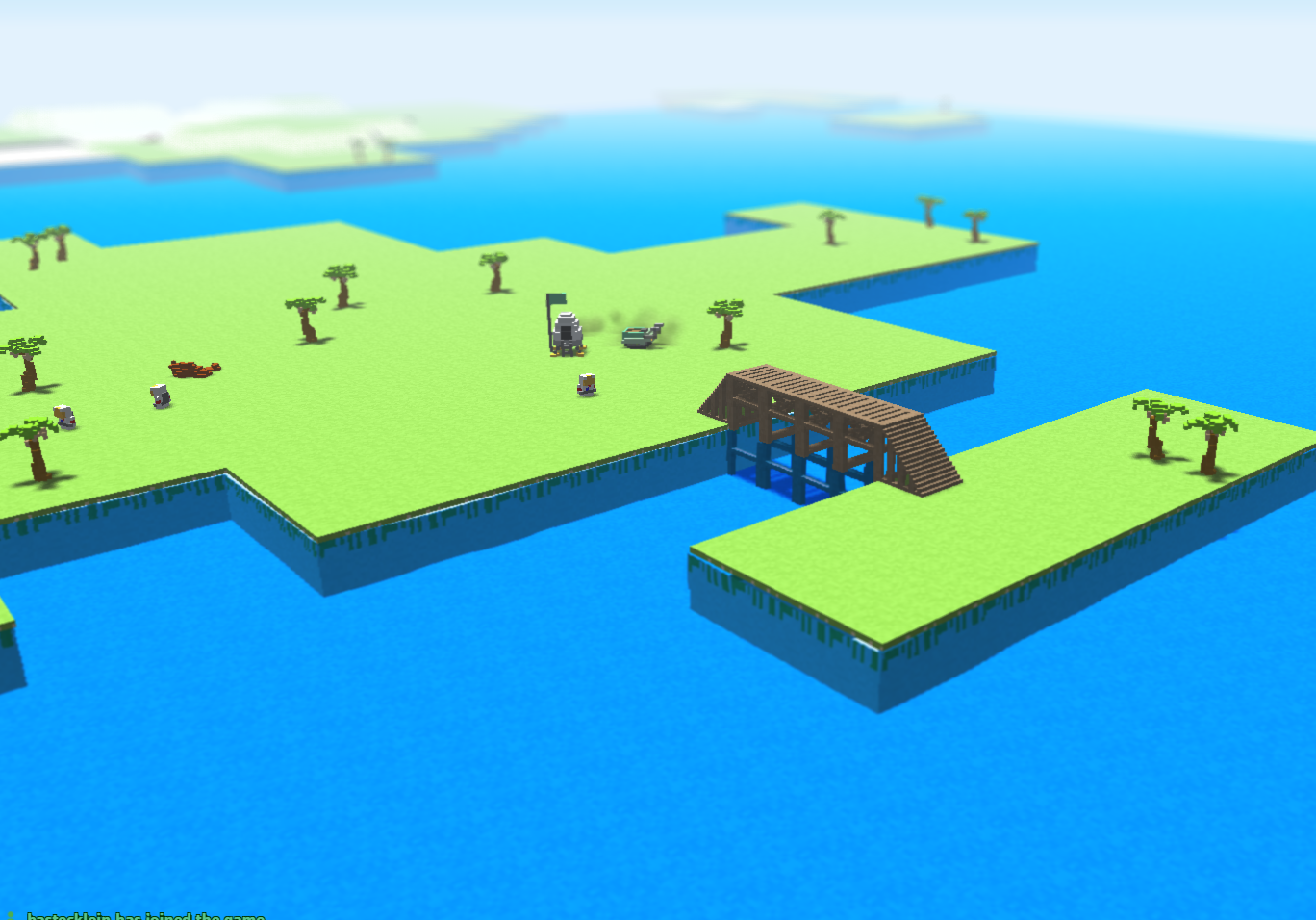 Yes, you may notice from the screenshot above that bridges are now a thing in My Colony 2, and they may be.... buggy... Go ahead and test them out though. Truth be told, bridges were way harder to implement than I was anticipating. To build a bridge, you need to specify a start point and an end point. The start and end must be on land, and the middle must be over water. Do all of that, and you should be good to go. I set the bridge cost for super cheap just for testing purposes, but you can believe that the price will be going up in the next update!
Anyway, I know it's been a few weeks since the last MC2 bump. I have been attempting to catch up on other projects, and plus now that it is spring time, I have had a lot of work to do with the house (you homeowners out there will know what I am talking about).
Regardless, work on MC2 continues, so keep the feedback, suggestions, artwork, and more coming! Thanks for your support and thanks for playing My Colony 2!
https://www.apewebapps.com/my-colony-2/
#mycolony2
I did not have a lot of time to work on My Colony 2 over the past week, so there isn't a ton to report in this weeks update, however changes were indeed made, so your PWA and Ape Apps Launcher releases should be automatically updating themselves soon, if they haven't already.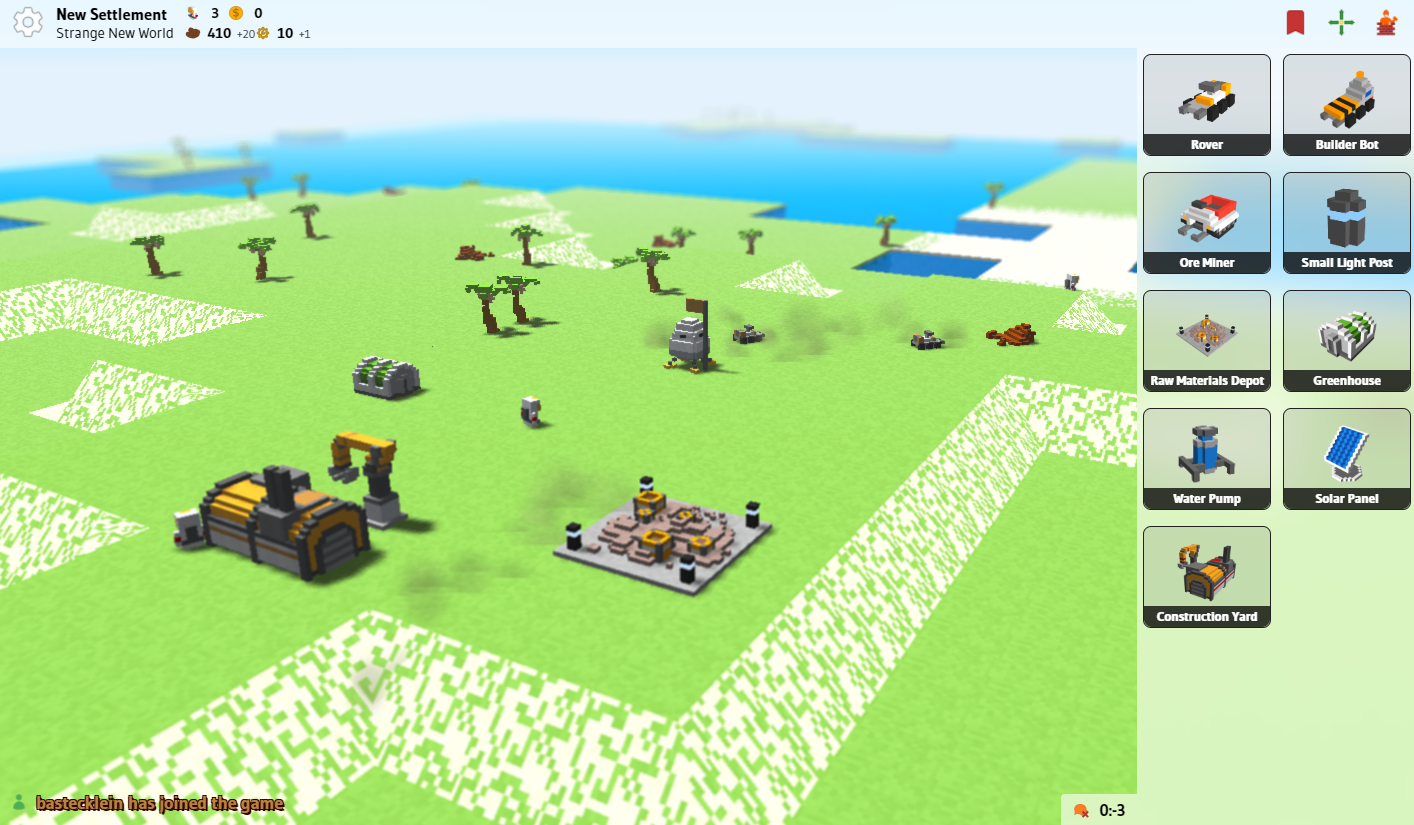 I am probably going to be implementing utilities next, so gameplay is going to change quite a bit soon. Utilities in MC2 will be similar to MC1, with some small differences. Firstly, Water will be a utility in MC2, as opposed to a resource like in MC1. Maybe Food too, I haven't decided. Utilities are going to be on a per-settlement basis, although there may be a way to trade utilities between settlements, perhaps for profit.
Anyway, not much else to say. Keep those suggestions and reports coming, and stay tuned for more!
#mycolony2
Today I am finalizing v1.7.0 of
Voxel Paint
which is a fairly considerable update with several new tools and features being added into the program. Let's take a look at what's new!
First off, Voxel Paint now has, not one, but four pen tools available, accessable by either right-clicking on the pen tool icon, or selecting the pen tool again when you are already using one of the pens (for mobile access). Doing so will give you this new context menu where you can select which pen tool you are interested in using: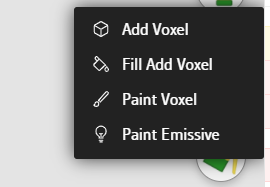 The
Add Voxel
tool is the same that it's always pen, the regular pen.
The new
Fill Add Voxel
tool accepts two clicks and will then fill in every cube in-between the first and second click. For instance, if you click on the top left corner of the painting and then the bottom left, you will get this: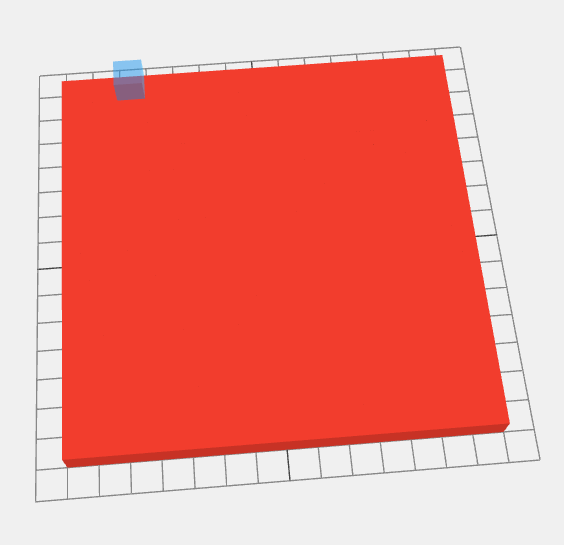 Certainly a lot faster than single clicking on each individual tile!
The
Paint Voxel
tool is used for painting over, or changing the color of already existing voxels, handy for adding texture to a model or simply making changings without having to erase and redraw parts of your model.
Finally, the new
Paint Emissive
tool is used for quickly setting a group of voxels as emissive. You use it by "drawing" over them as with the Paint Voxel tool. It also allows mobile users to set voxels as emissive, as they couldn't before.
In order to keep all of the new tools straight, there is a
new readout area
on the bottom-right of the screen next to the coordinate readout that lets you know which tool you are currently using.
Aside from the new pens, there are a couple of more tools you will find in this release. Under the Image menu, there is a new
Hollow Image
wizard. This tool will go through your model and automatically remove all cubes that are not visible from the outside. This is a handy feature if you've just created a bunch of new voxels using the Fill Add Voxel tool and want to remove the excess in the center. Hollowing an image can greatly reduce your .vpp file size, as well as rendering performance.
When you first load up Voxel Paint, the default file size has been changed from 20x20 to
16x16
. I made this change because the two games that currently use .vpp models,
My Empire
and
My Colony 2
, both use 16x16 models by default, as does the
Voxel Playground
utility. It only makes sense for Voxel Paint to conform to that default. I have also adjusted the
maximum zoom out range
, so you can zoom out on your models more than you could previously.
Finally, Voxel Paint now has a new file export mode called
Precompile Model
, which performs a majority of the operations that the My Empire or My Colony 2 game engines normally do before adding the model into the game, and saves that data into the actual .vpp file. The precompile export can take a minute or so depending on your device and will increase the file size by a factor of 2 or 3 (or more). The benefit is that it will reduce the time that one of the above mentioned games (or the Voxel Playground once it's updated) takes to load your model by 99%, which is good. If you are just working on small models or making personal artwork and do not care about rendering in My Colony 2, then you probably do not need to do a precompile export. On the other hand, if you are interested in My Colony 2 modding or creating Voxel Playground scenes, the precompile export is probably the way to go.
Anyway, the v1.7.0 update is live now on the
Web
and on the
Ape Apps Launcher
and should be hitting all other platforms over the course of the week. I hope you enjoy the changes, please leave feedback so that I can continue to improve the app, and stay tuned for more Voxel Paint updates!
#voxelpaint
#mycolony2
#voxelplayground
#myempire
From the very beginning I said that a core feature of My Colony 2 was going to be modding, and today I am ready to show off the start of the MC2 modding engine, which will eventually be fairly powerful. First though, you are going to need the latest MC2 build for this, so if you are on the Launcher, delete/reinstall it. If you are on your browser, clear all caches and service workers and reload. Then you can download this, the very first MC2 mod:
That's right, it's the
My Empire
mod for MC2 😄, quickly thrown together using assets from My Empire, of course. It's just a small mod to start letting people see what is possible with MC2 modding.
To activate the mod, open My Colony 2 and select
Activate Mod
from the title screen options menu. The game will transform right before your very eyes, with a new custom title screen, theme, and everything! Fire up a game, and you will notice it looks a bit different: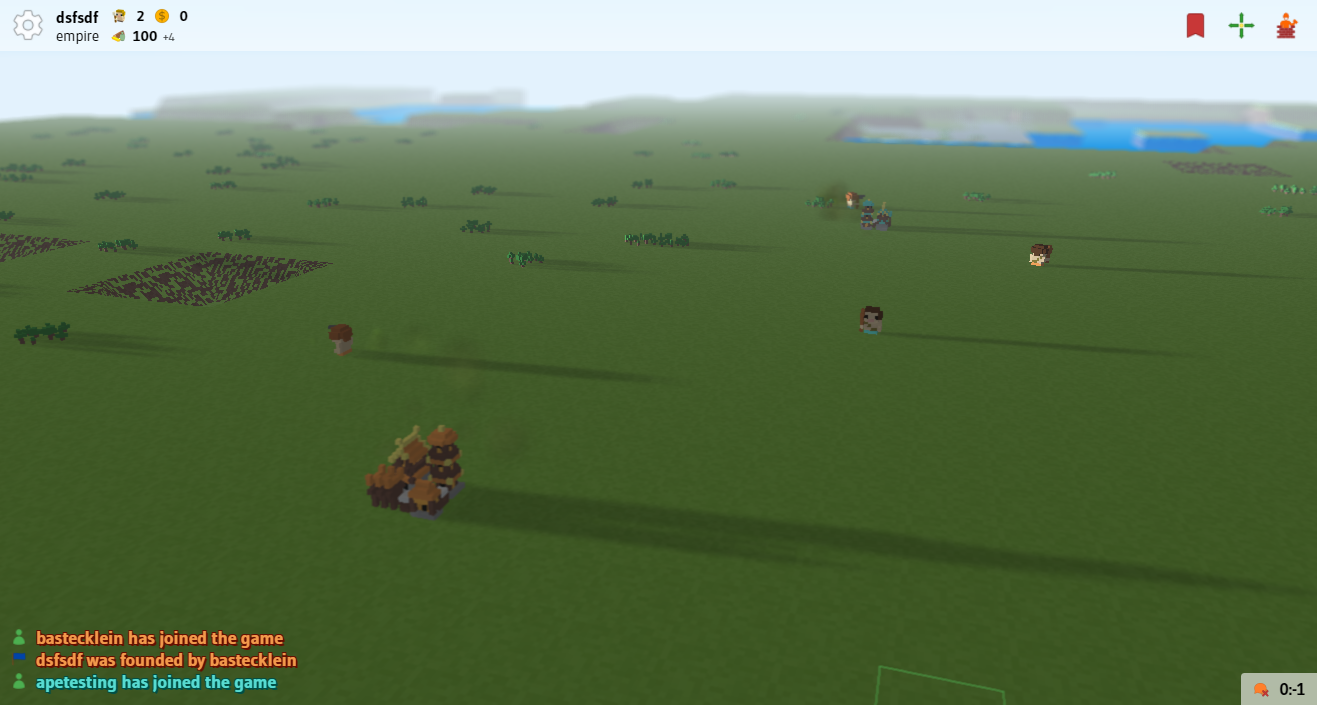 The game has been entirely transformed, all units, structures, terrains, worlds, and even some UI icons have been replaced. It's an entirely different game.
And now for the cool part - other players can join your modded game,
even if they don't have the mod package installed on their system
!
Anyway, this is just the beginning, but I am pretty excited about the modding capabilities in My Colony 2. Eventually, starting a mod will be as easy as double-clicking on a *.c2m file on your desktop, so creators will be able to basically distribute their own total game in a single file that My Colony 2 players will just have to download and double-click on to start.
During development, the modding capabilities are open to everyone, but Premium will be required for the final release. Until then though, check out the My Empire mod and let me know what you think!
#mycolony2
#MyColony2
#VoxelPaint
#VoxelModel
#CommunityContents
#MagicaVoxel
#Scroll3D
HELLO GUYS!
Some months ago,
inside the secret lab in the deep mountains.... Wait, wrong script.
Just a few monthes ago, our dev
@bastecklein
got hands onto creating a (sort of) next generation engine for upcoming games of Ape Apps. With some computer magic and pretty much hard efforts, the brand new engine
Scroll3D
was born, a new engine comes with elevation in terms of dimensions, from 2D to 3D.
The detailed story about creation of Scroll3D can be found in this post.
The currently under development
My Colony 2
(MC2) is created using Scroll3D engine. So how it would look like? Here are some demonstrations from the recent in game footage.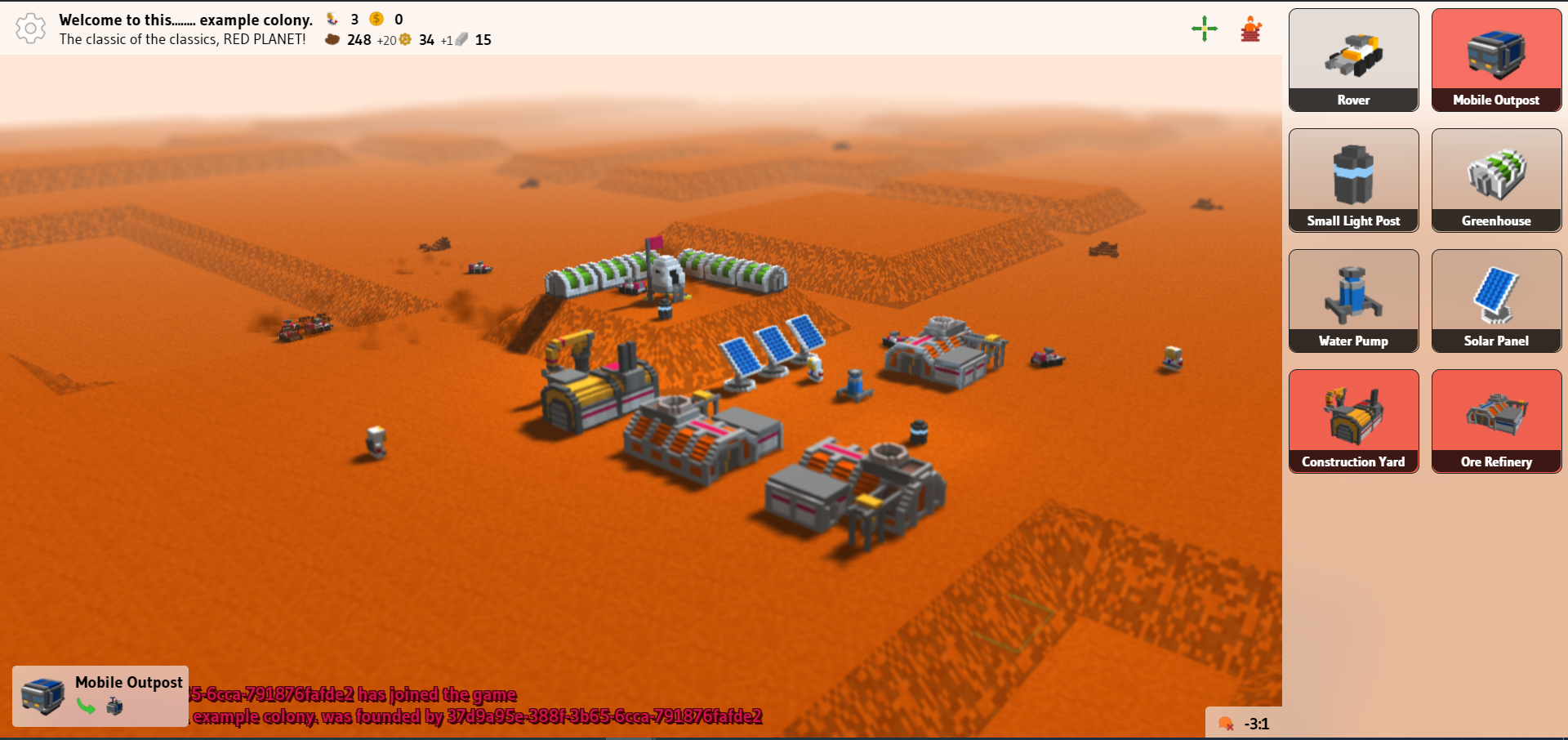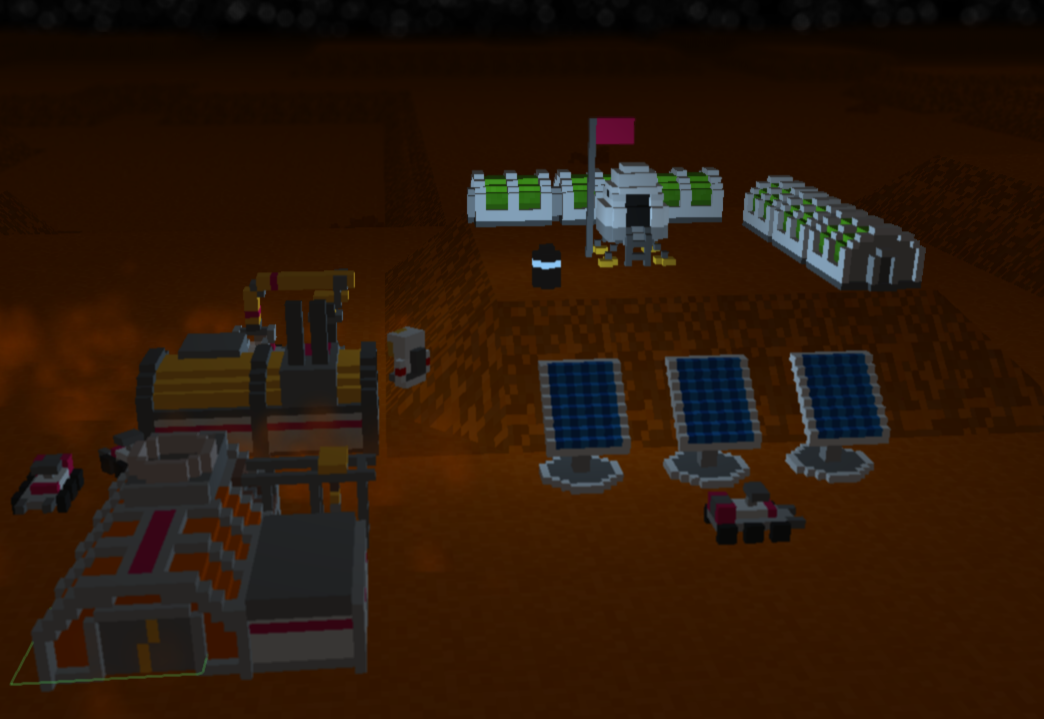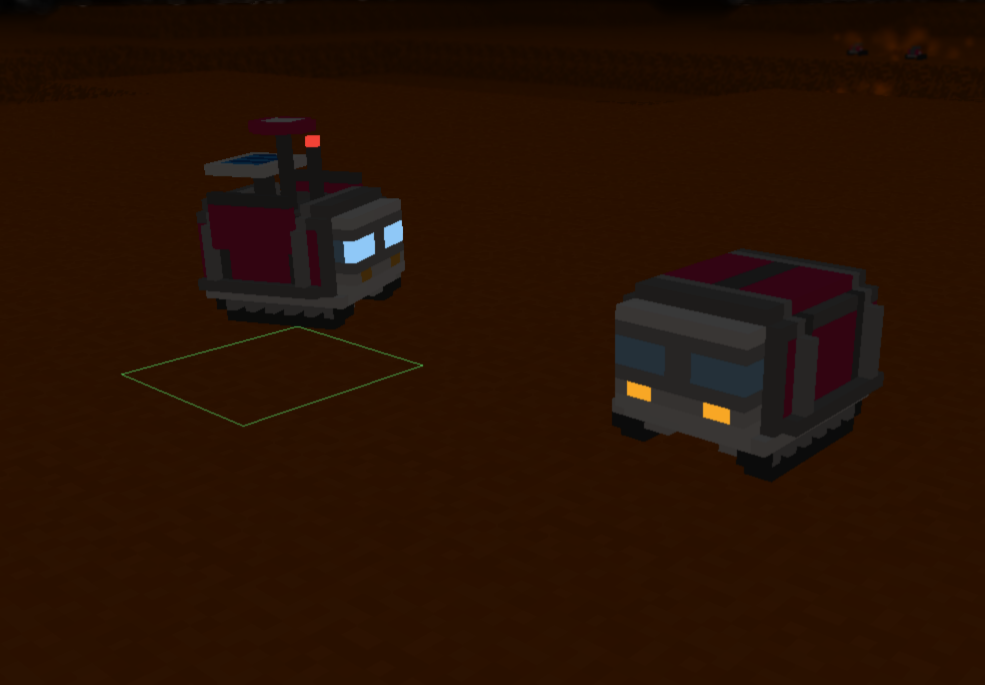 Currently, the Scroll3D engine is capable of the followings, compared to the older Scroll2D engine:
More realistic light rendering.
Light emitting objects!
A better representation of height and elevation.
Diagonal movement of objects.
3 dimensional details for objects.
You can see the 3D models are very blocky in shape. This style is called Voxel, which every model are built up block by block. In other words, you can say it is low pixel graphics but it is in 3D.
The reason bastecklein adopted this style is because voxel models are generally easy to make. This is a good thing for people who would like to contribute to the graphical designs of game objects in game development, or create mods for the games - that is also one of the major features of My Colony 2.
Games using Scroll3D engine, including My Colony 2, use
.vpp
files for object graphics in the game. So how you can create the voxel models?
Bastecklein has also created another app for creating voxel models in .vpp format -
Voxel Paint
.
This is a dedicated app for creating .vpp models for any Ape Apps games using Scroll3D engine. A simple and easy-to-use app, it allows you to create simple, small voxel models. More importantly, it is available on many platforms, from your desktop computer to your mobile devices.
You can try out the app a bit on the embed window above.
Voxel Paint can work in conjunction with another popular, totally free open source software that is also for creating voxel models,
MagicaVoxel
. MagicaVoxel, compared to Voxel Paint, has more convenient and advanced tools that can help making of voxel models easier, especially when you're trying to create larger models that would take days to make on Voxel Paint. However, it is so far only available on PC devices.
This is their official website where you will find the latest download version, and their Github page:
https://ephtracy.github.io/
Models created using MagicaVoxel is in format of
.vox
, this format cannot be used in My Colony 2, it requires conversion in
Voxel Paint
using the
Import .vox file
function and then save it as usable .vpp files.
This is a screenshot of the user interface.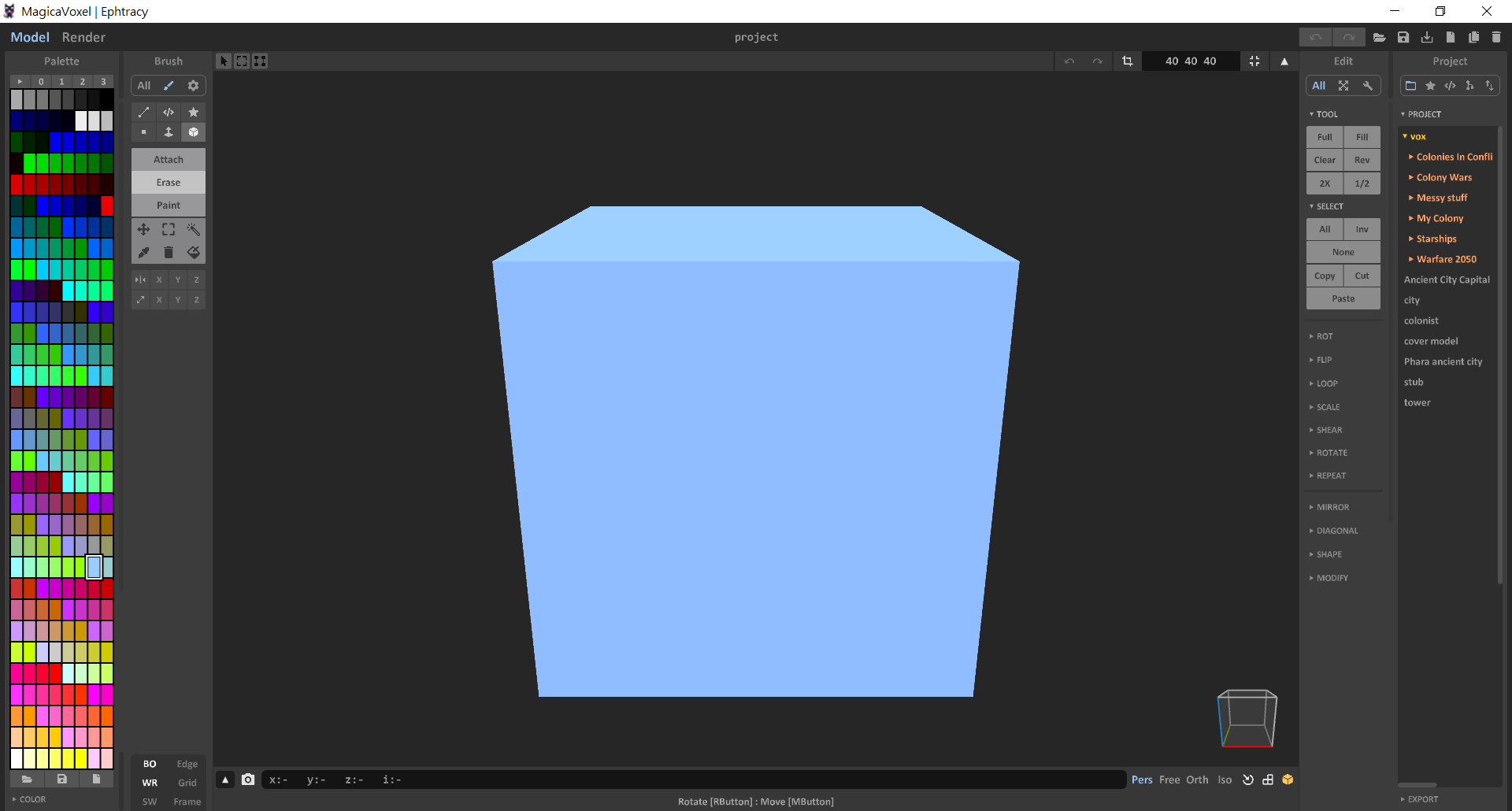 At this moment, the standard unit of a tile in Scroll3D engine is 16×16 voxels. Hence, when you're creating voxel models, please set canvas size/base area parameters as multiples of 16 (16×16, 32×32, 48×48, etc.) for proper designs.
Any voxel models in .vpp format you have created can be submitted on the Ape Apps forums, which upon submission of the post/comment the .vpp model preview can be rendered.
Just a few hours before this post, My Colony 2 reached
v0.2.0
with a few basic gameplay features implemented successfully. It is far from completion, and some buildings need better models. However, there is also plentiful of space for adding shiny new good stuff and refining the current details, this is where bastecklein will need more cool thoughts, amazing ideas and fine suggestions from us. Of course, better or new voxel models!
As always:
You can help by

EXPANDING IT
.

Try Boom Feed, the free RSS reader from Ape Apps! Boom Feed is a free RSS, Podcast, news reader and aggregation app, available on most platforms including Desktop, Android, and iOS. Try it today!